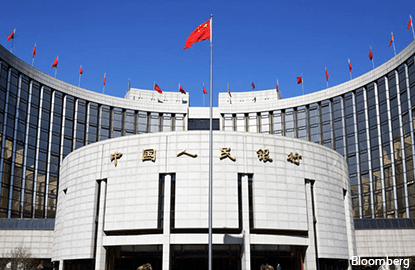 (Aug 28): China's central bank is highly likely to ease monetary policy again by the end of this year, according to economists surveyed by Reuters, as it seeks to support a rapidly cooling economy and calm financial markets.
The People's Bank of China cut interest rates and lowered the amount of reserves banks must hold for the second time in two months on Tuesday, acting amid pressure from a global stock market rout and massive outflows from its markets.
But with factory activity, exports and inflation slowing along with prolonged producer price deflation, economists polled predicted that the PBOC would have to act again.
The median from a snap survey of around 20 economists showed there is a 80% chance of a further cut in the reserve requirement ratio (RRR) by end-December, while the chance for a reduction in the lending and deposit rates stood at 70%.
While prospects of further easing will calm investors who are jittery over the effects a China slowdown could have on global growth, some analysts fear Beijing's strategy might prove inadequate.
"The drip-feed of stimulus might not be sufficient to arrest aggressive bears, or significantly lift the economy in a demand-constrained world," Mizuho Bank economists wrote in a note.
"While China's latest easing measures are certainly welcome, we are worried that such reactive, ad hoc and uncoordinated (policy) might undermine conviction and efficacy."
The interest rate cuts followed a shock devaluation in the yuan earlier in August, a move policymakers said would aid financial reforms, although many saw it as a deliberate attempt to lower the currency and help exporters.
For now, stock markets in China and elsewhere seem to have stabilised with Asian indices extending a global rally on Friday after data showed US economic growth surpassed expectations in the second quarter.
That could give some impetus to the Federal Reserve to raise interest rates for the first time in a decade, although expectations it would do so in September have all but evaporated after the financial market volatility in the past week.
The poll also showed China's key lending rate will probably be cut to 4.35% by the end of the year, after which it is expected to stay steady, and the deposit rate is expected to come down by 25 basis points to 1.50% by the year-end.
Economists expect the PBOC to lower the RRR further, with the median consensus showing it will be cut to 17% from the current 18% by end-December and further lowered to 16% by the end of next year.
"There will be a need to inject liquidity in interbank market to neutralize the impact from foreign exchange intervention," said Flemming Jegbjærg Nielsen, analyst at Danske Bank.
Falling interest rates could increase capital outflows in China and drag the yuan lower, meaning more PBOC inntervention in currency markets as policymakers have pledged to protect the yuan from sharp falls.
While the increased liquidity from the reserve cuts will benefit big banks, demand for credit from China's vast population and businesses is tepid and remains a source of concern.
Asked what else the PBOC could do apart from cutting rates, some respondents said it could lend directly to select banks, expand its medium-term lending facility and take more steps to aid the real economy.
Economists also said China's housing market, a major factor in economic activity, is dangerously close to a steep correction and targeted measures from Beijing would be needed along with policy easing from the central bank to tackle the slowdown.
"We are expecting fiscal spending to be much stronger for the rest of the year after the significant disruption in the first half," said Julian Evans Pritchard, China economist at Capital Economics.
"If Beijing wants to hit its spending target its going to have to step up spending."