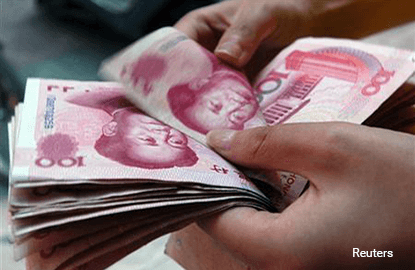 SHANGHAI (Aug 28): China's yuan rose sharply against the dollar on Friday, with traders citing large transactions by state-owned banks on behalf of the central bank to support the currency.
"There were clear signs that the central bank was continuing intervening in spot trading to support the yuan," said a dealer at a major European bank in Shanghai.
"However, unlike yesterday, there appeared no more central bank intervention in the derivative markets today, allowing the forwards prices to stabilise."
Spot market trading in the yuan opened at 6.3930 per dollar and it was changing hands at 6.3909 by late morning, strengthening 0.23% from the previous close.
In addition to the trading intervention, the People's Bank of China (PBOC) also set the midpoint rate at 6.3986 per dollar prior to the market open, 0.15% firmer than the previous fix of 6.4085.
Onshore one-year yuan/dollar deliverable forwards were quoted at 6.5160, firming only slightly from Thursday's close of 6.5208.
In a rare move, the PBOC also intervened in yuan derivatives markets on Thursday to push down the implied discount of the yuan's value in the future against its current value to reduce market expectations of further yuan depreciation, traders said earlier.
China's monetary authorities have been so surprised by the global reaction to its abrupt currency devaluation in mid-August that they are likely to keep the yuan on a tight leash in the near-term to head off a currency war that could spark a broader financial crisis, policy insiders say.
The central bank has stepped up intervention in yuan trading, ordering state banks to buy yuan at designated rates on behalf of the monetary authorities, among other emergency measures, banking sources have told Reuters.
"It appears the government has reversed its strategy," said a trader at an Asian bank in Shanghai.
"The market now expects the PBOC to continue intervening to keep the yuan relatively stable at least in the near term."
Thanks to such intervention, the yuan is set to remain stable for the week if it closes around the morning level, traders said.
Still, many traders said they believed the currency was facing downward pressure amid fears of a sharp slowdown of the world's second-largest economy, which could spur further interst rate cuts and capital outflows.
As a sign of such expectations. The offshore yuan was trading 0.96% weaker than the onshore spot at 6.453 per dollar on Friday morning.