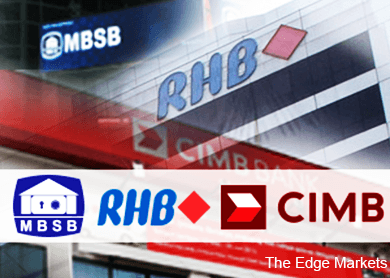 KUALA LUMPUR (Jan 14): CIMB Group Holdings Bhd chairman Datuk Seri Nazir Razak was non-committal on the status of the bank's planned merger with RHB Capital Bhd and Malaysia Building Society Bhd (MBSB), saying an announcement would be made soon on the matter.
Speaking to reporters today, Nazir said CIMB, RHB Capital and MBSB were still assessing the deal based on existing terms to determine whether the exercise should proceed.
He also dismissed reports that RHB Capital's seeking a cash portion in the merger deal as one of the reasons for the proposed deal likely to be called off.
"There is no truth to that. Right now, we are evaluating whether to proceed with the merger based on the existing terms. There has never been any discussion on any change in terms," Nazir said.
He said this after launching CIMB's special report on the Association of Southeast Asian Nations (Asean).
The report is entitled "Re-drawing the Asean map : How companies are crafting new strategies in Southeast Asia".
Nazir's comment came amid rife speculation that the CIMB-RHB Capital-MBSB merger might be terminated.
Yesterday, The Edge Financial Daily reported that the CIMB-RHB Capital-MBSB merger was off and an official announcement was expected before the end of the week.
The Edge Malaysia business and investment weekly (Edge Weekly), in its latest January 12-18 issue, also reported that there was a strong possibility the merger could be called off due to the economic landscape becoming tougher, and the fact that RHB Captal was seeking a revision of the terms after the substantial fall in CIMB's share price since the structure of the merger was first announced on October 9 last year.