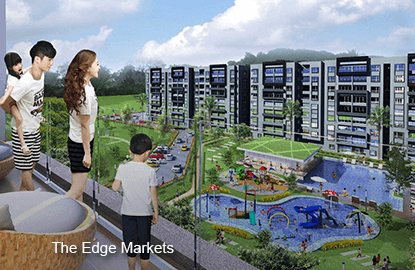 WHEN Miclebina Properties Sdn Bhd founder and director Ting C M graduated with a degree in computer science from Iowa State University in the US in 1993, the IT industry in Malaysia was still in a nascent stage.
Unable to fully utilise his expertise at the time, and coming from a family of contractors and developers, Ting turned to his kin to learn everything there is to know about property development.
"Although I had been introduced to property development from a young age, I did not pay attention to what my father was showing me then as I was still a child," he tells City & Country.
"After graduation, I came back to Malaysia and worked as a software engineer for a while. Then, I joined the family business to learn everything about property development."
Before striking out on his own, he had been one of the directors of Morubina Group of Companies. During his stint there, he was in charge of the development and running of Hillcity Hotel, a three-star 100-room establishment in Jalan Gopeng in Ipoh, Perak, which opened in 1997.
However, Ting decided to start his own company after he and his eldest brother had a difference of opinion over the company's direction. With the consent of his brother, he pursued his own vision and took over small yet lucrative projects from Morubina.
Ting's first project in 2002 involved a 4.11-acre parcel in Sungai Siput, Ipoh, which led to the founding of Miclebina.
"Before my family's company came in to make a deal [with the landowners], there were already a few other developers trying to close the deal, but they failed to reach an agreement with the landowners. But when I came in, I gave the landowners what they demanded, such as high profit sharing of 30%. In fact, I managed to negotiate with the landowners to reduce their share to 30% from 40%," he says.
"Some people said I would lose too much, but for me, I had nothing to lose at the time. This was my first project. I did what I had to do to make it work."
The freehold parcel in Sungai Siput was turned into a mixed-use development named Taman Heawood. It had a gross development value (GDV) of RM10 million, and comprises forty 2-storey terraced houses and eighteen 2-storey and 3-storey shophouses.
To date, Miclebina has completed more than 10 projects in Perak with a total GDV of RM200 million. The company has a track record of developing landed residential properties, such as terraced houses, semi-detached homes and bungalows as well as shophouses. However, this time, it plans to build something different.
A piece of New York
Manhattan District is Miclebina's first integrated development — it will comprise a business centre, three-star hotel, water park, condominium and semi-detached houses. The project is coming up on a 15.9-acre freehold parcel in Jalan Pasir Puteh, Ipoh, and has a GDV of RM250 million — more than the combined value of its previous projects.
What inspired the name "Manhattan District"? Ting says it came about from his travels to New York, where the vibrant borough is located.
"I was so amazed and fascinated by New York City when I was studying in the States, and I still travel to New York.
"I wanted to build developments that resemble the iconic streets in Manhattan, such as Wall Street, Park Avenue and Madison Avenue, when I was involved in my family business. Of course, there were many constraints that deterred me. However, I kept my inspiration to somewhat replicate the liveliness of New York in this project."
Phase 1 of Manhattan District is the commercial component, Manhattan Business District, which sits on a 4.2-acre parcel and is being developed in two phases.
The first phase, launched in March last year, will comprise two 4-storey shopoffices, nineteen 3-storey shopoffices, a 6-storey purpose-built office building and a 7-storey hotel. The built-up of the 3-storey shopoffices will be from 4,500 sq ft onwards while for the 4-storey shopoffices, it will start from 6,000 sq ft. The units are priced from RM1.5 million and RM2.5 million respectively.
The shopoffices and purpose-built office building are expected to be completed in March next year. Currently, there are three 3-storey shopoffices still unsold.
Ting says the purpose-built office is not for sale and will be used by Miclebina.
Meanwhile, construction of the RM15 million hotel, known as Manhattan Hotel, has begun. It will consist of 73 rooms. Due for completion in June next year, the hotel will also have presidential suites and a rooftop swimming pool.
Manhattan Hotel is owned and will be operated by Manhattan Hotel Sdn Bhd, a wholly-owned subsidiary of Miclebina.
The second phase of the business district was launched in February this year. It will comprise four 3-storey shopoffices and twenty-one 2-storey shopoffices. The built-up of the 2-storey shopoffices will start at 1,400 sq ft while for the 3-storey shopoffices, it will be from 5,250 sq ft onwards. They are priced from RM650,000 and RM1.2 million respectively.
To date, the company has sold 90% of the units. The second phase is due for completion in September next year.
Phase 2 of Manhattan District will comprise residential properties, namely Manhattan Avenue semidees and the 1 Manhattan Condominium.
Launched in October last year, the semidees sit on 2.4 acres adjacent to the Manhattan Business District. With a GDV of RM14.5 million, Manhattan Avenue will comprise sixteen 2½-storey semidees with built-ups of 3,354 to 4,368 sq ft. The units are priced at RM750,000 to RM1.2 million. The company has sold 11 units to date. The project is expected to be completed and handed over in March next year.
The latest project in Manhattan District is 1 Manhattan Condominium. The low-density residences have a GDV of RM159.4 million and sit on a 9.3-acre parcel behind Manhattan Business District. Comprising four 9-storey blocks, the condominium's maintenance fee will be 18 sen per month.
According to Ting, 1 Manhattan Condominium will have water park facilities similar to those in commercial water parks. "We will provide 15 different water park games and facilities for the residents, such as water mushroom, water gun and a 4m wide tornado water slide."
Why build a water park? "When my children were young, they always asked me to take them to Sunway Lagoon because our condo then had only one water slide. They would go down to swim because of that one small slide," he recalls.
"To build a water park was expensive back then because the materials had to be imported. But now, it's a little less expensive as they are being made in the country.
"Even though my children have grown up, I think the water park facilities will benefit other children as they can have fun in the safety of their own homes and they don't have to pay an entrance fee."
Future developments and outlook
Apart from Manhattan District, Ting has two developments in the pipeline. The first is in Sungai Kinta, Perak, and will comprise two 28-storey blocks of luxury condos (336 in total) and have built-ups of 1,500 to 2,000 sq ft.
When asked about buyers' perception of high-rises and high-end developments in Ipoh, he says while property buyers there are open to high-rises, they are particular about pricing. However, residents in the city prefer gated schemes due to an increase in burglary and robbery cases.
"Our society's buying preference has changed from landed properties to gated environments with complete facilities," says Ting.
The condos are tentatively priced at RM600,000. He explains that the price is justified due to the concept and size. "The built-ups and prices are just nice for a family with five to eight members because landed properties of similar sizes will easily cost RM800,000 to RM1 million. It is still a value buy for peace of mind." He plans to launch the luxury condos by end-2016.
The second development is a joint venture to build 20 shopoffices in Ipoh's town centre. The details are still being finalised.
While the property market in the country has been quite slow, Ting believes the market in Ipoh will recover. However, in current conditions, "we will strive to offer the right products, especially for Ipoh".
He says innovation is key in these times, as seen in the company's previous developments such as the 4.61-acre freehold Taman Merdeka. It consists of three 3-storey bungalows and thirty-six 2-storey semidees.
Taman Merdeka was launched in 2004 with a selling price of RM480,000 for the semidees and RM1 million for the bungalows. The development's innovative feature is a garden on the balcony. "While there were already developments like these in KL, it was a new concept for Ipoh folks," says Ting.
Alex Wong, principal of New Ipoh Properties and chairman of Malaysian Institute of Estate Agents Perak, says the Ipoh property market's best performance was seen between 2011 and 2013 when prices rose 30% annually. He adds that some of the oldest shops in Ipoh old town changed hands at more than RM1 million each while some condos saw prices increase to RM500 psf from RM280 psf.
But Ipoh's market slowed after the government imposed new policies, such as higher Real Property Gains Tax, responsible lending guidelines and the abolition of the developer interest bearing scheme.
"The property market continued to slow down this year when the Goods and Services Tax was implemented on April 1," says Wong. "However, I believe buyers will slowly come to terms with GST, which will see the property market improving in the near future.
"Many integrated developments in Ipoh are doing well, but it also depends on the value created by the developer. For example, having supermarkets or hotels within an integrated development adds value to a project," he points out.
This article first appeared in City & Country, The Edge Malaysia Weekly, on June 29 - July 5, 2015.