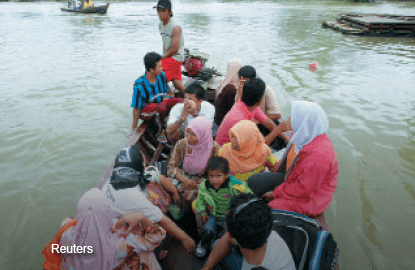 FLOODS have long been a problem for Malaysia. Last year's floods were among the worst in decades. Kelantan, Terengganu and Pahang were hit the hardest but Johor, Perak, Kedah, Sabah and Sarawak were also affected.
What has become clear is that after decades of recurring flooding, we are still not able to prevent or deal with serious floods.
Rob Steijn, director of river, coast and sea at Arcadis, a global natural and built asset design and consultancy firm, says the floods that occur in Malaysia are serious and require huge efforts.
Steijn and Piet Dircke, global leader of water management at Arcadis, were in Kuala Lumpur to present the Arcadis Sustainable Cities Index 2015 in March. Arcadis works in partnership with its clients to deliver outcomes through the application of design, consultancy, engineering, project and management services.
"You can't have a wait-and-see attitude, then only respond to the issue afterwards. You have to be prepared and to be prepared takes time, investments and a sense of urgency. That is where governance comes into the picture," says Steijn.
Steijn says the Netherlands had faced flood issues since the early 1800s but they have largely been eliminated.
"The first water board or authority started in 1200 and that was 800 years ago. It took Netherlands more than 800 years to get where they are now. Malaysia wouldn't take that long but you need to take your time in handling floods," says Dircke.
According to the Malaysian Meteorological Department, Malaysia faces two monsoon seasons — the Southwest Monsoon from late May to September and the Northeast Monsoon from November to March. The Northeast Monsoon brings heavy rain, particularly to the east coast of Peninsular Malaysia and western Sarawak, whereas the Southwest Monsoon normally brings less rain. The transition period between the monsoons is known as the inter-monsoon period.
However, last year's Northeast Monsoon brought more rain than usual, causing floods in most parts of the country. In a Dec 30, 2014, report, The Malaysian Insider said the floods in the east coast forced more than 200,000 people to flee their homes. Kelantan had the most evacuees with more than 140,000, followed by Terengganu (31,000) and Pahang (37,000).
The estimated infrastructure damage to the whole country amounted to RM2 billion and in Kelantan alone it was up to RM932 million, according to a Jan 8, 2015, report by The Malaysian Insider.
A piece of advice
There are a few crucial points in flood management. Steijn explains that while modern science and machines are important, flood management will not work without community involvement and education.
"To handle floods, it's not only about the technical solution with machines and science. It's about governance and how to manage all of that [flood and losses]. For example, even if you have a nicely designed culvert but there is so much waste and debris collected in it, it won't work anymore," says Steijn. A culvert is a closed tunnel that allows water to flow under a road or railroad.
Community involvement, he says, will lead to new ideas and different perspectives. "If you have experienced floods, use the experience as a moment of change and try to do things better."
Education plays a role. This should be applied at every level to trigger an important sense of awareness in people about floods, the dos and don'ts during such an event and its outcome. "Education should be at all levels and on a scientific level. When they have the proper education and understand the causes and effects of floods, people will use that knowledge to work out all of the issues," says Steijn.
"This goes back to the first point where it takes time to come up with a good flood management system — you need education, water management programmes at universities, research institutions, engineering, cooperation from all sectors as well as the public."
 
Be aware of what's coming
Countries that are used to floods typically try to improve their systems to handle the situation.
"Just because a country has never experienced floods or only experienced it a very long time ago, say 1,000 years ago, there is still a possibility of it happening. Flooding that occurs once in 50 years or 1,000 years still has a substantial risk of happening again, so you have to prepare yourself," says Dircke.
"These [flood] risks are at a low frequency but they are increasing. They increase because we are urbanising, our cities are becoming bigger. Hence, we have less space for the water. And there's also the impact of climate change, although it's not the main culprit," he adds.
While the Netherlands has a high protection level and has not faced flooding for a long time, Dircke says the risk is still there. "Tomorrow might bring a monster storm that could flood the Netherlands again, although the chances of that happening are very low."
Dircke adds that climate change is not the main cause of flood risks. "All the discussions about climate change are a little bit boring because all they talk about is averages. Climate change is not about the rising of temperature — it's about rising to extremes and that's already happening worldwide. Just for thought, the solar energy used each day in Brazil is equivalent to 5,000 nuclear bombs, so all of that energy has to go somewhere. But it can't go anywhere and is circulating, trapped within our atmosphere — that's one of the causes of climate change," says Dircke.
An opportunity to learn
When a flood or a disaster strikes, loss of property and lives is difficult to cope with. However, Steijn says it's also an opportunity to learn.
"In Netherlands, every time a flood occurred, we used different measures to improve spatial quality or make landscapes better but this is a message that is difficult to bring forward especially when people are still suffering," says Steijn.
According to Dircke, countries such as Bangladesh, which are too poor to invest in flood management, have taken pains to educate and prepare its people for disasters.
"Bangladesh, by using a strong educational programme at the village level, is capable of reducing the number of casualties significantly," says Dircke.
"I believe that a resilient city is one with a resilient community. Even if you don't have a proper flood management system, by educating the people, they would know what to do when a disaster strikes," says Dircke.
As for the situation here, Steijn explains that Malaysia can develop several tests in different river basins to improve on a specific flood risk plan.
"We can try an integrated approach on one river basin, then from there, we can maybe develop different elements and items in it," says Steijn.
A river basin is a land area drained by a river. It sends excess water to a central river and out to lakes, streams or smaller rivers.
"Before deepening the river, you have to make computations — understanding the physics is important. The technology is there but at the end of the day, it's all about preventing soil erosion and deforestation," says Steijn, explaining that that might be the case in Kelantan.
Arcadis is in talks with Arcadis Malaysia to find ways to work together to better manage flood mitigation.
"We're here to talk to our Malaysian branch about improving services for its clients. We're lucky to have a good professional team in Malaysia, so the knowledge transfer from Holland to Malaysia is easier," says Dircke.
This article first appeared in City & Country, The Edge Malaysia Weekly, on July 6 - 12, 2015.