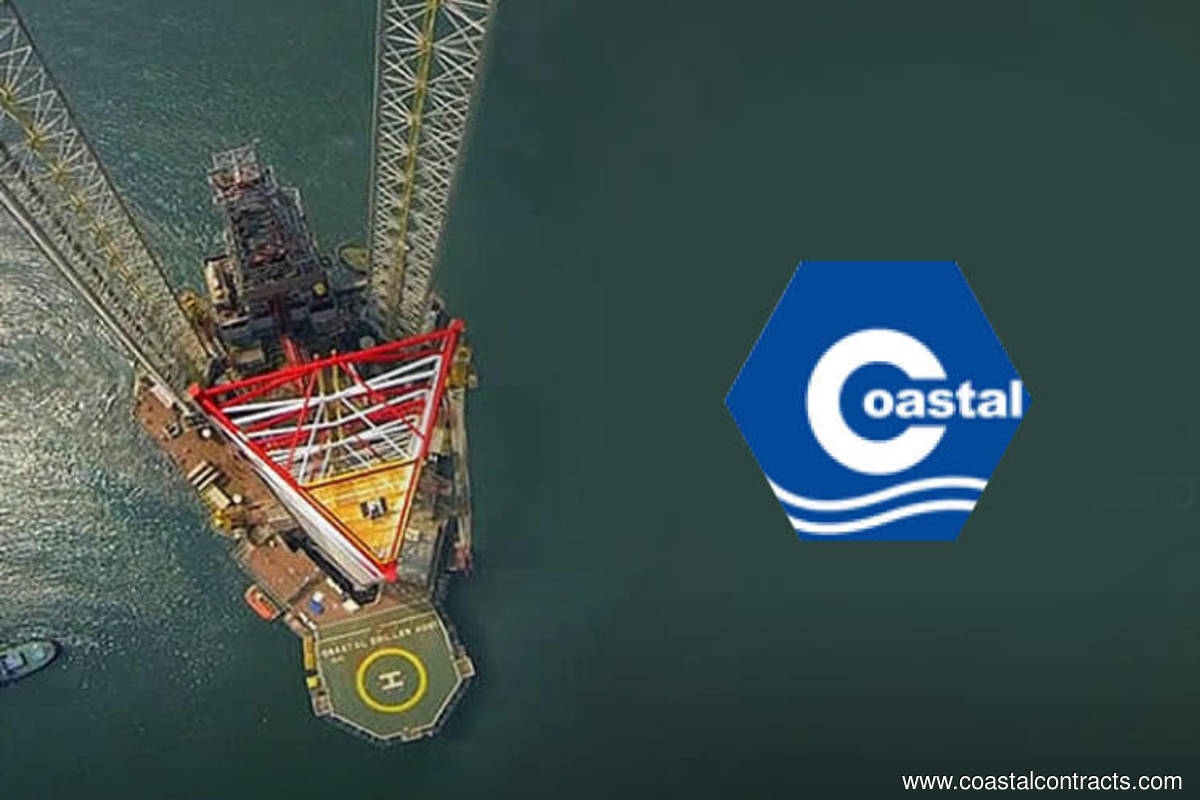 KUALA LUMPUR (Oct 11): Hardly traded Coastal Contracts Bhd's share price hit limit up. The stock jumped 30 sen, or 33.33%, to close at intraday high of RM1.20 — its highest level since March 2020.
It was among the day's top 10 gainers in terms of percentage gain on the local bourse on Monday, riding the positive sentiment on the oil and gas (O&G) stocks amid the strong crude oil prices.
Trading volume swelled to 11.72 million shares, exceeding its 200-day average trading shares of 197,347 by nearly 60 times.
Coastal returned to the black with a net profit of RM19.3 million for the fourth quarter ended June 30, 2021 (4QFY21), compared with a net loss of RM170.37 million a year ago when it recorded inventory write-down and impairment loss on receivables from shipbuilding and ship repair division then.
It recorded earnings per share of 3.68 sen for 4QFY21 versus loss per share of 32.32 sen for 4QFY20.
Quarterly revenue increased 5.8% year-on-year (y-o-y) to RM49.27 million from RM46.58 million, helped by the recognition of full contribution from the newly acquired liftboat chartering business commencing in the quarter under review.
On a quarter-on-quarter (q-o-q) basis, its revenue posted a jump of 34.6% from RM36.52 million from the immediate quarter, 3QFY21. However, its net profit shrank 16.52% q-o-q from RM23.12 million because of lower foreign exchange gain.
For the financial year ended June 30, 2021 (FY21), the group posted an annual net profit of RM32.71 million or 6.24 sen per share versus an annual loss of RM105.05 million or loss per share of 19.88 sen in FY20.
Annual revenue, however, dropped 23.5% y-o-y to RM161.57 million from RM211.08 million in FY20.
On its prospects, given the strong recovery of oil prices driven by vaccine optimism and oil producers' supply cuts, Coastal is expected to benefit from this catalyst and believes it shall have plenty of opportunities to secure more deals in the short to medium term.
While the group believes offshore supply vessel (OSV) market remains oversupplied and is waiting for the recovery of OSV market, it said it has embarked into liftboat chartering with a long term plan to tap into the wind farm renewable energy sector.
Other than the above, Coastal said it shall still continue to pursue new business that suits its growth strategies, such as floating production storage and offloading (FPSO), floating production unit (FPU), floating storage and offloading (FSO), floating storage and regasification unit (FSRU) and other O&G-related projects.
Last Friday, the company in a Bursa Malaysia filing announced that the board of the company was seeking shareholders' approval to renew its share buy-back authority in the forthcoming annual general meeting.
Coastal has been buying back its shares since June.
In total, the company cumulatively has spent RM1.05 million on buying back 1.36 million shares between June and October.
As at Oct 7, its cumulative net outstanding treasury shares stood at 12.8 million, compared with its adjusted issued shares of 535.35 million.
Lam Jian Wyn & Kathy Fong