This article first appeared in City & Country, The Edge Malaysia Weekly, on August 16, 2021 - August 22, 2021.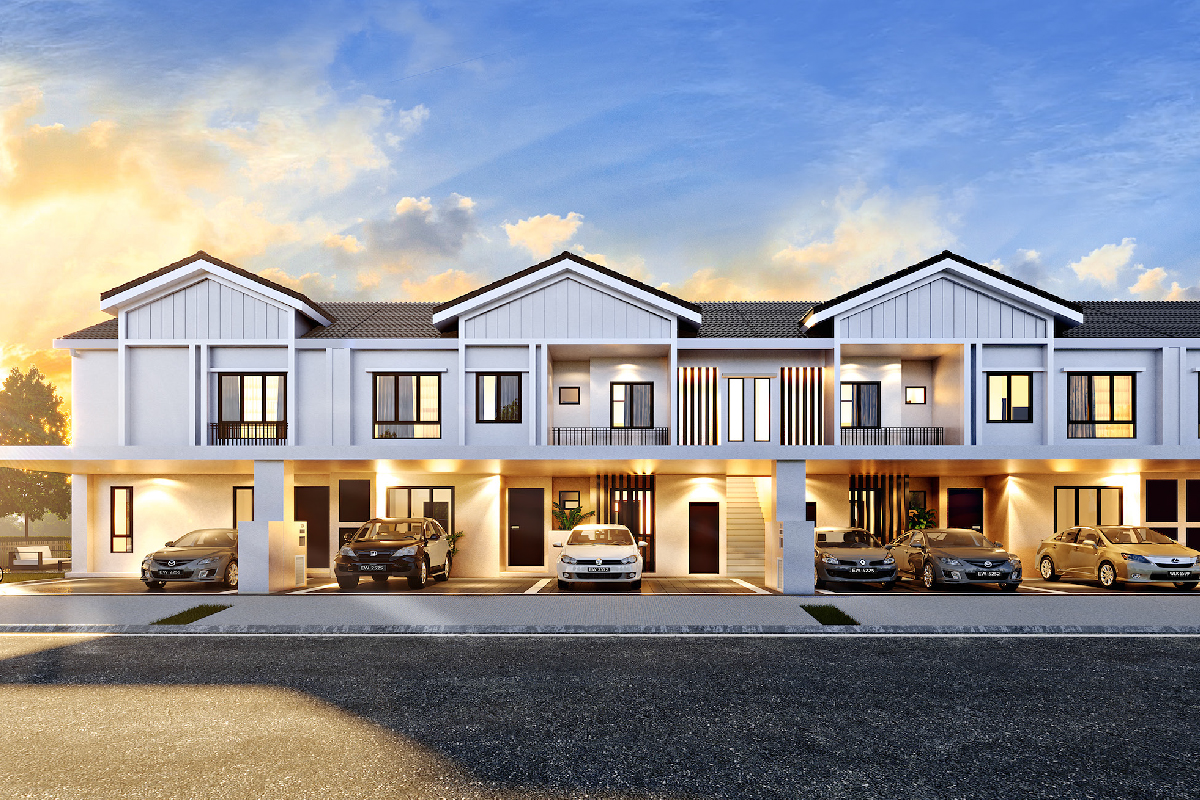 The first 224 and 264 Co-Home units at Eco Horizon in Bandar Cassia, Penang, and Eco Grandeur in Bandar Puncak Alam, Selangor, have seen a take-up rate of 85% and 75% respectively since their launch at end-March and early April. The townships are jointly developed by Eco World Development Group Bhd (EcoWorld) and the Employees Provident Fund.
Co-Home was created to cater for demand for more affordable landed housing. "We are constantly looking for innovative solutions to provide Malaysians from all walks of life with a better living environment. We intend to offer customers a comfortable strata living unit that is designed using a landed home setting, by providing a spacious single-floor living space with options to create private areas for those who live with family members, which promotes multi-generational living," says EcoWorld divisional general manager Ho Kwee Hong in an email.
Situated within the 81-acre Regent Garden residential collection of the Eco Grandeur township, the leasehold project will comprise a total of 484 Co-Home units with a gross development value (GDV) of RM228 million. With built-ups of 1,001 to 1,109 sq ft, the units will have three-bedroom, two-bathroom layouts and are expected to be completed in 1Q2023. Selling prices start from RM395,000 and the maintenance fee is estimated at 15 sen psf per month.
With a GDV of RM249 million, the Co-Home units at Eco Horizon are located within the Camdon Collection. Occupying 48.71 acres, the leasehold project will offer 459 units with three-bedroom, two-bathroom layouts and built-ups of 904 to 987 sq ft. Due for completion in 2Q2024, the units are priced from RM447,000 and the monthly maintenance fee starts at RM180.
According to the developer, Co-Home stands for co-creation homes and is inspired by the co-living trend. "However, we believe the [co-living] trend may be more suitable for those who have just migrated to higher-density cities such as Singapore, Hong Kong and the UK, but not for families. In this case, we have put together all of our customers' different lifestyles and needs into the design of the Co-Home," says Ho.
She explains that the stratified unit is like a 2-storey terraced house that has been split into two units, with each occupying one floor and having the same blueprint. Each unit will offer single-level living, with spacious and practical layouts that can accommodate a family.
"The units are targeted at first-time homebuyers, and young and multigenerational families. So far, our buyers have been the Gen Y, also known as millennials, and Gen X, with most of them being first-time homebuyers. For the Co-Homes at Eco Horizon, buyers come from the southern area of Penang island as well as the central and southern parts of the Penang mainland. Meanwhile, those who purchased the Co-Homes at Eco Grandeur are from Petaling Jaya, with a significant number of buyers from Kuala Lumpur where landed houses are priced far out of their reach," says Ho.
Not to be confused with townhouses, the main differences between a Co-Home and a townhouse are the number of floors and parking lots, and the width of the units. "Usually, townhouses are 2½ to 3 storeys and come with a maximum of two to three parking bays per lot, while for landed homes, we feel that most people would be willing to walk up only two, or a maximum of three storeys," she adds.
"Hence, the Co-Home was created to look and feel like a 2-storey landed home with four side-by-side, covered parking bays in front of each house, with two bays for each unit. The Co-Home also has a width of 35ft, which is wider than the usual townhouse that measures about 24ft to 26ft."
The demand for Co-Homes should continue to rise despite the current challenging market as the product is very attainable for a wide market segment, says Ho. "Our buyers have continued to express interest as the units are priced affordably and the projects are relatively low in density, with about 13 units per acre for the ones at Eco Grandeur and 16 units per acre at Eco Horizon."
Ho highlights that the main challenge in developing the Co-Home was in communicating a brand-new design concept to the market, but the developer overcame it by taking an educational approach. Instead of conventional advertising strategies, it expanded most of its efforts in educating the public on the concept through infographics and videos that focus on the unique selling points and designs of the Co-Home.
"Consequently, Co-Home will allow us to offer a complete range of product types in both the Eco Grandeur and Eco Horizon townships. In fact, by pushing innovation, we are able to provide innovative products that cater for the needs and wants of our buyers," says Ho.
With a GDV of RM9 billion, the 1,400-acre Eco Grandeur comprises residential and commercial components and is easily accessible via the Kuala Lumpur-Kuala Selangor Expressway, Guthrie Corridor Expressway and North-South Expressway. It will also be linked to the West Coast Expressway and Damansara-Shah Alam Elevated Expressway once they are completed.
Meanwhile, the RM7 billion Eco Horizon is a sprawling 300-acre township and comprises residential and commercial components. Connected to the North-South Expressway and the Second Penang Bridge, it is also about a 15-minute drive from Simpang Ampat, 20 minutes from Nibong Tebal and 30 minutes from Penang island.