This article first appeared in The Edge Malaysia Weekly, on September 30, 2019 - October 06, 2019.
NEWS: Press Metal is Company of the Year
There is a Chinese proverb  that says when brothers are united, their strength would be as powerful as a sword that can slash metal. Essentially, it means that nothing is impossible when brothers unite to achieve a mission.
Press Metal Aluminium Holdings Bhd, a multi-billion-ringgit smelting giant that was created by the Koon brothers in 1986, would be a case in point. It was born during the deep recession of the late 1980s, when bankruptcies and retrenchments were part of daily life. Those who lived through the severe economic crisis would probably still feel the nerve-racking fear.
Tan Sri Paul Koon Poh Keong, who was a fresh university graduate at the time, made a bold move. The youngest in the family, he started an aluminium extrusion business with his four elder brothers — Poh Ming, Poh Weng, Poh Tat and Poh Kong.
With US$50,000 capital in hand, and minimum knowledge about aluminium extrusion operations, Paul set up a small outfit in Puchong, Selangor, with only 12 workers. The brothers then rolled up their sleeves to operate their business. As the company expanded, it moved to Kapar, Selangor.
Within seven years, the Koon brothers reaped the fruits of their labours. Press Metal made its debut on the Second Board of the Kuala Lumpur Stock Exchange in 1993. It was transferred to the Main Board in 1999 when it had established a strong earnings track record.
Almost two decades after setting up the little shop in Puchong, the Koon brothers made another bold decision to venture upstream — making aluminium. In 2009, Press Metal built the country's first aluminium smelting plant in Mukah, Sarawak, taking advantage of the ample power supply there. Since then, the Koon brothers have never looked back. Press Metal is currently the largest aluminium smelter in Asean and a key player in Asia — which the young engineering graduate would not have thought possible when he started out.
Currently, Press Metal has an annual smelting capacity of 760,000 tonnes per year and an annual extrusion capacity of 210,000 tonnes.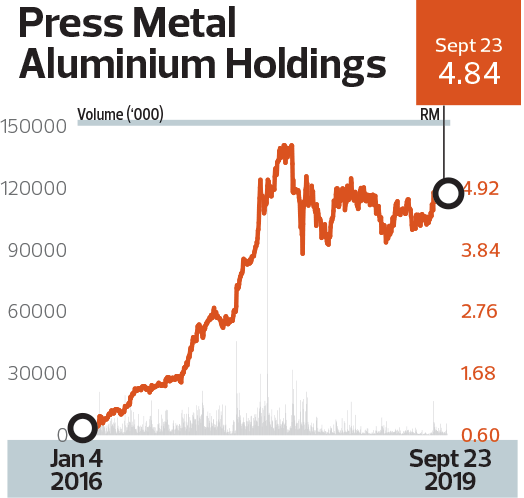 The group owns three smelting plants — in Mukah and Samalaju Phases 1 and 2 — with production capacities of 120,000 tonnes, 320,000 tonnes and 320,000 tonnes respectively. Its two extrusion plants — in Foshan, China, and Kapar — have production capacities of 160,000 tonnes and 50,000 tonnes respectively.
Having its plant in Sarawak comes with a host of benefits, one of them being lower electricity tariffs. At end-2014, Press Metal signed a 25-year power purchase agreement (PPA) with Sarawak Energy Bhd to purchase 500mw of electricity for Samalaju Phase 2.
With ample land to expand — only half of its 202.34ha in Samalaju are occupied — Press Metal has been waiting for the right opportunity to grow its smelting capacity as both of its existing smelters have been running at full capacity since 2016.
After a long wait, Press Metal can finally look forward to a third smelter in Samalaju as the group has secured a new PPA with Sarawak Energy in August, which will give it access to up to 500mw of electricity for 15 years.
The third plant will add 320,000 tonnes annually — a 42% bump — to its existing annual capacity of 760,000 tonnes, giving it a total smelting capacity up to 1.08 million tonnes a year upon full power drawdown.
Press Metal has been named The Edge BRC Company of the Year 2019, scoring high on earnings growth and returns to shareholders over the last three years.
Press Metal's share price jumped five-fold during the period under review, between March 31, 2016, and March 31, 2019, from 88 sen to RM4.49, translating into a three-year compound annual growth rate of 72% — the highest returns among The Edge BRC Big Cap companies.
Year to date, the counter has risen 1.4% to close at RM4.90 on Sept 18, giving it a market capitalisation of RM19.7 billion.
Since 2013, Press Metal's market capitalisation has stayed convincingly above the minimum RM1 billion market cap that qualifies it as a The Edge BRC member, although the company did cross that threshold in early 2011.
Profit after tax registered a three-year CAGR of 67.2% during the awards evaluation period, rising from RM132.3 million in FY2015 to RM618.9 million in FY2018.
The group also achieved a stunning return on equity in the last three financial years — 23.3% in FY2016, 26.5% in FY2017 and 22.4% in FY2018.
Press Metal has consistently paid dividends over the past three years — with total dividends per share of 10 sen in FY2016, six sen in FY2017 and seven sen in FY2018. However, due to its strong share price performance over the past three years, its trailing 12-month dividend yield was only 1.2% at the time of writing.
The year 2017 was a very good one for Press Metal. The company's market capitalisation was large enough for it to become a component stock of the FBM KLCI. The rise in its share price catapulted Paul and his brother Poh Ming into Forbes' Malaysia's 50 Richest list. They were ranked 13th with a net worth of US$1.1 billion (RM4.9 billion).