This article first appeared in Forum, The Edge Malaysia Weekly, on November 22, 2021 - November 28, 2021.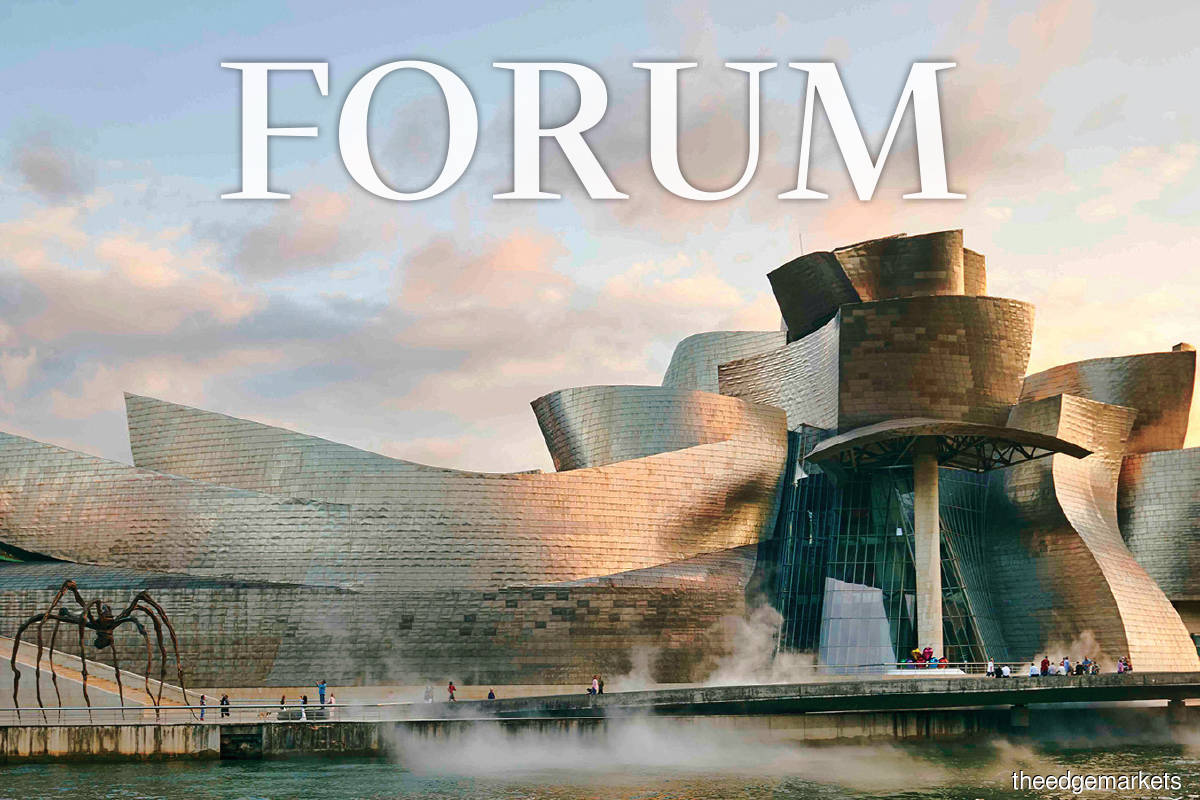 There is an old saying that one day's travel is worth more than several books. Having been locked down since January 2020 because of the pandemic, it was both a relief and an anxiety to travel to Europe last week. Just getting the travel paperwork was a hassle as every country you go through, including transiting in airports, would require very careful reading of what the exact requirements are.
I was invited by the Basque government to join a conference on global futures. Listening to Martin Wolf of the Financial Times and futurist Gerd Leonhard in person was far more enjoyable than the hundreds of hours of Zoom webinars that I attended during the pandemic. Leonhard was very clear from a technological perspective that the future is what we can imagine and create today. Digitisation, decarbonisation and reformation are the ways forward.
Globalised technology has opened up so many possibilities that anyone who can access that knowledge should be able to create their own vision of what they want for their city, community or children. At the moment, the tense US-China rivalry and the pandemic catastrophe make the outlook very gloomy. Individuals seem helpless to change global affairs, but communities can change the local conditions that they have some control over.
In the 1980s, that was exactly what the community in the City of Bilbao did in the aftermath of the devastation to jobs and the economy from de-industrialisation. The steel industry was polluting and dying. Jobs were being threatened. The Basque government, however, runs an autonomous part of the Kingdom of Spain. Realising that the city would have a bleak future if it did not try to shape its future, the city and business leaders got together to plan an audacious project — the design of a world-class museum of modern art, inviting the New York-based Guggenheim Museum to run it and getting a first-rate American architect to design it.
It was a revolutionary breakthrough out of "hard industry and manufacturing" into the soft area of art and creativity. In the 1980s and early 1990s, creative software was just a glimmer in the imagination of even Silicon Valley.
Bilbao has a long history of entrepreneurship and money. The world famous Bank BBVA actually had its origins in Bilbao (Banco Bilbao Viscaya Argentaria). The bank gave an important share of the initial funding and support, but it took visionary city leaders to commit over US$100 million to put Bilbao on the world map.
Using a decrepit industrial portsite by the river, the American architect Frank Gehry applied titanium steel cladding with a futurist perspective that blended with the local landscape. The new museum was larger than the original Guggenheim Museum in New York and it housed world class modern art. It positioned Bilbao as a major tourist site, attracting up to one million visitors in 2019, as many as the Guggenheim in New York. Tourism doubled as visitors came not just to see the museum, but also to enjoy the gastronomy of many super restaurants and the spectacular northern coast of Spain.
When the museum was launched in 1997, there were as many opponents as supporters. Some 25 years later, the project is considered a success. There is no question that the reimagination project put Bilbao on the global map, became a source of national and community pride and inspired many copies around the world. Today, there are Guggenheims in Venice and Berlin, and a new one is being built in Abu Dhabi.
What are the lessons from the Guggenheim project? Basque and German economists Beatriz Plaza and Silke Haarich concluded that if you embed regional knowledge into global networks, you will get social, cultural, artistic and economic benefits that are unanticipated.
First, Bilbao is close to San Sebastian along the famous Camino de Santiago pilgrimage trail that attracts many pilgrims, hikers and trail-walkers. Second, the natural coastline and hills, as well as the unique Basque culture, were themselves attractions. Third, the spectacular architecture and modern art theme attracted people who were in none of the earlier categories, but who wanted to see modern art in a new, fresh perspective.
Overall, a global brand attracted tourists from afar, raising awareness of all the local history, culture and gastronomy. The Basque government brought in world-class architects to contribute to iconic projects around the city and region. For example, Norman Foster (who designed the Hong Kong Airport) contributed to the subway design. Cesar Pelli (who designed the Kuala Lumpur Twin Towers) created the futuristic Iberdrola Tower next to the Guggenheim. Thus, visitors to the Basque country came to admire the audacity of visionary architects who experimented with form, design and functionality.
To me, Bilbao represented a pioneering venture to take bold, imaginative steps to break the old mould, having recognised that the mechanical, industrial model was the past, and to move towards creativity, design, taste and culture of the future. To attract new business, you had to move out of your comfort zone. Business as usual is dead. The pandemic proved that you had to take the future or fate into your own hands, or risk being marginalised.
The Bilbao experiment has many lessons for cities throughout Asia. At a time when central governments are busy with national or geopolitical issues, local communities have to decide how to shape their own future. This does not mean that you discard the past, because nothing is written on a blank piece of paper. Life is always path dependent — your past shapes your future. But you must move forward to avoid impending disaster.
This story is as old as humanity. Facing hunger and natural disaster, hunter-gatherers had to take huge risks to venture into new land in order to survive. Today, there is little doubt that technology is the way of the future. Cities like Palo Alto, Cambridge, Boston, Shenzhen and Bangalore thrive on technology. University towns have become centres of technology, R&D and innovation. Hence, every city or urban centre must have a technology plan, but to achieve what?
Cities that already have a technology base, such as Penang with its Bayan Lepas Industrial Park, can plan how to expand and provide the skills and talent base to take the companies there to the next level. How to network the universities' R&D capacities into commercial use is still work in progress. What I find surprising is how little cities have asked citizens to come up with better ideas to improve city services using technology.
This is probably the legacy of the current system, whereby governance is through elections, rather than more communal participation on a more informal basis to push through community projects, such as museums, public parks, adult re-skilling and promotion of jobs for all. In this age of complex global change, the real action and ideas will have to be local, because increasingly, geopolitical differences and national polarisation prevent actions to address the needs of diverse communities. Thus, it is better that we have more bottom-up volunteer activities to deal with climate change and social improvements, rather than waiting for others to deal with them.
Cities account for three quarters of global carbon emissions and pollution, so it is time that cities now act through technology and their own efforts.
---
Tan Sri Andrew Sheng writes on global issues from an Asian perspective