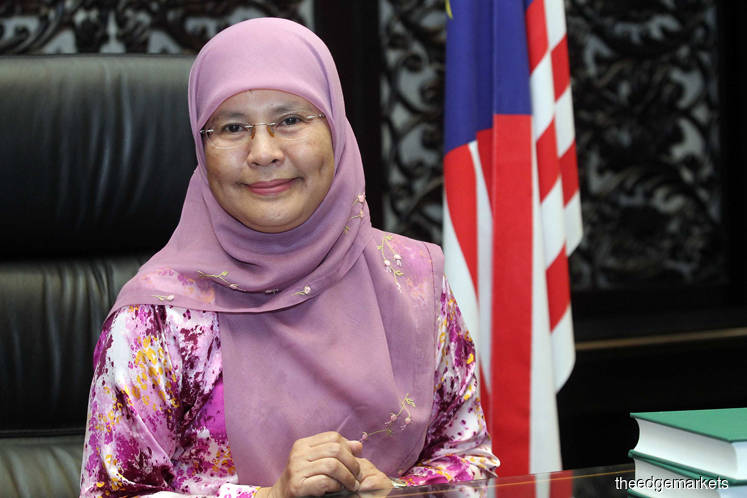 KUALA LUMPUR (April 5): Chief Justice (CJ) Tan Sri Tengku Maimun Tuan Mat has urged judicial officers to consider the risk of contagion when sentencing offenders to jail during the Covid-19 pandemic.
The Federal Court chief registrar's office said in a statement today that it had taken note of the Prisons Department director-general Datuk Seri Zulkifli Omar's letter dated April 2, proposing that offenders to the Movement Control Order (MCO) be sentenced to community service instead of jail.
"The chief registrar's office confirmed receiving the letter from the Prisons director-general," the statement said.
"On directions by the CJ, this office [has] advised judicial officers that while they consider the provisions of the law in sentencing, they should also take note the risk of the spread of Covid-19 to prisons when weighing in passing sentence on the MCO offenders," it said.
This means it had given full discretion to judicial officers, namely magistrates and Sessions court judges, to consider other options in sentencing those who flouted the MCO, following criticisms by various quarters including lawyers that the courts may be too strict in passing jail sentences.
In Zulkifli's letter to Federal Court chief registrar Ahmad Terirudin Mohd Salleh, sighted by theedgemarkets.com, he made the proposal for courts to consider sentencing offenders to community service to avoid congestion in prisons and prevent the spread of Covid-19.
"According to our records as of April 1, there are 378 MCO offenders who have been remitted to prison. Besides causing congestion in the prisons, the department is concerned that they may result in the spread of Covid-19 as their health status remains unknown.
"This also creates the problem of social distancing of the prisoners and this would endanger the safety and health of the inmates." Zulkifli said in the letter.
For this reason, Zulkifli suggested the courts utilise the Offender's Compulsory Attendance Act 1954, to remit offenders to do community service instead which had been utilised by the Prisons Department since 2010.
He hoped the court would consider the Prisons Department request.
It was previously reported that lawyer Datuk Baljit Singh Sidhu had advised more discretion in order to avoid remand or prison sentence to MCO suspects in order to prevent congestion and spread of Covid-19 in prison.
Tengku Maimun had also allowed remand proceedings to be conducted at police stations rather than in courts to minimise or avoid the transmission of Covid-19.
Yesterday, it was reported that former Deputy de-facto Law Minister Mohamed Hanipa Maidin and lawyer and former Universiti Malaya lecturer Datuk Dr Gurdial Singh Nijar also wanted the police and courts to strike a balance between punitive sentencing and facilitating the enforcement of the MCO to avoid the violation of human rights.
Read also: Striking a balance during MCO punitive or facilitative
#dudukrumahdiamdiam and get the news at theedgemarkets.com.