This article first appeared in Enterprise, The Edge Malaysia Weekly, on December 30, 2019 - January 05, 2020.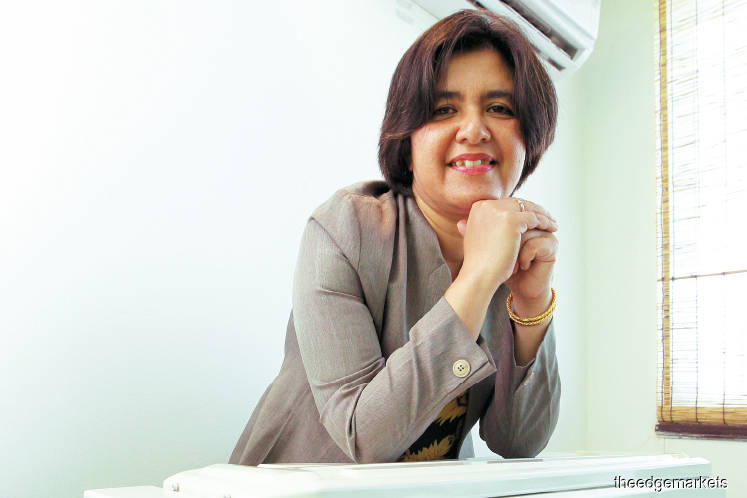 Sector: Energy-efficient cooling systems
Addressable market: The number of air conditioners could rise from 40 million units in 2017 to 300 million units in 2040, half of which will be in Indonesia, according to the International Energy Agency.
Intellectual property status: One patent
Product description and USP: Teknologi Inovasi Solar invented and sells the SonneAire hybrid air-conditioning system, which uses 20% to 30% less power than conventional air-conditioning units.
Currently exporting: No
Industry challenges: Lack of funds, shortage of original equipment manufacturers and a need for management talent
Teknologi Inovasi Solar Sdn Bhd founder Azrina Yusof, the inventor of the SonneAire Solar Air Conditioning System, was featured in Enterprise (then known as Unlisted & Unlimited) in February 2016.
A week before the interview, she was visited by a group from a local mosque who wanted to have her solar hybrid air-conditioning units installed in time for Ramadan, when the air conditioning would be running around the clock. The group was looking for ways to reduce their hefty electricity bill during the fasting month.
Azrina told them it would not be a problem. But when the article was published, all hell broke loose. For starters, the managing director of Golden Arches at the time, which runs the McDonald's franchise in Malaysia, read it and asked two of his staff to visit her.
"These guys had already set up an outlet in Putrajaya, but were told to halt work and put in my solar hybrid air conditioning. At the time, my patent was not fully registered and I did not have a Sirim certification, nothing. Their interest in my product was simply based on the story in The Edge," she chuckles.
The article came out in February and the men who had been tasked with meeting her and evaluating her units wanted to take delivery of them in August. Again, she agreed.
In March, however, her solar hybrid supplier baulked. "They said, 'Oh Azrina, we do not have any more stock. If you want, you have to get a container of parts and assemble it here."
The solar unit consisted of thermosyphon solar vacuum tubes, the brainchild of architect turned solar technology expert Teoh Siang Teik. The problem was that Azrina could not afford a container of these parts.
"Then, my original equipment manufacturer (OEM) for the air-conditioning unit told me they had run out of stock and I would have to wait three months for a unit," she says.
If that was not enough, her staff quit en masse because of some trouble with the company's first installation, which resulted in a furious customer calling and yelling at them. To top it off, there was suddenly great interest in her product when the article appeared. And there was only RM2,000 in the company's bank account.
"My immediate concern was what I had promised the people from the mosque because Ramadan was in June. The rest could be left a little later," says Azrina, who had six air-conditioning units, which would do for the mosque, but no solar units.
In place of staff, she hired a university student who was studying mechanical engineering and looking to do some practical training. "I called him and offered him the opportunity to collect data on our solar unit," she says.
"How our system worked was that we boiled the water and kept it in a thermal plastic container to maintain the heat. It had to be kept at a temperature of 60ºC at all times to keep the air conditioning going. While he was taking the data, there was a power outage that he was not aware of. So, he went on recording the temperatures."
It was through this accident that Azrina stumbled on the perfect temperature (way lower than 60ºC) where the energy consumption was optimum. "I was looking at the data and realised that I did not need to use a solar panel to save energy. I can simulate a situation where I can give heat to the air conditioner and get energy savings at the same time if I can get the temperature consistent at that level," she says.
She realised that air conditioning units create their own heat and she could recycle the heat back into the unit. "I looked for a welder and we made a box. We attached the box right in front of the air conditioner and voila! We did not need to use solar power anymore. I gave the mosque my last six units with these boxes attached. They were as good as solar hybrid air conditioners, reducing power consumption by 20% to 30%."
Azrina had essentially come up with a new product. "So we tested the product and installed it in the mosque a day before Ramadan. I scrambled a team of refugees together and we got it all done," she says.
The mosque used the new units and immediately started recording clear energy savings. They showed her the bill and gave her a reference letter attesting to the savings.
For McDonald's, she installed the solar unit in Putrajaya and when the guys came back for a second unit six months later, she let them have the cool box version instead. "After that, they were quiet for nine months. Then, they came back and said, 'Okay Azrina, we are going to appoint you as our supplier'," she says.
Basically, with her present capacity, this job was a little out of her league. So, she became a vendor to one of McDonald's contractors and now she has 10 to 20 jobs a year from that company alone.
With the new product, Azrina applied for a grant from Agensi Inovasi Malaysia (AIM). "Before this, I received a grant from Cradle and then I was part of its Coach and Grow programme," she says.
Azrina managed to secure a matching grant of RM450,000 from AIM and used the money to obtain her Sirim certification and MyHijau label. "Apart from the certification, I also managed to get my patent," she says.
Around this time, Azrina was introduced to a German group known as The Founder's Valley, who were interested in meeting founders around the world who were meeting the United Nations' Sustainable Development Goals. In Malaysia, it featured SonneAire and the Biji-biji Initiative.
The Germans became her friends and decided to help her. They looked at the patent she had registered with the Intellectual Property Corporation of Malaysia and said, "Forget about Malaysia. You need to register this overseas."
"So, they helped me rewrite it. Then, I registered with a lawyer here and with the Patent Cooperation Treaty in Australia. And we got it," says Azrina.
In the second half of last year, she focused on the final parts of her MyHijau and Sirim certifications. It was worth it. This year, because her certifications are in place, she has seen a surge of orders.
"I still have orders from McDonald's and also from Secret Recipe. I was introduced to a company called TNB Energy Services, which leases equipment to companies to help them cut their energy bills. You pay them back via a portion of the savings on your bill," says Azrina.
The surge can partly be attributed to the MyHijau label. Now, everyone who purchases the company's air-conditioning units is eligible for an investment tax allowance. McDonald's is exercising this.
This year, Azrina was introduced to QSR Brands, which runs KFC and Pizza Hut in Malaysia. "But we have not started any work together yet," she says.
But she is not quite out of the woods yet. The introduction of the Goods and Services Tax in 2015 slowly put most of the local air conditioner manufacturers out of business. "One of my suppliers has already gone out of business. Another is rebranding to do servicing and maintenance as well. It went through its list of customers and is now proposing to help them with energy savings as well. So now, my big manufacturer is also selling my product," says Azrina.
"I am so due for growth and I cannot do this organically by myself anymore. My OEM is asking for 1,000 units next year and TNB Energy Services is asking for 600. And I am having issues getting the units," she adds.
What Azrina really wants to do is find out how she can make her own products so that she is no longer at the whim of manufacturers. She has met with the Malaysian Investment Development Authority to try and figure out how to do this.
Azrina is also looking to raise funds. EverEdge, a company she met through AIM, is doing a valuation of her intangible assets. "If I can do some kind of fundraising, then I can find a proper place (for an office) and get a proper assembly line to make my own products," she says.
Although things have been progressing, what Azrina would like most is a team to manage the
company so that she can get back to the drawing board and test out a notebook full of ideas. "My ultimate product would be something that is cooling and yet uses no refrigerant and as little power as possible. I have sketched out something in my notebook and now, it is a matter of sitting down and testing it out," she says.
"Take the business from me and let me get back to innovation," she adds, only half joking.