This article first appeared in City & Country, The Edge Malaysia Weekly, on November 1, 2021 - November 07, 2021.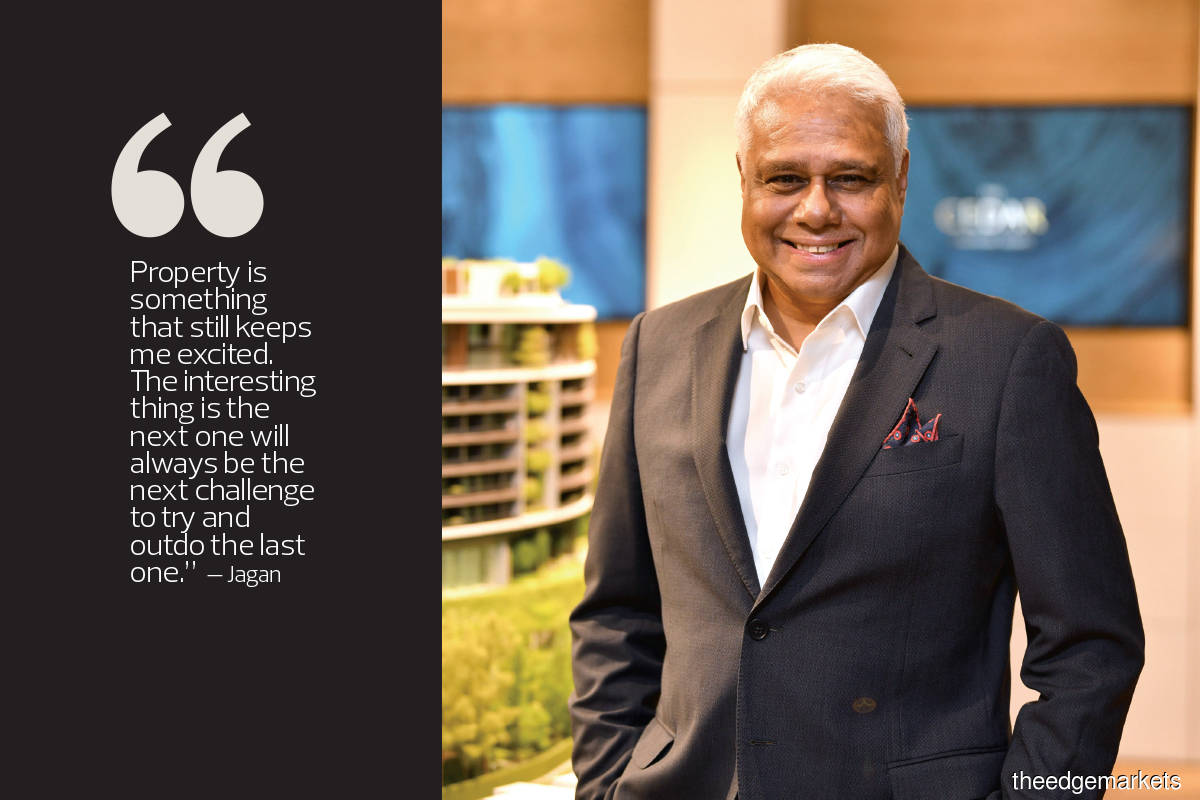 It is 9am for Datuk Jagan Sabapathy in the UK, who appears upbeat and all set for our Zoom interview. Just a few days prior, as incoming chairman of Battersea Project Holding Co Ltd, he had welcomed the Yang di-Pertuan Agong and his entourage for a tour of the Malaysian-owned Battersea Power Station landmark regeneration project in London. 
"Early yesterday morning, I had tech boys on the phone … and in the afternoon, I was with the Battersea team. In a funny way, I suppose it keeps the brain working, so I can't complain," says Jagan. He has been a familiar figure in the property industry since his time as CEO of Bandar Raya Developments Bhd (BRDB) from 1999 until his retirement at end-2013.
"[I was] probably the longest-serving CEO of BRDB. I must admit, I loved it. I enjoyed it. But you know, it's the sort of business that if you've got the right heart and passion for it, you can learn. We did some very good stuff," Jagan recalls. He was behind projects such as Troika, One Menerung and Serai Bukit Bandaraya.
"After I left BRDB, the first thing I did was take a break. I just went away for two to three months … to the US, Canada, and just chilled," he says during the exclusive interview with City & Country.
Before joining BRDB, Jagan was in the consulting business as partner in KPMG Malaysia. He then joined Benta Plantation Bhd as executive director, Austral Lao Power Co Ltd as director and, subsequently, Prime Utilities Bhd and Indah Water Konsortium Sdn Bhd as managing director. He is currently sitting on the boards of several public listed companies, including Sime Darby Property Bhd, Microlink Solutions Bhd, Omesti Bhd and Principal Asset Management Bhd, as a director.
"Was I ever a property man? Nope. More an accidental property man, and I suppose deeply blessed to have been given the opportunity and blessed enough to be able to learn and enjoy it," he says.
In early 2014, Jagan set up property development and advisory firm Tribeca Real Estate Asset Management Sdn Bhd. "I set up Tribeca with a view that we would be a very boutique development outfit. We would look for projects, become development managers, project managers … we would bring in partners to co-fund a project and we would execute it. That was really what I wanted to do.
"I've seen this model work in various parts of the world. In fact, in places like the UK, Europe and America, you don't find massive property companies with massive land bank. People tend to be fairly opportunistic in terms of how they look at projects," says the director of Tribeca.
Apart from its two ongoing joint-venture projects with Ho Hup Group — a hotel and residential development on the waterfront of Kota Kinabalu, Sabah, and a 400-acre mixed-use development in Kulai, Johor — Tribeca is introducing The Cedar, the latest residential development in Damansara Heights, Kuala Lumpur.
Exclusive residences in a prime address
Comprising just 60 exclusive apartments and 10 duplex penthouses in a 6-storey rectilinear building of glass and steel, The Cedar is a 4.2-acre freehold development sitting on a small plateau in the heart of Damansara Heights — specifically, in Jalan Setiakasih. "It looks right over the city, so you get views of Genting Highlands right across to KLCC (Kuala Lumpur city centre)," says Jagan.
The project, which has a gross development value of RM650 million, is being developed by Satin Magic Sdn Bhd, of which Jagan and landowner Datuk Seri Thong Kok Khee are the majority shareholders, and is being managed by Tribeca.
Jagan recalls that when Thong asked him to take a look at the land, he did not immediately say yes. "This is Damansara Heights, and truth be told, my parents have lived [here] since 1974, so this is my kampung. Me and my wife moved into the area in 1997 and built our house in 2002. (Local artisan bakery and café) Huckleberry is my wife's, and we're very much part and parcel of the Damansara Heights community. So, I thought it was going to be sensitive … because the residents of Damansara Heights do not want any new developments.
"But I have a slightly different view in that if you don't put new products into the market, it is very difficult for the market to move. When we did Menerung, Bangsar residents said they didn't want [new developments]. After we finally managed to come to [an agreement], it got built and property prices in and around Menerung doubled," he says.
"And I think there has to be some level of regeneration, otherwise it'll just age. At the same time, we have to be extremely mindful of local sensitivities and make sure that we come, to the best of our ability, to an understanding with everybody else," he adds.
Jagan and his team took time to look at the history of the planning in Damansara Heights and what the planners had envisaged for the site. "As it transpired, the [site] was always earmarked for a condominium project because it is directly opposite Desa Damansara. You've got Desa Damansara 1 and 2. This was always meant to be Desa Damansara 3. Over time, nobody did it, so we [restarted] the conversation with the authorities to revisit the [plans for] a condominium," he explains.
The process took time. "We had to engage with the residents and went through various iterations of what we could build. From a beautiful point block, which was too high, it was brought lower, and we finally ended up with this beautiful rectilinear building and it's kept everybody happy. This is probably the lowest-density luxury apartment [project] in KL."
The Cedar's location in the prime neighbourhood of Damansara Heights also puts it within walking distance of local restaurants and cafés, including The Bread Shop, Decanter and Siti Li Dining, as well as a three to five minutes' drive to Plaza Batai, Plaza Damansara, Damansara City and the upcoming Pavilion Damansara Heights. More amenities are also available in neighbouring Bangsar, which is just a 15-minute drive away.
Palatial units for a niche segment
The Cedar offers an eclectic mix of 15 unit layouts with built-ups of 2,700 to 10,000 sq ft. "What we have is a super luxe condominium with large units. This reminded me so much of the process we went through building Menerung and Serai, where every time we thought [the units] were big, they were not big enough. I remember with Serai, especially, we had 7,000 sq ft units and I thought they were going to be tough to sell. As it turned out, all the big units went out first.
"And [at The Cedar], the penthouses have done exceptionally well," says Jagan.
Units at The Cedar will come with floor-to-ceiling heights of about 12ft for the standard units and up to 28ft for the penthouses. "You're building somebody a home, so the emphasis is on getting the layouts right so that people have spaces that work. The master bedrooms at The Cedar are very palatial and we have big living rooms, dining rooms, kitchens, studies and so on.
"And the interesting thing about The Cedar is what I see happening post-Covid-19," Jagan adds. "Covid-19's been an interesting one where suddenly people have to be locked in their homes for extended periods of time … and suddenly, space becomes a huge premium. So going forward, I think we will start to redefine how homes are structured. At The Cedar, there's plenty of space, whether inside the unit or in the common areas."
The development is especially targeted at empty nesters, says Jagan. "It's for people living in large bungalows who want to scale down. In an odd way, Thong [and I] were building a place that we could live in because we both live in bungalows and villas in the area, and we both have kids who are grown up and suddenly, the house is a bit too big for you and maintenance is a problem, as getting help — maids and gardeners — today is challenging and could get worse. Looking down the line, there will be people who will want to move from larger bungalows to products like these," he says.
Units at The Cedar are priced from RM1,650 to RM1,900 psf and monthly maintenance is estimated at 66 sen psf. The prices, Jagan notes, are in line with Aira Residence in Bukit Damansara and Serai Bukit Bandaraya.
The developer is offering an optional package that comes with top-end wet and dry kitchens and wardrobes. "We managed to get really good deals from the suppliers. Many of them want to be part of a really top-notch development and so they've given us exceptionally good prices."
The single-block development will also boast two levels of common spaces — on the rooftop and ground levels, with facilities including a private dining space with full kitchen facility for up to 200 pax that opens out onto landscaped gardens, a 1km forest walk, rooftop infinity pool, barbecue area, business centre, tennis court, rooftop gym, sauna and yoga area. On the ground floor, Jagan says, the landscape will have over 200 native tree species, including a local variant of the cedar tree, which inspired the name.
"I must give credit to my son Ashwin, who's worked very closely with me and my development manager, Justin Lau. They really worked those spaces. When they came up with this lovely walking, jogging track, I was impressed. And these two young fellas have challenged me throughout [the process]. They've been a little bit more edgy, they're willing to try things and they're willing to push. And I think that's the result of having younger guys coming in who are very well-travelled themselves. When I look at the end result, it's quite spectacular. And it is good fun that I get to work with my son," says Jagan.
The Cedar is designed by Hamiltons International and landscaped by Bangkok-based PLandscape Co Ltd.
Of the units available for sale, around 55% to 60% have been booked predominantly by Malaysian buyers, notes Jagan. Construction has started and the project is slated to be completed in late 2024/early 2025. "Covid literally threw us off course as, during the lockdown, there was no way we could get on site, so there's no point trying to sell anything if you can't start work. So, we did a lot of pre-marketing towards the end of last year and early this year just to get some interest. We started marketing in earnest towards April/May this year, so we got a lot of interest and have started executing our SPAs (sale and purchase agreements) and so on.
"Also, commodity price rises and inflation generally will create asset inflation going forward, not just in Malaysia, but everywhere. So [it is] a good time to get out of cash and into hard assets like property," he adds.
What's after The Cedar? "Don't know lah," Jagan chuckles. "With The Cedar and the KK and Kulai [projects], we're reasonably busy, and we're helping in a couple of other projects in an advisory capacity as well. But I've just recovered from these two years of lockdown, so before we dive into the next one, I would like to take a deep breather. The bucket list has not been ticked for two years. And I think this is the best part about not running a public listed company.
"I'm still busy, enough to keep me occupied, sane and, as my wife says, to not be a nuisance," he laughs. "Property is something that still keeps me excited. The interesting thing is the next one will always be the next challenge to try and outdo the last one. When I was with BRDB, I always told the team, we're only as good as our last project, and so when we started The Cedar, I told the team that we've got to make this better."