This article first appeared in Digital Edge, The Edge Malaysia Weekly, on November 29, 2021 - December 05, 2021.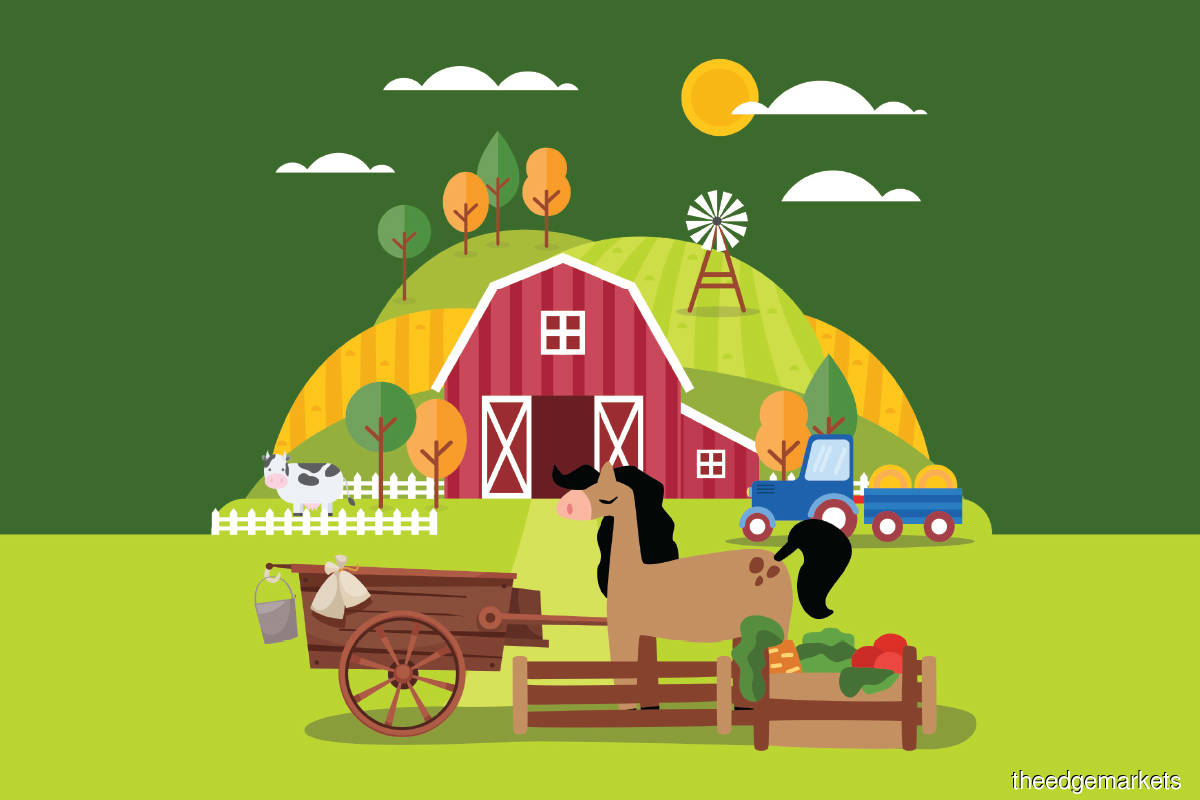 The prospects for agricultural technology (agritech) are bright, especially with 5G connectivity promising to revolutionise the future of crops as we know it with ultrafast speeds and near-real-time response on the horizon.
The benefits of these solutions significantly outweigh the cons, considering the fact that the use of artificial intelligence (AI), drones and Internet of Things (IoT) devices and sensors could tremendously improve crop efficiency and sustainability.
Recognising that the agriculture sector lacks high-technology adoption, the government, through the 12th Malaysia Plan (12MP), is pushing the adoption of smart technologies to elevate the sector, from improving the output of industrial crops to providing equitable and sustainable growth for smallholder farmers.
The five-year plan, effective until 2025, entails strategies to build a smart farming framework, which will complement the impending launch of the National Agrofood Policy 2021-2030 and the National Agricommodity Policy 2021-2030.
But, while the government and larger industry players are heavily backing technology as a solution to the woes faced by smallholder farmers, structural issues that have long plagued the agriculture sector remain and cannot be ignored.
Realistically speaking, it makes little economic sense to incorporate agritech solutions in small farms, primarily because it costs too much, say industry experts.
Smallholders, who are largely responsible for food crops, lag behind large-scale farming and agribusinesses in terms of productivity and efficiency as they grapple with issues such as lack of access to technology, innovation, financial support, infrastructure and opportunities, says Dr Sarena Che Omar, deputy director of research at Khazanah Research Institute.
"The Malaysian agriculture industry can be split into two: food and commodities [palm oil and natural rubber]. For food, the producers are mainly smallholders. For example, in paddy farming nationwide, about 200,000 paddy farmers are working on an average land size of 2ha to 3½ha, which is small," says Sarena.
"When it is small, coupled with cash-tight, poor farmers, it is very difficult to entice them to risk their production to experiment with new technology. What if it doesn't work or, like in most cases, it requires further fine-tuning or adaptations [that could take several attempts before the technology] is deemed effective?"
This group, many of whom are still classified as being in the B40 (bottom 40% income group), also remains disconnected from the market and is exposed to excessive exploitation by middlemen in the distribution channels.
It is not that Malaysia's agriculture sector is impoverished. Financial resources have been ploughed into industrial crops, with the country's most prized commodity being palm oil. The agriculture sector contributed 7.4%, or RM99.5 billion, to Malaysia's gross domestic product (GDP) in 2020, of which crude palm oil was a major contributor at 45.5%.
The same cannot be said, however, for food crops.
Even though the agrofoods subsector grew 3% a year — owing mainly to an increase in the production of livestock, vegetables and fruits — contributing 53.3% to the agriculture sector in 2020 compared with 46.8% in 2015, the subsector's share of total agriculture remains below the 60% self-sufficiency target.
This is after having dedicated RM76 million worth of matching grants for automation and mechanisation through agricultural departments and agencies. The 12MP report stated that three pilot smart farming projects under the eLadang programme were undertaken to provide farmers with opportunities to adopt digital solutions along the complete supply chain.
"These pilot projects resulted in an increased yield of about 12% and reduced manpower by 50%. In the area of R&D, a total of 57 agricultural technologies worth RM16.7 million were developed and commercialised," it adds.
The 12MP attributes the shortfall in the self-sufficiency target to "the lack of high-technology adoption in agriculture despite the implementation of various strategies to increase agrofood production".
It is exacerbated by the lack of effort to encourage smart farming, dependency on low- and semiskilled labour, ageing farmers and lack of private sector investments.
"In addition, farmers are also confronted with several issues in adopting smart farming, including the lack of technical knowledge, fragmentation of information, higher deployment cost and poor network connectivity to support smart technologies," states the 12MP.
It is also because the agriculture sector — one of the world's oldest industries — has been slower to innovate, says Amiruddin Abdul Shukor, acting CEO of the Malaysian Global Innovation & Creativity Centre (MaGIC).
"There are plenty of opportunities to modernise, and possibly leapfrog the technology curve. According to McKinsey & Co, agriculture looks poised for a digital transformation that could yield US$500 billion (RM2.1 trillion) in global GDP by 2030.
"However, farming remains the least digitised industry in the world, despite the global population, which will need feeding and is expected to grow to 9.7 billion by 2050," he says.
Targeted resources
To modernise, however, the sector desperately needs a focused and targeted resource allocation, says Dr Jay Desan, co-founder of BoomGrow Productions Sdn Bhd, Malaysia's first 5G-connected indoor vertical farm.
"The use of tech in farming will be totally transformative in the next few years simply because some of the required technology and hardware integration has become more plug and play, more affordable and more accessible to even farmers in very rural areas.
"The use of tech will also become more seamless in tracking, monitoring and supporting production, including enabling better germination rates, yield consistency and reduction in labour," she says.
But the real problem is that there is no point in integrating technology into a broken agricultural ecosystem, says Jay. "A lot of current efforts seem to focus on adding more tech-based bling, including IoT and sensors, without deeper questions on the why."
For years, the entire biodiversity has been compromised and therefore a systems-based approach is needed to address all deep-rooted problems, says Jay. "Waterways are clogging from agricultural runoffs, [large-scale] land clearing continues and we have massive supply chain miles to transport crops.
"We are also seeing the effects of soil depletion. Fertile land is becoming severely degraded, owing to a combination of intensive farming practices. We can't just think of tech; we need to think of land regeneration, farmer education and the impact of pesticides on our health to understand how broken the agriculture sector is today. 
"The traditional farmer is daily battling the impact of climate change in a way that none of us are. A slight impact of weather conditions has massive implications.
"[Therefore,] a systems-based approach is fundamental to relooking at impacts. Only after that come the education and capacity-building for farmers and everyone else," she says.
Meanwhile, the 12MP suggests that unsustainable financing mechanisms for replanting have affected the capability of smallholders, resulting in low yields. Ineffective farm management and land fragmentation limit the optimisation of land use and adoption of modern agriculture technology.
"That is why it is easier to adopt technologies when it involves larger farm sizes. Of course, this doesn't mean smaller farms cannot innovate. With the right type of ecosystem, it can happen. Some ways to do this include encouraging contract-based farming between multinational corporations (MNCs) and small farmers, where MNCs provide farm extension training and, in return, they purchase farm goods at a fixed price," proposes Sarena.
"Another way to do this is to encourage the entry of social enterprises and small and medium enterprises (SMEs) into collaborations with the farmers. Social enterprises could work with paddy farmers outside granary areas to improve their farming practices, thereby helping them increase their yield and income," she says.
Impact-driven enterprise Langit Collective, for example, does this by bringing rural and heirloom agricultural produce by smallholder farmers from Sabah and Sarawak to larger markets, notes Sarena.
The Ministry of Science, Technology and Innovation's National Technology & Innovation Sandbox (NTIS) is one of the government setups seeking to address some of these issues, primarily through the application of advanced technology. But its agritech resources are mostly focused on palm oil production.
"The NTIS has put to flight innovations that will modernise Malaysia's agricultural sector with advanced intelligence systems and advanced materials — all towards improving crop yield and farm production. In addition, the NTIS will look to skill up the labour force and position them for increased income potential," says Amiruddin. MaGIC is the NTIS' secretariat.
The NTIS is working with several ecosystem partners such as the Federal Land Development Authority (FELDA) to accelerate the adoption of technology in their operations. For example, the NTIS and some FELDA settlements are working together to test out precision spraying, AI-robotics automated farms and battery-powered harvesting machines for palm oil.
With such technology, Amiruddin says, the NTIS not only hopes to increase income by improving yield and reducing operational costs but also to establish high-skilled jobs for a new generation of FELDA settlers and reduce their dependency on a foreign workforce.
While the adoption of smart farming technologies is vital to reinvigorate the agriculture sector, Jay says the available solutions are not comprehensive enough.
"Indoor vertical farming can take the pressure off our natural resources with footprints in urban areas to enable seamless hyper-local, farm-to-table solutions for consumers. They complement traditional farming practices by focusing on import substitution. It's the closest we have to a future-proof farming system that provides traceability and transparency.
"But it is still a long way from becoming commonplace simply because, without concerted support, they will not be able to achieve economies of scale fast enough. We are not just talking about faster market access but there is a whole range of seed and crop R&D that needs to happen, and it cannot happen in silos."
As the 12MP is being rolled out, Jay hopes there will be more funding to drive an entire ecosystem for indoor precision farming "so that the current funding crunch for this fast-growing sector in the country is addressed; and so that we do not play catch-up to Singapore, which is investing hundreds of millions of dollars to build this industry", she says.
Jay also hopes the precision farming sector will be considered a complementary solution to outdoor farming in addressing food security and safety, so that each farming model plays to its strengths and cultivates the right crops to optimise returns and minimise resource utilisation.
"Provide the right incentives and measures, and build a circular economy that will enable existing tech farm players to build their operational footprint, continue to enhance their tech offerings and eventually become regional players through validated and scalable technologies," she says.
Farming needs to go hi-tech to address the problem of food security
Implementing agricultural innovations is pivotal for Malaysia to secure its food supply, especially in the face of an impending climate emergency and rapid population growth.
Already, the pandemic has led to severe and widespread increases in global food insecurity and affected many vulnerable households throughout the world, including in Malaysia.
"With higher adoption of agritech, we can lower production costs and reduce our country's dependency on food imports. The reduction of food import dependency spells better food security, which means we would have sustainable and reliable access to a sufficient quantity of affordable and nutritious food," Amiruddin Abdul Shukor, acting CEO of the Malaysian Global Innovation & Creativity Centre (MaGIC), tells Digital Edge.
Malaysia currently imports RM1 billion worth of leafy vegetables from countries such as Australia, China and Japan, he points out.
"Sourcing good and safe food from local suppliers enabled by agritech not only provides benefits from a food security standpoint but also improves Malaysia's competitive advantage as a prospective producer of such edibles.
"Adoption of agritech with technology such as automated spray, fertiliser and harvester, sensors, drones, and precision farming among local farmers will boost the efficiency and reduce labour costs and therefore reduce food prices.
"Once farms are able to reduce labour costs and pesticide use through devices such as drones and automated robots, consumers will be able to enjoy the benefits of more easily available and cheaper nutritious food," says Amiruddin.
Covid-19 has amplified the role that smallholder farmers play in safeguarding the nation's food security, asserts Dr Sarena Che Omar, deputy director of research at Khazanah Research Institute.
Last year, Malaysia's spot on the Global Food Security Index (GFSI) fell from 28 in 2019 to 43, with a score of 67.9%, owing to the pandemic.
The GFSI, an initiative undertaken by the Economist Intelligence Unit, measures the underlying drivers of food security in 113 countries, based on the factors of affordability, availability, quality and safety, and natural resources and resilience.
Commenting on the deterioration, Agriculture and Food Industries Minister Datuk Seri Dr Ronald Kiandee was quoted as saying in parliament that Malaysia's food security challenges include dependence on food imports, increasing demand, climate change and natural resource constraints.
In June, the Cabinet set out the 2021-2025 National Food Security Policy Action Plan to ensure Malaysia's preparedness in facing a food security crisis.
The Ministry of Agriculture and Food Industries stated that the plan focused on all four dimensions of food security, in line with the UN Food and Agriculture Organisation specifications of availability, access, consumption as well as stability and sustainability.
The implementation of the action plan through 15 strategies and 96 initiatives is expected to contribute towards the availability of safe food at affordable prices, increased domestic food production, reduced dependence on food import and foreign manpower use.
To realise this plan, RM120 million was allocated under Budget 2022 in October to see to the development of a resilient ecosystem to securitise the country's food supply next year.
The 12th Malaysia Plan (12MP) also acknowledged food security concerns. "Despite the implementation of various strategies to increase agrofood production to achieve self-sufficiency, the subsector's share of total agriculture at 53.3% in 2020 remains below the 60% target. The agriculture sector is heavily dependent on palm oil despite initiatives to diversify the production of crops," states the 12MP.
It is crucial to note that achieving food security is far more than just producing food for the population, says Sarena.
"We must address important food security factors such as affordability, sustainability, food safety and nutrition, beyond just an obsession with food self-sufficiency. The National Food Security Policy Action Plan looks at the various pillars of food security, beyond just self-sufficiency.
"What are our weak points? Nutrition, food quality and food labelling, investments in R&D as well as policies directly related to environment and climate change and food security.
"Having said that, we hope the RM120 million allocation will not be the last. We will need more in the years to come, with more investments in R&D, and to consider establishing dedicated research institutions and agencies that focus on the holistic issues of food security," she says.
Dr Jay Desan, co-founder of tech farming company BoomGrow Productions Sdn Bhd, points out that it is important to diversify where and how food is grown to spread the risk of disruption to food supplies.
"The critical question is this: Is the [RM120 million Budget 2022 allocation] sufficient and what is it addressing?
"Growing produce closer to consumers will not only enable re-localisation of the supply chain but also ensure a steady supply of quality produce.
"In addition, the current approach to food production is no longer tenable. A food system built only for efficiency — faster and cheaper but piled with harmful chemicals and pesticides — continues to show up in the state of health of Malaysians today, which will inevitably have a longer-term impact. How resources are being allocated needs a critical review," she says.
While our consumption and dietary patterns have transformed over the decades, policymakers are still stuck on measuring food sufficiency according to traditional crops such as rice, notes Sarena.
"The impact is significant and it coincides with the economic development of Malaysia. As economies grow, consumer demands and behaviours change. Our diet becomes more diversified and we demand more ethical, safer food. In the olden days, the focus was more on food to fill a hungry stomach, considering poverty was widespread," she says.
In Malaysia, policymakers are still talking about rice self-sufficiency, when there is a growing movement promoting alternative proteins as affordable and safe options for those who one day will not be able to afford beef or lamb, she points out.
"So, our agrifood must develop and change to meet these changing consumer demands. Which is why the agriculture industry is still important even though it contributes 7% to 8% of our GDP," she adds.
The way forward
While the transition to more efficient and sustainable agricultural practices might be arduous at first, the government hopes that the adoption of smart farming technology will eventually pay off. To this effect, the 12th Malaysia Plan has come up with several initiatives:
•     Farmers will be encouraged to adopt digital applications in farm management practices, production and marketing;
•     The sector will use big data in agriculture (BDA) to enable farmers to access granular data, such as that on agricultural land, farm inputs, incentives and financial assistance as well as market demand, in making smart decisions on production;
•     Farmers as well as agricultural cooperatives and associations will be encouraged to leverage e-commerce platforms to improve the marketing of agriculture produce, reducing overdependency on intermediaries. These platforms will also be leveraged to outsource farming machinery and equipment services;
•     Efforts to increase high-value-added products will be intensified in upstream and midstream activities by producing premium agricultural products, high-yielding crop varieties and breeds as well as internationally accepted by-products;
•     Hi-tech farming methods that use BDA, artificial intelligence and the Internet of Things as well as precision tools such as drones, robotics and sensors to be adopted on a wider scale for both agrofood and agricommodity subsectors;
•     Development and customisation of agricultural machinery and equipment to suit local conditions, such as terrain features, weather and crop requirements;
•     Smart indoor vertical farming or plant factory will be expanded by leveraging existing Permanent Food Production Parks, idle land and abandoned buildings;
•     Encourage farmers to adopt organic farming practices in meeting the increasing demand for organic products and generating higher income;
•     Building a talent pipeline for the sector by reviewing the training curricula and modules to develop certified and highly knowledgeable agriculturists to meet current and future demand;
•     Establishing a professional body to recognise trained and experienced farmers, farm experts, agricultural technicians and scientists to elevate the standing, image and recognition of the agriculture sector workforce;
•     Setting up a dedicated smart farming fund to accelerate the adoption of modern technology in the agriculture sector. This fund will offer opportunities for farmers, especially for youth agropreneurs and smallholders, to modernise farming activities along the value chain in ensuring food security;
•     The roles and functions of several agencies in the agriculture sector related to training, research and marketing will be reviewed and realigned;
•     Efforts to inculcate green practices in the agriculture sector will be intensified by encouraging farmers to adopt good agriculture practices such as Malaysia Good Agricultural Practice, Malaysian Sustainable Palm Oil and Malaysian Organic; and
•    Agriculture procurement for contract farming will be leveraged to promote the adoption of green practices.