This article first appeared in Options, The Edge Malaysia Weekly, on April 29, 2019 - May 05, 2019.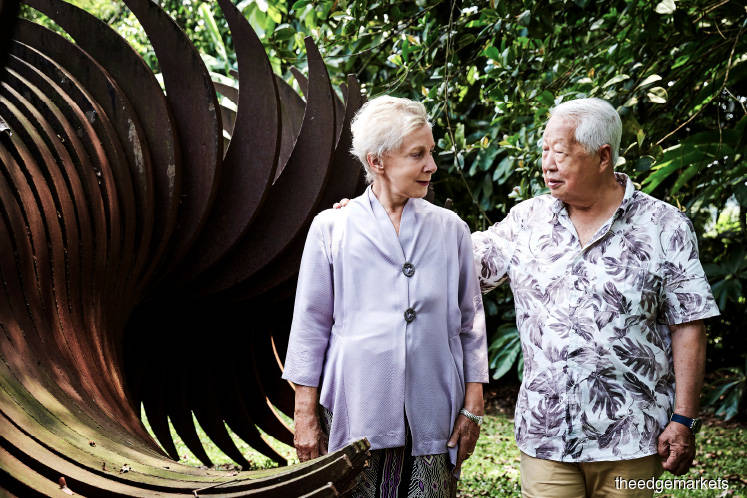 Funding for the arts has always been minuscule or, even as the wheels slowly turn in Malaysia Baru, racially divided. Thankfully, Angela and Hijjas Kasturi's Rimbun Dahan jungle gallery remains a haven of inspiration and convergence of artistic energy, as writer-in-residence Dipika Mukherjee discovers.
"Are you sure you are not a serial killer?" The Grab driver is joking, of course. He is driving me back to my cottage — Rumah Balai — set within the dense foliage of Rimbun Dahan in Kuang, Selangor, where I am the writer-in-residence for five weeks. The moon is hiding behind the clouds and the solar lights along the way are completely dark; there is no illumination at all. Our cottages are not air-conditioned, water is re-circulated, and everyone is encouraged to create compost for the herb gardens from the food we consume, but even the eco-warrior in me understands how driving on a non-tarred road by the light of car headlamps can make grown men a little nervous.
During the ride from Taman Tun Dr Ismail in Kuala Lumpur, we have discovered that the Grab driver has the same last name as a deceased journalist married to my distant uncle in the Bengali community. It now ceases to astonish me that no matter where in the world I am, the enormous Klang Valley operates as a village, and a link to community can always — always! — be found. We feel like family, and have spent the journey discussing the Grab driver's 16-year-old daughter who wants to study creative writing at Nottingham University. He worries she will never make money from writing. He is actively dissuading her from her dreams. I have been mentoring Malaysian writers for over two decades and I know the sad realities of the profession; I have said nothing in her defence.
For the full story, pick up a copy of The Edge Malaysia (April 29, 2019) at your nearest news stands or visit optionstheedge.com.