This article first appeared in City & Country, The Edge Malaysia Weekly, on July 12, 2021 - July 18, 2021.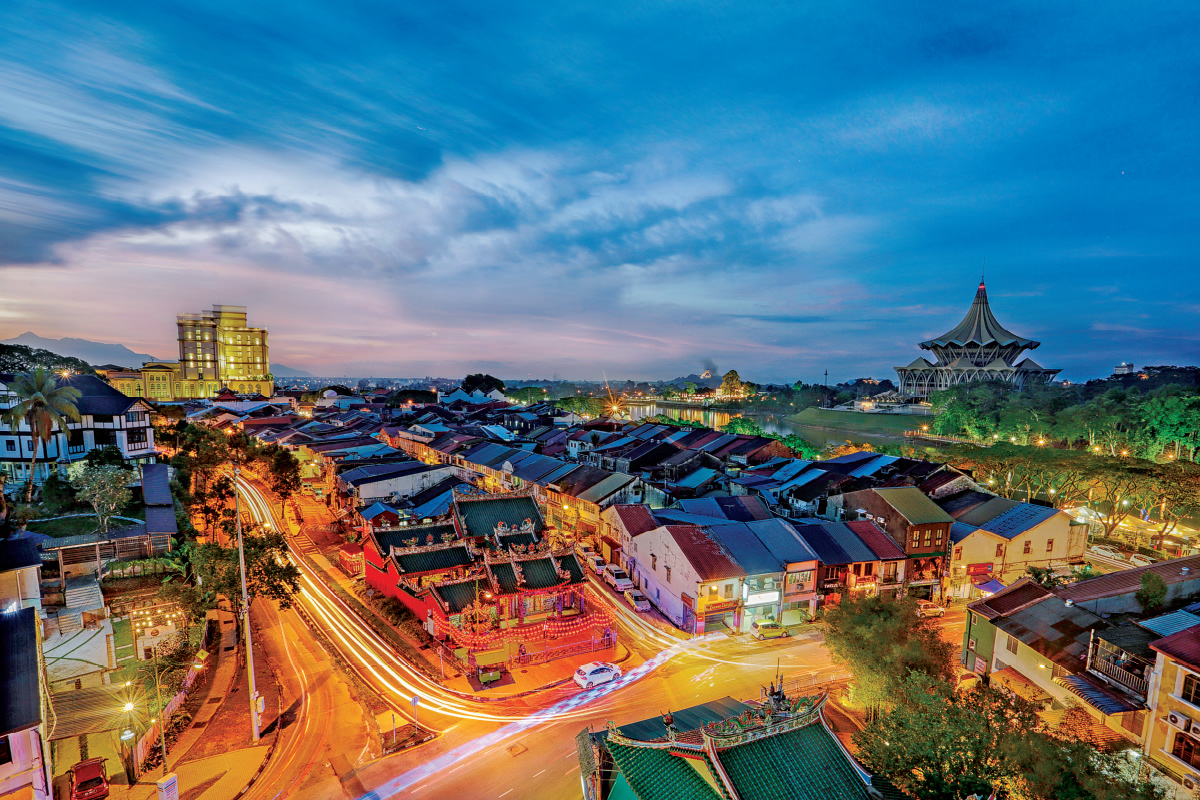 In the 1990s, Kuching's landscape was flat, with a few tall buildings scattered around the city and many housing estates filled with landed residential properties and shoplots. Sarawak Plaza, a fraction of the size of most malls in the Klang Valley, was the go-to mall then.
For many Kuching folks, especially us teenagers, the demolition of 6-storey Ang Cheng Ho Building, once the tallest building in the capital, by explosives in the early 1990s was probably the most exciting thing we had experienced at the time. 
The first high-rise residential development — the 112-unit Riverbank Suites by Rahsia Estates Sdn Bhd — was built on the site of the demolished building. I remember the scepticism voiced by many people when the development was completed in 1996. They questioned the logic of living in a small unit when one could live in a spacious 2-storey house with a garden. 
Much has changed since then, particularly in the last decade. 
"The last 10 years have witnessed a slew of developments, which significantly changed Kuching's cityscape. Taller buildings sprouted up across Kuching in the form of high-rise apartments and condominiums, and larger-sized new commercial centres appeared in different localities," says C H Williams Talhar Wong & Yeo (WTWY) partner and managing director Robert Ting. 
Rahim & Co Kuching branch manager Jasmine Liau notes that the property market's residential offerings have slowly shifted from mainly terraced and semi-detached houses, detached houses and low-cost houses to apartments, condos, townhouses, flats and, of late, PR1MA apartments. 
"However, in terms of popularity, the preferred property is landed homes, with growing interest in condos and high-rise upmarket developments," says Liau. 
Rahim & Co director of research Sulaiman Saheh notes that over the past five years, the property market nationwide has generally seen a downturn, which bottomed out in 2017. This was followed by a gradual uptrend in 2018/19, with signs of recovery before the Covid-19 pandemic struck in 2020. 
"The Kuching property market, as well as that in the rest of Sarawak, was not spared, although demand, which is predominantly local, cushioned the impact," says Sulaiman. 
Sarawak Housing and Real Estate Developers' Association (Sheda) president Augustine Wong says the state's property market has performed comparatively well amid the global economic slowdown and the pandemic. 
"The decline in transaction volume in Sarawak was proportionate to that in Malaysia, which was about 10% in 2019. There was a regression of 15.8% in transaction value in the country, while the Sarawak property sector saw a decline of only 5.8% in total transaction value in 2019," says Augustine.
He adds that, based on data from the National Property Information Centre (Napic) 2020 report, the Sarawak property sector recorded 20,985 transactions worth RM6.392 billion, a decrease of nearly 6.2% and 11% in value and volume respectively. 
"In Kuching, the residential sector, which makes up 58% to 60% of total transaction volume, continued to be the most active segment despite a decline of 15.6% in transaction volume in the overall Kuching market," says Liau. 
According to Ting, growth has generally slowed since 2016, and the commercial sector has more or less stagnated. 
"The landed residential sector, however, remains the backbone of the property market and continues to experience steady growth. Despite the slowdown in transactions during the pandemic in 2020, which was slight, values continued to improve.
"Sarawak recorded an increase in the value of residential transactions (2.5%) even though there was a slight drop in volume (3.5%). Bigger markets such as Kuching were noticeably more affected owing to fewer transactions of vacant plots and less affordable housing (single-storey terraced) for sale in the market. That said, values, especially those of landed residential, have held steady," says Ting.
According to Rahim & Co, the average value per residential transaction has grown 6.7% per annum over the past five years for Kuching's terraced houses. 
"Of late, price growth may have slowed, but demand, especially for landed homes, is still steady," says Sulaiman. 
Affluence Properties principal Colin Wong says there is a need to look at the prices of properties in the past 10 years to understand the context. 
"Kuching saw the fastest price appreciation between 2009 and 2014. In that five-year period, prices of a lot of property doubled. If you bought a new terraced house for RM300,000 in 2009, it would have been worth RM600,000 by end-2014. 
"Prices stagnated in the following three years, from 2015 to 2018. Then, from 2018 to 2020, prices in certain areas started to pick up while those in other areas remained sluggish," says Colin. 
Augustine notes that the Napic's Sarawak House Price Index (SHPI) continued to grow at a moderate rate of 1.9%. The SHPI 2020 showed that the average house price was RM475,899 compared with the average national house price of RM429,877. 
Sheda expects residential prices in Sarawak to plateau in 2H2021, pending full reopening of the economy, which will depend on the speed of the vaccination programme and achieving herd immunity. 
"However, given the substantial increase in the cost of building materials and labour as well as other implementation costs, we will inevitably see an increase in the price of residential properties once the existing completed stock is taken up. As one may have noticed, Sarawak does not have a serious property overhang issue. Any unsold stock is very much a mismatch of product and location," says Augustine. 
Sheda notes that there is unsold residential stock of 2,310 units, which constitute about 15% (based on five years) of the annual demand. Augustine is confident that the overhang will be cleared with the current market demand and the opening of the economy. 
Affluence Properties' Colin recalls his experience when the first Movement Control Order (MCO) was imposed in March 2020. 
"People in the real estate industry were so pessimistic. Were people going to buy houses this year? There was so much uncertainty. So imagine our surprise when we received booking fees from buyers every day for the 45 days after we emerged from the MCO in May 2020! Properties in the primary or subsale market, they were all sold. We were taken aback by the response. 
"It was a puzzling phenomenon at first as we were constantly bombarded by the terrible news of people losing jobs and businesses folding. Even luxury cars were selling well. Finally, we came to the conclusion that those who were not affected and were unable to spend on travelling were probably spending their money on properties and cars," says Colin. 
He also believes the sales were partly driven by those who realised that their house is too small or who need a place of their own, away from their parents and siblings, after experiencing lockdown in the house for weeks on end.
A changing landscape 
As the city grows and changes, so do homebuyers' preferences. Augustine says lifestyle changes dictate the demand for different types of property. 
"Accessibility to amenities, education, healthcare, employment and daily social life are the factors in every buyer's decision, with affordability being the uppermost consideration. This has led to demand for high-rise properties in urban areas such as Kuching, Miri, Sibu and Bintulu. Young professionals and newly-weds generally prefer these modern urban properties that suit their lifestyles," says Augustine.
"Recent high-rise residential projects were mostly developed as part of a mixed-use development or serviced apartments as the preference is for a complete offering within an integrated development. Nevertheless, the rate of incoming supply has to be in line with the demand because the growth in the latter could be lagging," says Rahim & Co's Liau. 
WTWY's Ting says the Kuching property market is now more mature, and buyers are more informed and savvier. 
"Additional features such as security, landscaping and other convenient home add-ons like auto gates and air-conditioning units have become a buying factor for some buyers. Discerning buyers are looking for a quality product that suits their lifestyle. They want homes that meet the changing lifestyle needs and living standards. It is common to have young working couples and families value security, comfort and convenience over other factors," says Ting. 
Feasibility also comes into play. Affluence Properties' Colin recalls discussing with some real estate industry veterans 10 years ago how developers were no longer building terraced houses in the better-located areas such as Green Heights, BDC, Rock Road, 3rd Mile, Arang Road, Jalan Song, Tabuan Jaya and Stutong owing to increasing land prices.
"Today, the conversation is that it is no longer feasible to build landed properties in these locations. That is why, in recent years, we have seen a sudden surge in the number of new condos and apartments in the market," says Colin.
Ting notes that developers are building strata-titled mixed-use developments that offer smaller and more affordable units.
"(These developments) hope to sell more by minimising the size and maximising the quantum. These are mainly mixed-use residential and commercial developments that offer apartment and retail units. The number of high-rise residential units being built has outstripped the number of landed homes in the past decade," says Ting. 
Sheda's Augustine says developers have introduced different designs to cater for different target groups, often as partially and fully furnished units to add value and to save time and money for buyers.
"With limited land and locations available for building lifestyle products, landed properties — which were most people's dream homes and were affordable in the 1990s and early 2000s — are now beyond the reach of many," says Augustine. 
The increasing number of high-rise residential units, however, has resulted in a glut in the market. 
"Most people in Kuching prefer landed property, which enables them to do gardening. Kuching citizens love nature more than concrete walls and building blocks," says Liau. 
"The high-rise residential segment is stagnant at the moment as most developers are trying to clear existing stock. New launches have slowed," says Ting.
He attributes the oversupply to developers jumping on the bandwagon when there was growing demand and their intention to maximise land returns as the cost of development land has increased considerably in the past decade. 
"To resolve the issue, there needs to be controlled planning, with proper market and feasibility studies and prudent lending from the banks," says Ting. 
Rahim & Co's Sulaiman concurs with Ting. "Prudent decisions should be made during the planning stage. This could be accomplished by carrying out proper market and feasibility studies to mitigate the risk of a supply-demand mismatch. At the same time, the government can stagger approvals for high-rise developments. This could also be supported by an independent development feasibility study that needs to be submitted during the submission and approval stages."
Affluence Properties' Colin believes developers can build affordable homes in the more central locations even if the projects are high density, or plan good mixed-use developments, which are still lacking in Kuching. 
He notes that high-rises in central locations have received a positive response from owner-occupiers and investors.
"We are seeing a lot of people buying 800 to 1,000 sq ft units for their own use. These properties are also very popular with investors as they tend to give better return on investment on rents compared with landed properties," says Colin. 
Popular addresses
The popular residential addresses in Kuching share the same characteristics, says Colin. 
"They are centrally located and accessible, close to vibrant and diverse commercial hubs and mixed-use developments, with a convergence of social activities, health, education and convenience, and in safe neighbourhoods. Another foolproof way to determine whether the area is in demand is by looking at the response to new launches there," says Colin. 
He cites The NorthBank by Ibraco Bhd as an example. Located close to the popular Tabuan Jaya, the 123-acre riverside development was launched in 2018, offering terraced houses and semidees. The houses in Nova 72 were priced from RM775,000.
"The launch was on a Friday, and by 5pm on Saturday, all the units had been taken up. Its first  high-rise residential project,  Avona, which was subsequently launched and which offered 298 apartment units, was 70% sold on the first week. We see The Northbank as the next new hotspot in Kuching as there is a good mix of healthcare centre, international school and commercial developments in the area," says Colin. 
Other popular locations include Tabuan Jaya, Stampin, BDC, Stutong and Matang Jaya. 
"These established housing estates, with all the amenities and conveniences in their vicinity, make for a conducive living environment. The areas are also well served by efficient infrastructure, and their locations close to the city centre is another factor, as they are within a half hour's drive to most places of work," says Ting.
"Developments in and around Tabuan Jaya, a long-established housing estate since the 1980s; its sister development Tabuan Tranquility; the adjacent Stutong area, which offers more modern, spacious designs; The Northbank, along the Kuching-Samarahan Expressway; Satria Jaya BDC; and Green Heights are considered prime areas and continue to be well received. Subsales of residential properties also continue to command higher-than-average market prices." 
He notes that with these popular areas becoming increasingly developed, new secondary prime locations have sprouted up in the Batu Kawa and Matang areas, and more recently, Jalan Kuching-Serian has seen increased housing activities. 
"Developments in southeast Kuching have also spilled over into the adjacent Samarahan district. It is a natural expansion; these two districts are often called Greater Kuching," says Ting. 
Aiding the recovery
Sheda's Augustine believes market confidence and liquidity are keys to a healthy property market, particularly when housing needs still top the priority list of most people in the M40 and B40 groups in Sarawak. 
"It is timely to reposition ourselves as the pandemic's impact on the economy deepens. To reinvigorate the state's economy, the government should provide respite to the housing and construction industries and the B40 and M40 first-time house buyers," says Augustine.
Some of the initiatives proposed by Sheda are relief incentives for B40 and M40 first-time house buyers, such as people-centric loans that offer 100% financing with extended loan repayment of up to 40 years and subsidised interest rate of up to 3% per annum; more flexible lending guidelines; creating more and higher-income employment opportunities; and improving infrastructure to enable better access to more land for development. 
"These concerted and more comprehensive steps, if initiated by the government, would further complement the current low interest rate regime, which is expected to be in place for another two years or more. It would help improve homeownership among the B40 and M40, hence improving their standard of living," says Augustine. 
Ting believes the most important thing on the agenda is to carry out the vaccination programme as quickly as possible so as to achieve herd immunity, in order for the economy to fully reopen and the market to get back on its feet. 
"Inject more liquidity into the market, with more financial aid from the government and ease of financing from the financial sector, as well as conduct more due diligence/feasibility studies to assess and ascertain the current property types and pricing," says Ting. 
He also thinks there is a need to review property policies such as property taxes, the speed of planning approvals, allowing higher development density and increasing the feasibility of developing affordable homes. 
Sulaiman and Liau agree that expediting the vaccination programme is crucial for the economy. 
"For homebuyers, the continuation of the Home Ownership Campaign will help market absorption. The government could also look into further stamp duty reductions or waivers and review the Real Property Gains Tax structure to attract more interest in the market. Some of these initiatives could be expanded to the secondary market, which forms a huge bulk of total transactions," says Sulaiman. 
"Affordability will still be a pressing matter, even after the pandemic is over. It is much appreciated that the government has maintained the OPR (overnight policy rate). There are calls for banks to reduce borrowing rates, increase loan approvals and provide a higher margin of financing, especially for first-time homebuyers. However, [we need to tread] carefully to safeguard the foundation of the financial system," says Liau. 
They believe the more urgent need is to have a solid plan to improve the rakyat's income level, especially disposable income, and enhance the country's international standing in order to attract foreign investments to the country. 
As for what the future may hold, Colin expects an increase in property prices as early as five years from now. 
"In the longer term of 10 years or more, we will be seeing the emergence of a new class of tenants who will rent for the long term as property becomes out of reach for many. Hence the urgency to buy a property now.
"People will ask how much higher property prices can go. We have to consider the strong inflationary pressures ... the cost of building material is going up. Demand for property to build and preserve wealth is increasing among the younger generation. Those who plan early and own assets will emerge wealthier 25 years down the road than those who don't," he says.
Meanwhile, Sheda is confident the property market in Sarawak will remain resilient. 
"The minimal drop in transaction volume during the pandemic against the backdrop of the continuously rising SHPI is a sign that the property market is resilient. The many young couples in the past decade looking for their dream homes,  continuous rural-urban migration, and accessibility to better education, healthcare and other amenities will intensify the demand for residential properties," says Augustine. 
Rahim & Co also sees a promising future for the Sarawak and Kuching property markets, led by the development of the state's oil and gas (O&G) industry in Bintulu and the agricultural sector. 
"Sarawak, which contributed significantly to the public coffers in a most needful year, received RM2.95 billion in Sales and Services Tax (SST) from petroleum product sales in 2019 from Petronas. In 4Q2020, the state-owned Petroleum Sarawak Bhd was awarded two mining leases, giving it full control and legal rights over the exploration and production of all O&G in its onshore area. Shell Malaysia reportedly will relocate its operations to Miri, which will boost economic growth in the coming years," says Sulaiman. 
"The ongoing construction of the Pan-Borneo Highway (PBH) will open up more opportunities for the property market as more projects can be developed along the highway. Sarawak's residential market will remain stable as demand will remain intact," says Liau. 
Ting shares the same positive sentiment as he notes that the Sarawak property market has yet to reach its full potential. 
"Yes, some sectors like retail and apartments are saturated at the moment, but once the situation has moderated, hopefully in the near term, and once the pandemic is arrested and the economy picks ups, the growing population will rejuvenate the market and create demand for new products, particularly in Kuching," says Ting. 
He notes that the proposed automated rapid transit system for Kuching, which uses bus lines running on batteries, is set to ease traffic congestion in the city and improve connectivity between Kuching, Samarahan and Serían. The new infrastructure network is expected to open up more areas for development. 
"Likewise, the PBH, which is scheduled to be completed by 2023, spells exciting times for Sarawak as the improved connectivity and logistics will increase the efficiency and speed of doing business. The completion of the first stretch in Kuching has opened up access to the tail end of Sarawak, namely Telok Melano, which in turn opened up and fast-tracked new opportunities for trade and tourism," says Ting.