This article first appeared in Enterprise, The Edge Malaysia Weekly, on February 10, 2020 - February 16, 2020.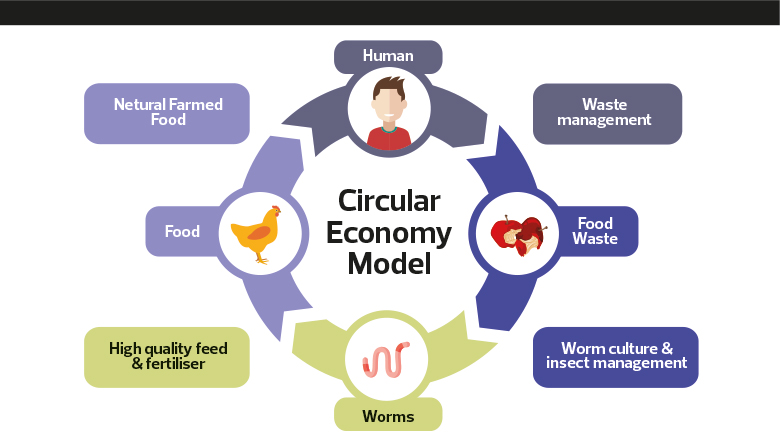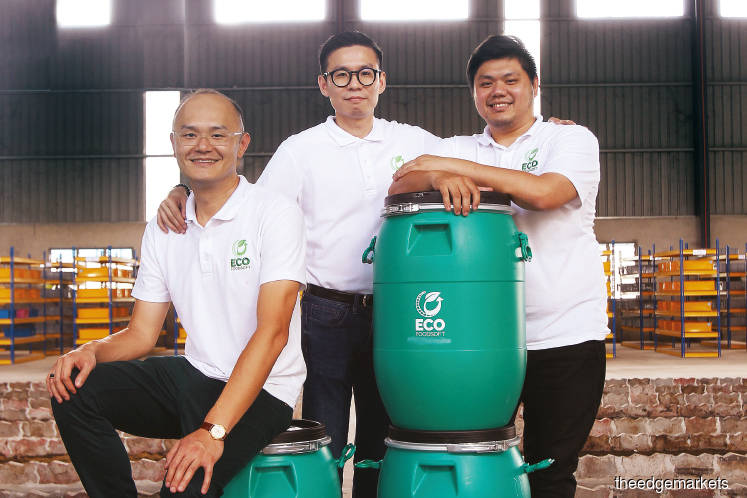 Put an organic farming enthusiast, a passionate investor and a PhD fellow specialising in food waste together and you get Eco Foodsoft (M) Sdn Bhd, which transforms food waste into organic livestock feed.
How? Think of the black soldier fly larvae that eat your leftover food and is subsequently eaten by livestock (chicken or fish). The chemical-free produce is then eaten by you, and your food scraps become the larvae's next meal. And so, the cycle continues.
"I have been doing organic farming for seven years. But I actually started with conventional farming. I realised how much chemicals and pesticides we were using and although my vegetables were sold in supermarkets, I dared not consume my own produce," says Eco Foodsoft co-founder and operations director Cliff Ong Jun Kiat.
Consequently, he pivoted to organic farming. But for him, it was no longer just about farming. He wanted to close the loop by creating animal feed and fertilisers from organic waste.
"I learnt about composting, how to live with the environment and protect biodiversity. Then, I discovered the circular model of recycling waste. It is no longer sustainable to continue taking resources from external sources," says Ong.
He teamed up with Jason Teo Giin Liang, a friend who wanted to invest in an environmentally friendly venture.  Together, they found Ng Chee Guan, a PhD fellow at the University of Malaya who does research on food waste management.
"Ng was taking food waste from the university and doing composting. We clicked and engaged him as a consultant. That was how we started last year," says Ong.
They started by setting up an earthworm farm to break down organic waste from goat and cow manure, landscape waste and vegetable waste.
This year, the company set up its black soldier fly farm in Rawang to tackle food waste. They went around restaurants in the area and asked the operators to put their food waste in a separate bin.
It was not easy to convince the restaurants. After all, most people are used to dumping all types of waste in one bin.
"We still do not get perfectly sorted waste, so we have to do a lot of sorting ourselves. It was not easy, but we did not give up. Then, we started getting good quality waste from juicing companies. We also get waste from Sunway City," says Ong.
Now, they handle between 10 and 40 tonnes of food waste daily from more than 20 points of collection, including the 12 outlets of The Social group of restaurants.
The team collects the bins weekly, breaks down the food waste with a machine and microbes and feeds it to the black soldier fly larvae. Once they attain a certain size, the larvae will be harvested to become animal feed or compost. These are either used in the company's organic farms or sold to farmers.
Why black soldier flies?
Using black soldier flies to manage food waste is not a new idea. In fact, many people are exploring this solution to avoid sending food waste to the landfill. There are even industrial-scale black soldier fly farms in Japan and China to deal with massive food waste in cities. Traditionally, some farmers have used this method to provide feed for their animals.
Black soldier flies are not pests and are usually found around decaying organic matter, like animal waste or dead plants. They are a non-invasive species — they do not bite humans nor do they spread disease. The adult flies do not have mouths, so they do not consume food the way a regular house fly would. They eat whatever they need while they are still larvae.
On average, a black soldier fly larva consumes twice its body mass on a daily basis. In less than 20 days, it becomes a pupa and lives for just over a week as an adult fly. These qualities make black soldier flies a viable solution for managing food waste.
This solution addresses two major problems — a growing amount of waste generated by households and a declining space for landfills.
According to the Solid Waste Management and Public Cleansing Corp, the amount of food wasted by Malaysians is enough to feed 12 million people, three times a day. Up to 55% of solid waste disposed at landfills are food from households, farms and plantations, according to other reports. This is expected to increase as the population grows.
However, rotting food at landfills emit millions of tonnes of carbon dioxide, accounting for 8% of the world's greenhouse gas emissions, according to a 2011 United Nations report. And to make matters worse, only a few landfills [in Malaysia] are sanitary landfills, which are properly covered and lined.
"Others are just normal dumpsites that are major generators of methane [a greenhouse gas]. People argue that we can turn our landfills into sanitary ones, but that will cost a lot of money," says Ng.
Using landfills will also prolong Malaysians' bad habit of not separating their waste or recycling. This is not sustainable as much of what Malaysians regard as "waste" can be transformed into valuable raw materials. Organic waste is a prime example as it can be turned into animal feed and compost for agriculture.
"We do not want this kind of culture, where we do not appreciate our resources. We want people to know that natural resources are precious and will not last another 100 years," says Ng.
The government has stated its plans to reduce the number of solid waste disposal sites in the country, especially conventional landfills. It is considering, among others, waste-to-energy plants or incinerators.
However, incineration is expensive, Ng points out. Sending mixed waste to incinerators will damage the machines due to the high levels of moisture in organic waste.
Ultimately, Malaysians need to get used to separating their waste, says Ng. "No matter what technology is in place, Malaysians need to separate their waste. We are now pampered with landfills, but these are getting full and we are having difficulty finding suitable locations."
Another problem addressed by this solution is the rising cost of animal feed. The country imported 85% of its animal feed in 2017, according to the Malaysian Feedmillers' Association, including corn, maize and soy.
According to a 2019 report by the Malaysia Competition Commission, animal feed accounted for about 10% of the total production cost per cattle in integrated farming and 60% of production cost for feedlots. Over the years, the government has called for less dependence on imports for the livestock industry to be more competitive.
"[In addition,] there are a lot of chemicals in the feed that people are importing. We are trying to encourage organic farming. How can you have organic chicken if you are not giving it organic feed?" says Ong.
While using larvae as feed is more expensive now, this may change in the future, he observes. "With bigger-scale operations and if the government comes in [to support the industry], the price will go down."
How to make it a business?
For this endeavour to work, Eco Foodsoft needs to ensure it has a consistent and sufficient supply of food waste. It also needs to have a market to buy its products.
"We can open farms all over Malaysia. But now, it is about how we can get consistent food waste from the market. Can Malaysians do proper waste separation? Can restaurants and households support this effort? [If they do this,] they can eat healthier and more affordable chicken because the farmers will not have to rely on imported feed anymore," says Ong.
Waste separation is the key for their business model to work. Usually, restaurants and others in the food industry just send their mixed waste to the landfill and pay a fee to the relevant authority, as homeowners do. If they send their food waste to Eco Foodsoft, the cost cannot be higher than what it is now.
"But we will need them to at least cover our logistics costs. This can be leveraged if at least 10 to 20 outlets in an area come on board so that everyone shares the cost. We are also starting to roll out a service where outlets pay for desludging services and we collect their food waste. They are already paying contractors to do the desludging for them anyway," says Ng.
How can the company earn revenue from the food waste it collects? To make the business sustainable, Ng believes that it cannot just run the black soldier fly farm. That is why Eco Foodsoft has an organic farm and an online market to sell organic produce.
It also uses earthworms to break down organic waste. The end product is vermicast, which is made into a valuable type of compost called vermicompost. This is linked to another goal of the company's founders, which is to make organic food affordable.
"I am not making any money from food waste to sustain the business. So, the end product has to be the food that goes back to consumers. Then, my margins are covered. If I am selling the intermediate product to organic farmers, the organic produce will be costly and it will not change the game," says Ng.
Any excess animal feed and fertiliser is sold to farmers. There is a market for such products, based on the growing demand for organic produce in Malaysia, say the founders.
The rising cost of fish meal is also driving aquaculture operators to look for alternatives. There is a demand for compost to revive the soil in Malaysia as well.
"Flooding is common in Malaysia because the land is not fertile anymore. There are no trees and there is an overuse of chemicals. The soil cannot hold water anymore. That is why we need compost. Do forests need fertiliser to grow? No, because fallen trees and branches become compost. It is a cycle," says Ong.
Right now, the animal feed and fertiliser produced are only sufficient for the company's own use in the farm. That is why it is looking for more partners who can supply food waste. Eco Foodsoft will provide airtight bins for the outlets and collect these on a weekly basis.
"The main message we want to send out is for more people to separate their waste and realise that organic waste can be recycled. With that knowledge, I believe they will not throw it in landfills anymore," says Ong.
An integrated waste management system
Ng Chee Guan, a PhD Fellow at the University of Malaya and chief technical collaborator at Eco Foodsoft (M) Sdn Bhd, studies food waste recycling and runs the zero waste campaign at the university. Every month, his team collects about 4,500 tonnes of food waste from the campus to generate about a tonne of compost.
In the future, Ng hopes to build a biomass centre that can cater for huge amounts of organic waste. "We would like to transform it into a biomass centre that can cater for food waste, landscape waste and other organic waste such as agriculture waste. We need to be as big as a landfill. But no single technology can cater for such a big amount of waste," he says.
"We have to employ options such as using earthworms to take in more premium or homogenous food waste and create vermicompost. Black soldier flies can take in things that are easily digested or absorbed, preferably food waste from restaurants. Landscape waste can be easily turned into hot compost."
Hot composting refers to a method in which microbial activity within the compost pile is optimised, resulting in finished compost in a much shorter period of time.
To scale this model, it has to be decentralised. Each state will have a few biomass centres. With high amounts of organic animal feed and compost being produced, this will lower the input price and make organic farming more achievable as well.
"The more people do biomass centres, the more awareness there is. Then, we can change the culture. If we are doing it alone, it will not work," says Ng.
The other players
There are several players in Malaysia using black soldier flies to manage food waste. Each of them have a slightly different business model and set of challenges.
Entofood Sdn Bhd
Entofood Sdn Bhd was one of the pioneers in 2016. The company only collects pre-consumer food waste from industries and turns it into animal feed. The traceability of organic waste is very important for the company.
"For household organic waste, there is no traceability. So, we do not know if there are hazards such as drugs or chemicals. The sustainability of the system requires you to look at the traceability and safety of the raw materials we are using," says Anne Deguerry, ethical and public relations director at Entofood.
Black solder fly larvae have high potential to enter the animal feed market, especially to replace fish meal. According to the Food and Agriculture Organization, the growing demand for aquatic products has driven up the cost of fish meal, which is typically made from fishermen's unwanted catch. However, the supply is limited as global fish stocks are depleting.
But to enter that market requires huge volumes of insect meal. "You need to be able to produce enough quantity for the feed millers to incorporate into pellets for animal feed," says Deguerry.
Betsol Sdn Bhd
Meanwhile, Betsol Sdn Bhd has built an industrial-scale black soldier fly factory in Rawang to mechanise the process. The technology, sourced from China, also dries the larvae and packages them for export. The founding team learnt the breeding method from experts in the US.
Betsol inked a memorandum of understanding with Kuala Lumpur City Hall last March to collect organic waste such as vegetables and fruit from Pasar Borong Kuala Lumpur. It will harvest the larvae as insect protein, not just as fish meal but also for the pet industry.
Price competitiveness is an issue it has to tackle now, according to Betsol co-founder Thomas Pui. That is why it needs to ramp up its collection of food waste.
"Right now, [regular] fish meal is roughly RM5,700 to RM6,300 per tonne. If our insect protein (current market price is US$3 to US$4 per kg, or RM12,000 to RM16,000 per tonne) can hit that level, it will be fantastic. We have not reached our full capacity yet. We need economies of scale," he says.
Like Entofood, Betsol only takes in pre-consumer food waste because it wants to export to European markets, where traceability of food sources is paramount. It is challenging to collect household waste unless the local authorities provide clear guidelines to mandate waste separation, says Pui.
"In Shanghai, if you do not separate your waste, they will fine you. To collect waste from households is more difficult because you need different programmes."
Frangipani Natural Farm Sdn Bhd
Anthony Wong, group managing director of Frangipani Natural Farm Sdn Bhd, thinks the business model works best when it is run by the farmers themselves. That is because farmers will know the source of the food waste and they can control the cleanliness of the process.
"Organic farmers will want to know where the fertiliser and feed come from. Because it is so new, I believe anyone will be be cautious. That is why I believe farmers should do it themselves," he says.
Wong, who runs Frangipani Langkawi Resort, collects food waste from 11 hotels and restaurants around the island. He has a black soldier fly farm near his hotel and plans to build another in Gombak soon.
"The whole idea is for farmers to make their own feed. Then, they can cut costs by 50% to 80%. It takes some investment to buy the eggs and machine [to grind the food waste]. Then, they have to learn how to manage it because the flies will be attacked by rats, birds and ants," says Wong.
There are other revenue streams to explore. For instance, the eggs can be sold to farmers who do not want their own hatchery.
"It is a growing business. Breeding the flies requires skill and knowledge because they can die if they are infested by fungi. Now, the farmer can just buy the eggs, hatch these and feed their animals in two to three weeks. The larvae are high in protein and the lauric acid fat has antimicrobial properties," he says.
Ideally, each municipal council should have a few entrepreneurs or farmers to manage food waste for the area. But most importantly, waste separation at all levels is required for this to work, says Wong.
"I think it is good to start this in schools and universities by getting students to separate their waste. It is hard to start with households because it is tough to change old habits unless you have good enforcement."