This article first appeared in Enterprise, The Edge Malaysia Weekly, on June 8, 2020 - June 14, 2020.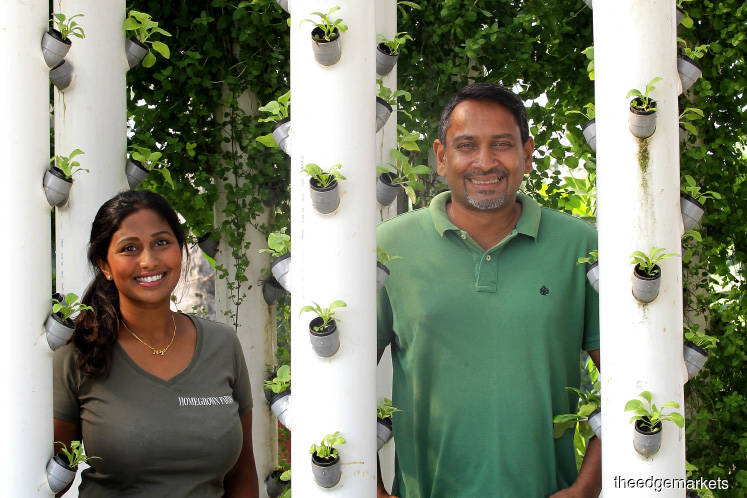 When couple Ivy and Michael Simon started growing vegetables in the backyard of their single-storey bungalow, their intention was simply to grow good-quality produce for their family of six. However, this small act of growing vegetables in their own backyard sparked a change in their thinking and, eventually, an overhaul of their lifestyle.
In December 2014, the family relocated to the Broga valley in Semenyih, Selangor. Near their house, they spotted 1½ acres of land on which they would be able to sow seeds and grow crops. So, Ivy and Michael decided to start Homegrown Farms Semenyih amid the lush Broga Hills.
"We bought this parcel of land to grow our own produce. We were living in a smaller house down the road. And even then, we were growing different types of vegetables," says Michael.
As practising media professionals, Ivy and Michael were often on the frontlines, witnessing irregular and downright criminal practices when it came to industrial agriculture and food production, and coming up with exposés on these issues. Since nearly 80% of the fruits and vegetables consumed locally were imported from China — which was still reeling from a crisis of confidence following reports of melamine-laced baformula, fake eggs, diseased pork and mislabelled meat, among others — the couple decided they would not feed their children anything from these dodgy sources. Going deeper into the issue, they also would not give them any food laden with synthetic nitrogen fertilisers and chemical pesticides.
"I covered the tainted milk scandal in 2008, when melamine was found in the products of 22 Chinese dairy companies. After that, I knew we could not rely entirely on food from supermarkets or fresh markets," says Ivy.
"Malaysia's dependence on imported food is staggering and most of it comes from places that are hard to regulate. Meanwhile, organic produce is too expensive for the average Malaysian household."
This compelled the couple to ramp up their efforts to develop a small-scale farm. In addition, Michael had always been interested in agriculture, having grown up in a family that cultivated its own produce.
"My parents grew all sorts of things in our backyard in Penang and I wanted that for our children. The idea has always been to use technology to grow food without pesticides and chemicals so people can have access to healthier and safer food," he says.
It took Ivy and Michael close to four months before they could grow anything organic on their plot though. "We did not want to touch the existing soil. So, we carted in about 25 tonnes of organic compost, built raised beds and started composting our own stuff," he says.
July 2015, they were rewarded with Asian greens, cucumbers, okra, beans, roots tubers and other vegetables from their 30 beds. They even gave away some of the produce to Kolej Tuanku Ja'afar (KTJ), the private school their children attend. Recently, they managed to grow kale — a bitter leafy green that has become highly sought after for its nutritional benefits.
But growing on soil comes with its own set of challenges. After a successful initial harvest, they faced their first real hardship.
"We had so many issues with pests. We woke up one day to find our entire cucumber vine dead. There had been a big infestation within the cucumber and the vine died overnight. Since our method of farming is fully organic, we had to find an acceptable solution to get rid of the pests. We experimented with neem oil, chilli powder, garlic and other substitute pest repellents, instead of pesticides," says Michael.
They eventually managed to counter the problem with a combination of these. "We grew another batch and found out only then that beetles were laying eggs in the soil and the larvae were attacking the roots. That was why the cucumber plant looked good one day and it was dead the next day. The roots were all infested," he says.
So, the couple bought small nets and set their children to catching the pests. "Every time we noticed the beetles, we would get our kids to catch them and feed them to the chickens and fish," says Michael.
An inquisitive farmer
But Michael was not going to let a pest problem get in the way of his passion project. So, he made a lateral move into aquaponics. "I have been experimenting with a lot of growing methods. I did a lot of research on growing vegetables in different mediums. That was when I started reading a lot more about aquaponics," he says.
Aquaponics integrates a hydroponic environment with aquaculture, the process of cultivating fish. But aquaponics is space-consuming. That is partly the reason the family moved to a bigger place.
"I did an online course designed Murray Hallam, one of the biggest names in aquaponics from Australia, and got an aquaponics design certification from him. I had to go through the course work, send in a thesis, build a system and show him what we were doing," says Michael.
"We rear fish, and the fish fertilise the plants with ammonia and nitrates in their droppings. The plants absorb the ammonia and nitrates and filter the water back to the fish. It is a fantastic closed loop system and we are able to save 95% of the water as opposed to traditional farming.
"Plus, you get fresh fish, as well as good vegetables in 30 days. With this system, you do not use fertilisers because it would affect the fish."
Most importantly, one needs to pay attention to the condition of the water supplied to the fish. To ensure that the water has been dechlorinated before it is channelled into the tanks, it is stored in a reservoir and air bubbles are forced through it to produce forced air bubbling for dechlorination purposes. "We also harvest rainwater whenever we can," says Michael.
"One person is enough to take care of 10 aquaponics systems. All one needs to do is feed the fish and observe them. If they are eating well, the water is good. If the amount of food consumed drops, there is something wrong with the water. You then have to test the water and check the pH [acidity] levels.
"The vegetables growing in the aquaponics system are also an indication. If the leaves start turning yellow, you know there is a nutrient deficiency."
To deal with this issue, he developed a mechanism to buffer the pH levels and keep them constant.
"Michael tends to watch videos of aquaponics systems while we are travelling, usually in the car on the way to work and when we drop our kids off at school. And because of that, we all end up watching videos and tutorials on aquaponics. So, all my children can tell you about aquaponics," Ivy quips.
Michael, however, is unapologetic. "Most children are growing up today not knowing where their food comes from, how it is grown or whether it is safe and clean. They just eat whatever is on the table," he points out.
To make full use of their land, Michael also rears chickens for eggs and meat. "It has been a while since we have had to shop for fresh produce. We have good-quality fish which, the way, does not have the muddy taste that regular freshwater fish have. And we have meat and eggs from our chickens," he says.
"When we have extra, I will make cakes or local delicacies. Otherwise, our children eat fruit for dessert. When we are home, this is all we eat, although we do treat ourselves occasionally," says Ivy.
"As for seafood, we wait until we go to Penang for the school holidays, where we get our supply directly from the sea from a friend who is a fisherman. Only then do we indulge in seafood."
In their efforts to promote sustainability, all the farm's organic waste is composted. Once the vegetables start to wither, they are chopped up and fed to the fish. "We also feed the vegetables to six of our dogs as well as the chickens and rabbits," she says.
"We live slightly off the grid, so we do not have a garbage truck coming to collect our rubbish. So, as much as we can, we make sure we compost our waste properly. It is just a sensible lifestyle choice, and it is practical."
Community-supported agriculture
As their harvests increased, Ivy started offering the excess produce to the teachers at KTJ as well as the parents of the students. This generated requests for a steady supply.
Ivy and Michael then decided to monetise the initiative using a community-supported agriculture model. The system would connect the producers to the consumers more directly allowing the latter to subscribe to the harvests produced the farmers.
As a result, their produce is cheaper than commercial safe foods or organic vegetables because they do not use individual packaging. "We just harvest the vegetables, put them in a reusable bag, which comes up to about 3kg, and drop it off. When the subscribers pick their children up from school, they also collect the bags. It is that simple," says Ivy.
Initially, they only supplied to a small group of parents and teachers and orders were taken via WhatsApp. But as the demand began to increase, the couple developed a website to manage the orders.
"We have been feeding 20 families on a weekly basis since August 2015. We have more than 60 people on our subscriber list at the moment and pick-up points across Kuala Lumpur, Subang, Petaling Jaya and Seremban for people to collect the bags of vegetables," says Ivy.
There are about 20 vegetables in each bag. "We try our best to rotate them every week and give our subscribers a variety," she says.
According to their website, a trial bag costs RM50 and the produce is sufficient to provide a family of six with generous servings of vegetables for five or six meals. A 12-week subscription is RM600 while 24-week and 48-week subscriptions cost RM1,080 and RM2,040 respectively. There are also cheaper options for two adults or families for four.
As Homegrown Farms' produce varies, subscribers do not get to select what goes into their bags. "This keeps things interesting and you will not get bored of eating the same thing day in, day out. We encourage our subscribers to try new recipes and tell us the outcomes," says Ivy.
The majority of their subscribers are expatriates as they are more familiar with the concept of a farmer's basket. "They are also open to trying different vegetables. For instance, most of them had not seen a snake gourd before. They tend to get all gung-ho and are prepared to try new recipes," she says.
"Most locals are used to packed vegetables and are particular about how their veggies look. But our subscribers do not really care about all that. All they care about is whether the vegetables are organic and safe."
She adds that Malaysians prefer to choose their vegetables. But as Homegrown Farms' production is relatively small, it is not able to accommodate specific requests.
Apart from keeping things as sustainable as possible, they omit plastic packaging because it involves more work. "We do not have a huge workforce. We employ several workers to tend to the farm and
Michael and I, together with our helpers at home, deal with the sorting and packing," says Ivy.
"If we bring our farms closer to the people, we can provide fresh produce with optimum nutrients because it is harvested on the day of delivery. Using the subscription model, food waste is eradicated and food mileage drops considerably. This is farming sustainably and I believe it is the future of farming," says Michael.
The couple plan to start filming cooking videos through their production company, Homegrown Productions Sdn Bhd, to share recipes to complement their subscription business. "Just simple recipes to show viewers different cooking styles. For example, you can cook a snake gourd in so many ways. You do not have to always stir-fry it with garlic," says Ivy.
While the subscription system encourages people to eat better, their ultimate goal is to help more people grow their own food. After all, 2050, the demand for food will have increased 60% as the world will need to feed nine billion people.
Michael says food insecurity will be difficult to solve because land is scarce and the carbon footprint for industrial agriculture is highly unsustainable. "The supply of safe foods is nowhere near the demand.
Although we know this is a good way of farming, we do not have enough people doing it."
So, he started building a balcony aquaponics system. "The biggest problem is most people do not have the time and land to farm. So, they cannot cultivate organic produce," he says.
"With this system, the only input is the fish food. You need to feed the fish regularly. It is a foolproof system with only two filters, which we intend to patent soon. Using this, one can grow a vegetable for every day of the week."
The new design allows individuals to grow vegetables vertically in smaller spaces and aquaponically, which means they can harvest fish as well as chemical-free vegetables. In the long run, it works out to be more efficient as the method requires fewer resources such as soil and water.
Using the mini version, Michael has successfully grown lemongrass, pandan or screwpine, and a number of Asian greens such as pak choy and kai lan as well as herbs like spring onion and coriander. "For aquaponics, you do not have to rotate crops. For soil-based farming, it is very important to rotate crops," he says.
Once the mini growing pods have gone through their lifecycle, customers are encouraged to return the pods to Homegrown Farms and have their pods replaced for a small fee. "When you take vegetable farming to the rooftop, thereomitting soil, you eliminate 90% of soil-borne diseases," says Michael.
To share his zeal for sustainable farming techniques, he has established the Malaysian Aquaponics Research Centre on a nearthree-acre plot, where the couple have set up greenhouses and tanks to grow vegetables aquaponically as well as to raise livestock such as goats.
Michael works closely with Crops For the Future, an independent non-profit research institute that promotes greater use of neglected and underutilised crops to encourage diversification in agricultural systems.  "We have successfully built an organic rooftop farm on the Crops For the Future building in Semenyih. It is our latest design and it sits on just 300 sq ft because it is vertical. It can produce up to 100kg of vegetables every month," he says.
"It took us five days to build the system and get it up and running. We harvested our first batch of vegetables in four weeks."
In 2018, the couple enrolled in the Khazanah Nasional Entrepreneurship Outreach programme, where Michael showcased the aquaponics system he had built. Homegrown Farms was among the three winners selected to join a three-month accelerator programme. It was this exposure that got them the introduction to UOA Group. "Now, Homegrown Farms is constructing a rooftop aquaponics farm in Nexus, Bangsar South, which will be completed in a couple of weeks," he says.
They hope they will be able to convince more property developers and city administrators to integrate rooftop farming into their plans. "We are talking to developers to show them that our systems do really well on rooftops. decentralising our farms, we will be able to make our quality produce more accessible to even more people. We are also in talks with some state governments that are keen to provide space for our systems as they not only produce healthy vegetables but also job opportunities," says Michael.
Intrigued Homegrown Farms' efforts, KTJ's teachers asked Ivy to organise farm tours for their students. Now, the couple host regular tours, workshops and events for students from other international schools, companies and private groups.
"We have a deeper appreciation for the food we eat because we know what it takes to grow good food. If you want to live a healthy life, you have to eat well and clean," says Michael.
"There is some work involved in farming, no matter how easy it is. You need to allocate time to care for the plants, so that the plants will care for you. It is a very basic organic principle."