This article first appeared in Options, The Edge Malaysia Weekly, on June 11, 2018 - June 17, 2018.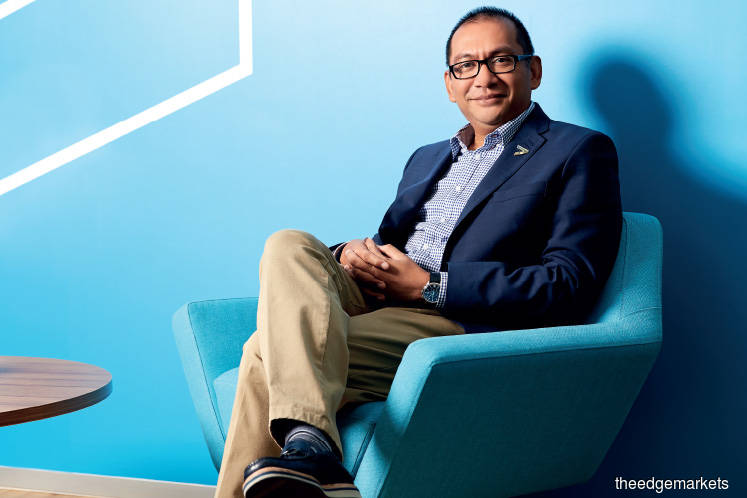 In an era where the world is undergoing constant innovation and rapid digitalisation, Azwan Baharuddin, country managing director of Accenture Malaysia, is more than glad to be in the thick of the action. He speaks to Shalini Yeap about the company's work culture, challenging  the status quo and his passion for technology.
In many ways, the DNA of Accenture — a global management consulting and professional services firm — and the personality of its country managing director Azwan Baharuddin mirror one another. Both are vibrant, technology-driven and always up for a challenge. Azwan who assumed the role last year has an infectiously energetic vibe about him. He speaks with such gusto that can only be indicative of a man who thoroughly enjoys what he does.
I quickly learn that this zest for life extends beyond work, and I come to understand this better as Azwan shares a harrowing experience that changed his outlook on life. Just before moving to Accenture, a serious bout of dengue fever left him in an induced coma for two weeks, which he awoke from only to be hit by a multi-drug-resistant superbug. "The doctors had told my family to take me home as there was nothing else they could do. But by some miracle, I began to recover after spending four months in a hospital bed."
Interestingly he says it was work that drew him to recovery. "It gave me a focus and I wanted to travel again," he explains.
For the full story, pick up a copy of The Edge Malaysia (June 11, 2018) at your nearest newsstands or visit optionstheedge.com.