This article first appeared in Options, The Edge Malaysia Weekly, on March 11, 2019 - March 17, 2019.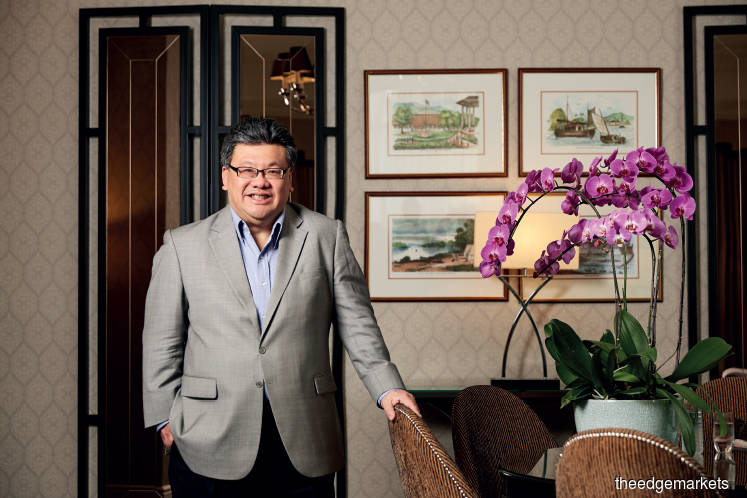 It is never easy to grow a brand from scratch, let alone expand its global footprint without sacrificing a whit of its intrinsic DNA. Diana Khoo speaks to Datuk Mark Yeoh Seok Kah, executive director of YTL Hotels, to find out more about the Malaysian-born group's increasing global reach, particularly with the new Monkey Island Estate in Berkshire, England, as well as obtain a quick summary of his three decades — and counting — with the family corporation's hospitality arm.
The English language has been inundated with a host of poetic, evocative foreign words of late and some truly are delightful. Besides being an audible treat, the words are able to express, resonate and conjure up visions and emotions all at once. One of my favourites is the Japanese komorebi — the sunlight that filters through the leaves of trees. At present, what still eludes me is the single perfect word with which to describe the glorious feeling that washes over me the minute I check into a really nice hotel.
It is oh-so easy to love luxury hotels and "when the going gets tough, the tough check into a resort" has always been my personal mantra. For years, my fail-safe bet has been Pangkor Laut Resort — set on a private tropical island in the Straits of Malacca just a three-hour drive from Kuala Lumpur, which is also the flagship property of YTL Hotels, the hospitality arm of conglomerate YTL Corp Bhd.  The Majestic Malacca, housed in the former mansion of a 1920s towkay in Malaysia's most historical city, comes a close second.
For the full story, pick up a copy of The Edge Malaysia (March 11, 2019) at your nearest news stands or visit optionstheedge.com.