This article first appeared in City & Country, The Edge Malaysia Weekly, on August 16, 2021 - August 22, 2021.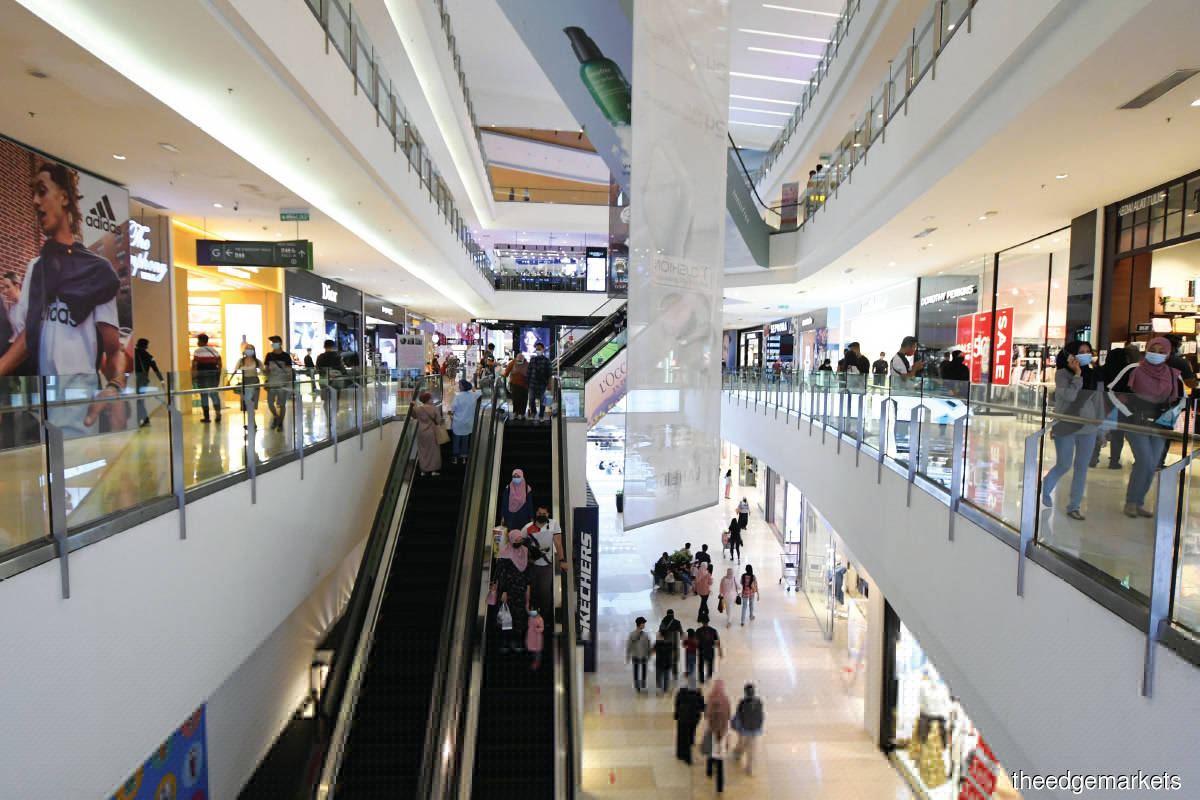 The retail sector is among the hardest hit industries by the Covid-19 pandemic, which is far from over, with the recent surge in infection rates. With travel bans, movement restrictions and more people working from home, footfall in shopping malls, commercial centres and food and beverage outlets throughout the country has been significantly affected.
According to the latest Malaysia Retail Industry Report (June 2021) from Retail Group Malaysia (RGM), the first quarter of the year saw a negative growth rate of 9.9% in retail sales compared with the same period in 2020.
However, the most recent quarterly result was better than the estimate of -13.4% made by members of the Malaysia Retailers Association and Malaysia Retail Chain Association in March 2021, it notes.
RGM managing director Tan Hai Hsin says 15% of total retail supply, or at least 51,000 retail stores, were anticipated to close down last year due to Covid-19. "The pandemic is not over yet. Thus, this estimate remains. At this moment, we estimate that 70% to 80% of the 51,000 retail stores have closed down permanently. We expect more closures after the key states, such as Kuala Lumpur, Selangor and Johor Baru, enter National Recovery Plan (NRP) Phase 2."
According to Tan, a high number of closures were observed immediately after the first Movement Control Order (MCO) ended in May last year, followed by a second round of major closures after the bank moratorium ended in October 2020, and a third round during MCO 2.0 this year (from Jan 13 to March 4). Meanwhile, a new wave of closures has started since MCO 3.0 began in early May this year.
Nonetheless, he notes that the pace of closures has slowed since the Full Movement Control Order (FMCO) was implemented on June 1. "The reason is not because there are less closures, but because retailers that want to close are unable to do so due to the current travel and work restrictions as property agents are unable to hang up sales banners or bring [prospective buyers] to view the units."
Tan adds that many landlords are not terminating tenancies due to the current situation, which makes it difficult to rent out their units. "This is quite similar to MCO 1.0 in March and April last year. Closures only took place after MCO 1.0 ended."
Many of the retailers that have closed down were already struggling prior to the outbreak of Covid-19, he points out. "The many lockdowns just led to them closing permanently. The current situation also proves that F&B outlets cannot rely solely on takeaway and delivery for long-term survival. Since the FMCO, many F&B outlets have suffered greatly despite offering such services."
Meanwhile, Tan expects retail sales in the country to reach pre-pandemic levels only in early 2024. "This is provided we achieve high growth rates in 2022 and 2023."
Although eight states and one federal territory have progressed beyond NRP Phase 1, they do not account for a large share of the retail market in Malaysia, says Tan. "The Klang Valley (Kuala Lumpur and Selangor) accounts for 60% of the total retail turnover in Malaysia. Therefore, it is critical to allow retail stores in the Klang Valley to open soon."
Full recovery is a long way off, says Savills Malaysia associate director of retail services Murli Menon. "Perhaps two years, before we can get back to pre-pandemic levels.
"While local consumption levels can bounce back with the rate of vaccination or immunisation, there is still the tourist-related business that will take time [to recover]. Changed work habits are also going to modify and affect the pattern of consumption — some of the malls or retail outlets located in purely or mainly commercial office districts are going to have to change their offerings and strategies to recover weekday footfall and business."
CBRE | WTW group managing director Foo Gee Jen says a full recovery back to pre-pandemic conditions remains uncertain. "Life post-Covid-19 will surely differ, with epidemic outbreaks possibly recurring from time to time and a major shift in shopping behaviour. Crowd avoidance will be the primary consideration of consumers. Malls that do not appear to be hygienic and cleaned frequently may discourage shoppers [from visiting]."
Revenge shopping
Be that as it may, the sector did see a resumption in shopping traffic when MCO 2.0 ended this year. According to the Malaysia Retail Industry Report, shopping malls in all major cities received large crowds on the first weekend after movement restrictions were lifted while some tourist areas saw good crowds during the weekends.
There were also new store openings earlier this year, including Japanese chain store Don Don Donki in Lot 10 Bukit Bintang, Japanese coffee chain Arabica in Pavilion KL, Ramen restaurant Kanbe Ramen in 163 Retail Park, South Korean convenience chain store CU in Centrepoint Bandar Utama and American-based food chain Taco Bell in Cyberjaya.
Don Don Donki, for example, saw long queues that snaked from the exterior of Lot 10 all the way to the third-floor entrance. Arabica too had long queues of people waiting to snap a photo of its drinks for Instagram.
"As was seen, the last time restrictions were lifted, there were revenge shopping, dining and socialising tendencies … and, of course, even more so with brands that are sought after regionally and internationally, which the local consumers had been eagerly waiting for. Basically, strong brands and strong malls or retail podiums will continue to attract strong crowds," says Murli.
According to Foo, the sector also saw the expansion of beverage retailers such as Yomie's Rice X Yogurt and Starbucks, as well as two-dollar stores like Mr DIY's Mr Dollar. "Footfall was seen improving with the sudden rise in trends and a change in lifestyle."
However, Foo notes that increased footfall at certain shopping malls did not actually lead to an improved sales rate. "We believe that consumers currently seek leisure and dining-out options, as portrayed by their activities when visiting a shopping mall. Experience, quality and offers are now the significant factors that are attracting interest and brand loyalty."
According to RGM's Tan, some retailers remain popular among Malaysian consumers — for example Uniqlo, JD Sports, Louis Vuitton, Gucci and Chanel — which often have long queues, especially on weekends and public holidays. He adds that some retailers and brands come up with deals to attract eager customers, such as 22 Shoes in Sungei Wang Plaza with its RM10 shoe sale, and the Black Whale CunFry stores in the Klang Valley and Johor Baru (the bubble tea retailer has revamped the outlets in collaboration with the South Korean street food brand).
Neighbourhood commercial areas performing better
According to property consultants, neighbourhood commercial areas are generally performing better than those in locations that are heavily reliant on office crowds or tourists, as many Malaysians continue to work from home.
"Neighbourhood malls and shops are definitely performing better than city centre malls or locations that are dependent largely on office crowds or tourists. Most offices continue to allow — and in some cases, encourage — working from home, thereby limiting the number of people who usually go to malls and commercial centres that target the office crowd," says Savills' Murli.
"While we did see some of the city centre malls pick up in terms of footfall, we feel it will take some time till we see crowds back as usual. Working habits have changed, and will continue to change as people adapt and adjust to the new way of living due to Covid-19. Vaccination roll-outs will be the most critical factor — even though that still does not guarantee 100% safety from the virus."
Murli adds that the pick-up in retail footfall in city centre locations has been lagging behind that of neighbourhood centres. "In fact, some of the strong neighbourhood malls had recovered most of their footfall and sales [when restrictions were eased]. Also quite obvious is that conversion rates are much higher, given that mall visits are more purposeful now."
Foo says, "Neighbourhood shops are able to perform better because tenants have more operational flexibility in terms of operating hours, SOPs (standard operating procedures) and overheads. Consequently, operating costs can be lower. Customers should also be experiencing more convenience in terms of direct street access."
Certain shopping malls are still a pull factor, he adds. "Examples are Mid Valley Megamall and Pavilion KL, which saw quick improvements in footfall during the resumption of shopping activities. Nonetheless, shopping malls will need to rethink their current practices in terms of rental, operation overhead, convenience, accessibility and layout."
Similarly, Tan notes that suburban malls in the Klang Valley have enjoyed better shopping traffic than malls located in the city centre. "The main reason is that many shopping malls in the city centre rely on tourists for 15% to 20% of their retail sales."
He notes that interstate travel bans have also affected retail businesses in Genting Highlands and Cameron Highlands. "For retail businesses that depend on foreign tourists, they have been affected for more than a year. They include shopping centres in Johor Baru and Melaka, as they are dependent on tourists from Singapore. Central Market and Chinatown in Kuala Lumpur have also been severely affected due to the lack of foreign tourists over the last one year."
Nonetheless, retail performance is dependent on various factors, including the period of the MCO and the location, occupancy rate and size of the commercial centre, Tan notes. For example, footfall was low in popular suburban commercial centres in the Klang Valley such as Petaling Jaya's SS2 and Damansara Uptown, SS15 in Subang Jaya, Taman Tun Dr Ismail, Bandar Baru Sri Petaling and Cheras Traders Square when dine-in was not allowed. "On the other hand, shopping centres with a supermarket or hypermarket enjoyed reasonable traffic during the MCO period."
Additionally, when infection rates are high, consumers avoid crowded shopping centres, Tan continues. 
Murli says, "What we can see is that F&B as a category bounced back really fast, and so did sports and athleisure.  As long as malls and retail outlets are allowed to operate and SOPs and guidelines are clear, there is hope for the revival of the retail sector over a period of time.
"Places like Penang, Johor Baru and Kota Kinabalu are still lagging behind given their dependence on tourism — local and international. Interstate and international travel bans are definitely affecting retail business in these markets," he notes.
The future of retail
Retailing today is omni-channel, says Tan. "Traditional retailers cannot rely solely on physical stores to grow. They need to have multiple channels to reach out to modern consumers. Even online retailers are doing so. The future of retail must offer multi-channel distribution."
The significant increase in e-commerce and online business does not mean the end of physical retail, says Murli. "Retailers have learnt, and are still learning, that both channels are equally important and it is critical that they are able to offer the same experience and quality of products and services across channels. It is all about the customer brand experience and interaction."
Foo, meanwhile, notes that the evolution of physical retail space may occur in the long term as retailers re-strategise in terms of space function and focus on the quality of certain physical stores for customer experience while maintaining their online platforms. "This evolution may have an impact in terms of space layout and size requirement."
He notes that the Klang Valley's retail market may see more self-checkout stores and dark stores such as Pandamart, which only caters for pick-ups and delivery.
The sector may also see more flexible leasing in the future. "Such flexible leasing may involve shorter leasing terms such as daily or monthly, compared with the traditional two or three years. To ease rental commitment burden while aiming for positive retail mall occupancy, this may be a way to attract tenants looking to test their brands on the market. Mall operators may also acquire distressed tenants due to rental commitment and to maintain their occupancy," Foo adds.
The future, therefore, is all about the seamless transition between online and offline retailing, and the importance of maintaining a connection with the target consumers across all touch points, says Murli. "An overall improvement in efficiency, distribution and actual retail operations will be a natural outcome of the above, with the biggest benefit going to the consumer."
Moving forward, Murli believes retailers will bounce back much stronger and wiser. "There will be more synergised and harmonised retail strategies and offerings across online and offline channels. Retailers will be more data-oriented and digitally savvy to keep pace with the next generation of consumers and shoppers."