This article first appeared in City & Country, The Edge Malaysia Weekly, on September 6, 2021 - September 12, 2021.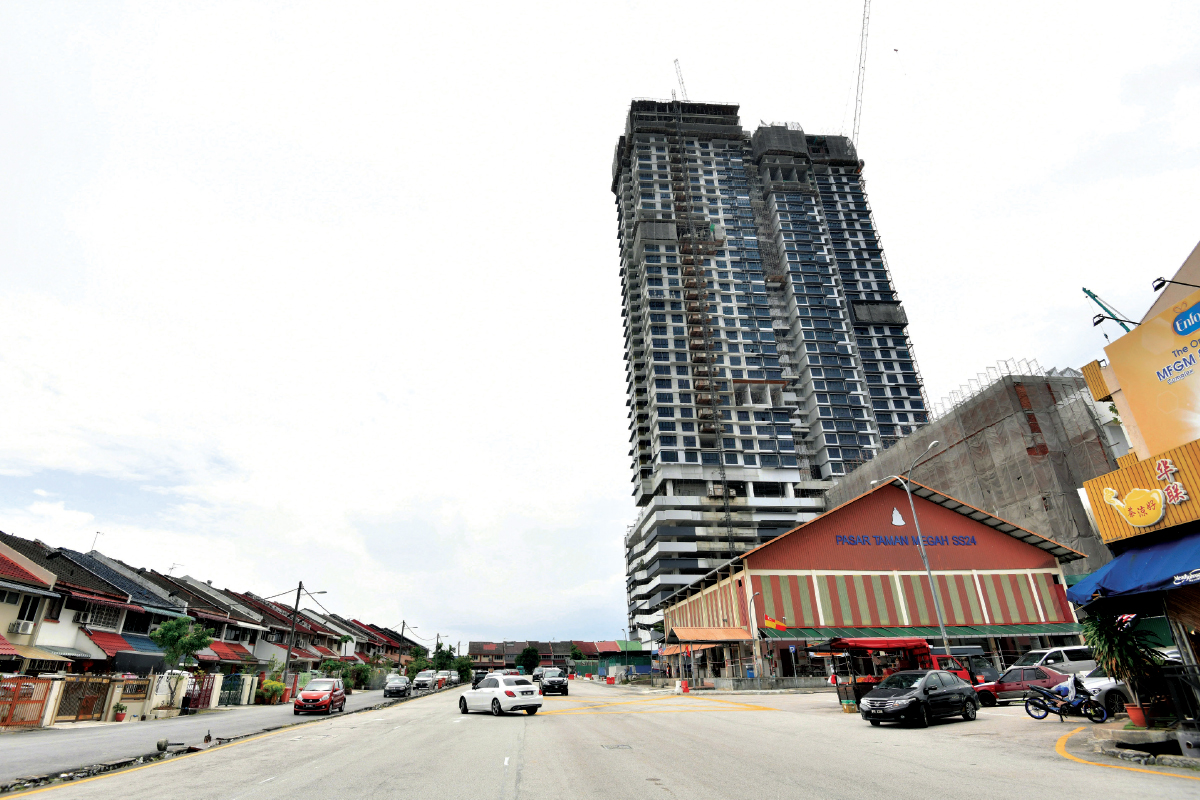 Taman Megah, or SS24 in Petaling Jaya, used to be a popular haunt for food and badminton lovers alike.  A key attraction was Ming Tien,  which was opened in 2001 and became one of the most popular food courts in PJ, offering a wide variety of hawker fare 24 hours a day. Next to the food court was a badminton centre that housed Michael's Badminton Academy as well as discount store FNC and pet store The Pet Family.
"Literally, every evening, people from all over PJ and the other surrounding areas would flock to Taman Megah as it was one of PJ's most popular food, recreational and meeting spots," recalls Landserve Sdn Bhd managing director Chen King Hoaw.
However, these landmarks were demolished in 2017 to make way for a mixed-use development by PPB Group. Launched in 2018, the RM300 million Megah Rise project will be the first high-rise in Taman Megah. The development will offer 39 storeys of serviced apartments and a 5-storey retail podium with two levels of basement car park. 
With built-ups of 764 to 1,747 sq ft, the serviced apartments are priced at an average of RM890 psf. According to VPC Alliance (Malaysia) Sdn Bhd managing director James Wong, the smallest units are sold out and the project is scheduled to be completed next year.
As for the retail podium at the development, it will reportedly have a grocer, healthcare, food and beverage components as well as a multipurpose community hall.
Apart from Megah Rise, there has been no recent developments in Taman Megah. However, recent completions nearby include Sapphire Paradigm by WCT Land and HighPark Suites by Gamuda Land. The developments are located in SS6 and SS7 in Kelana Jaya respectively, and around 3km from Taman Megah, notes Chen.
Ongoing developments nearby and along the Damansara-Puchong Expressway (LDP) are Plaza @ Kelana Jaya by Glomac Bhd and Sunway Serene by Sunway Property in SS7, Kelana Jaya.
A mature and strategic enclave
According to VPC Alliance's Wong, Taman Megah was developed by the Hong Leong Group in the mid-1980s. The mature neighbourhood comprises mainly landed properties, namely 2-storey terraced houses as well as some semi-detached homes and bungalows. It also has a bustling commercial area comprising 3-storey shopoffices and a popular morning wet market.
"The commercial area in Taman Megah is often busy, with vibrant shophouses and a covered wet market catering for the needs of the residents and nearby housing estates," says Wong.
Sitting directly across the LDP from SS2, the Taman Megah enclave is sandwiched between Taman Mayang and Taman Mayang Jaya — SS25 and SS26 respectively — to the west, and Taman SEA (SS23) and Damansara Jaya (SS22) to the northeast.
"All these equally established areas are connected by the arterial road of Jalan SS24/1, making the entire area one huge self-contained neighbourhood. Those living here can find all kinds of amenities, including public and private schools, shopping malls, medical centres, clinics and banks," says Landserve's Chen.
Taman Megah is home to schools such as SJK(C) Yuk Chai and SK Taman Megah, and is near other schools such as SMK Damansara Jaya, SMK Taman SEA and Beaconhouse Sri Inai International School.
A 10-minute drive, or slightly longer, will take you from Taman Megah to shopping malls such as Atria Shopping Gallery, Paradigm Mall, 3 Damansara, The Starling, 1 Utama Shopping Centre and Sunway Pyramid. Golf and recreational facilities, including the Saujana Golf & Country Club, Kelab Golf Negara Subang, Tropicana Golf & Country Club, Kelab Golf Perkhidmatan Awam and TPC Kuala Lumpur are nearby as well. For medical facilities, Kelana Jaya Medical Centre, KPJ Damansara Specialist Hospital, University of Malaya Medical Centre and Assunta Hospital PJ are within easy reach.
In addition to the LDP, Taman Megah also enjoys quick access to the New Klang Valley Expressway (NKVE), Federal Highway and Sprint Expressway. Two LRT stations — Taman Bahagia and Kelana Jaya — are located less than 1km away.
Savills (Malaysia) Sdn Bhd managing director Datuk Paul Khong expects demand for Taman Megah's landed freehold properties to remain promising. "The locality is well supported with excellent accessibility, direct access to the LDP, good infrastructure and public transport facilities as well as fantastic neighbourhood amenities. We expect to see continuous organic growth in Taman Megah supported by its strong fundamentals, making it an attractive residential address."
Khong adds that the area is also closely connected to other bustling commercial areas of Kelana Jaya, Damansara Uptown, Bandar Utama, Taman Tun Dr Ismail and Mutiara Damansara.
Chen is similarly optimistic, and concurs that terraced and semi-detached houses in Taman Megah will continue to enjoy demand in the medium to long term. "Given its location, we believe Taman Megah will remain popular, especially among those who are looking for landed homes in this part of Petaling Jaya.
"As for its commercial properties, the wet market, which lies adjacent to the shopoffices, is a crowd-puller. The ongoing Megah Rise development will be a growth catalyst as the shopoffices are expected to benefit from the increased vibrancy and footfall in this area upon the project's completion," Chen adds.
Wong expects the mature property market in Taman Megah to remain stable. "Taman Megah is a desirable residential address in a strategic location. The rental yield for landed properties in the area ranges from 2% to 3%. With its freehold status, property prices are expected to increase gradually in the future."
Healthy prices
Taman Megah's house prices have gradually increased over the years, says Wong, adding that prices of 2-storey terraced houses ranged from RM710,000 to RM860,000 in 2011 before reaching their peak in 2016 with transactions reaching RM1.35 million.
"From the peak of 2016, prices of 2-storey terraced houses have been [relatively] stable over the years — from a 4% appreciation in 2018 to an average price increase of 10% in 2020 from 2019, despite the Covid-19 pandemic," he continues. The price increase could be attributed to the properties being landed, thereby offering more of a sense of safety compared to high-rise developments during the pandemic. (See Table 1.)
Wong clarifies that the 10% increase in property prices is based on the average transacted value of seven 2-storey terraced houses in Taman Megah last year.
According to Savills' Khong, the standard terraced units in the area have land areas measuring 1,600 to 1,660 sq ft and built-ups of 1,700 to 1,800 sq ft. He notes that the compound annual growth rate (CAGR) of these properties from 2010 to 2020 is around 6.4% (see Table 3). "In summary, these old 2-storey terraced houses that were priced at RM630,000 in 2010 are easily fetching just over RM1 million per unit today.
"There are also nominal transactions of semi-detached houses, which are limited, in Taman Megah," Khong says, adding that the semidees saw transacted prices of RM2.6 million to RM2.8 million per unit in 2019. He notes that the semidees have land areas of 4,700 to 5,200 sq ft and built-ups of around 2,300 sq ft.
Meanwhile, Chen observes that the price of 2-storey terraced houses had grown steadily from about RM800,000 in 2012 to around RM1.2 million in 2018, representing an increase of 50% over a six-year period. "Prices of similar properties have remained more or less flat at around RM1.2 million ever since."
He notes that the 2-storey semidees in the area saw a price surge of 27.6%, from about RM2.1 million in 2014 to about RM2.68 million in 2016. "The prices have held up well since 2016 as there has not been any significant change in transacted prices. Prices of detached houses have also remained steady since 2018 at around RM3.1 million."
As for commercial properties, Wong notes that not many transactions have been recorded. A 3-storey shopoffice was transacted at RM2 million in 2018.
Shopoffices in the area have a standard land area of about 1,800 sq ft and built-up of about 4,900 sq ft, Khong notes.
Chen observes that the transacted price of 3-storey shopoffices had slid gradually from RM2.8 million in 2013, before experiencing a significant drop to about RM2 million in 2018. "That was right after the closing and demolition of the Ming Tien food court and the badminton centre in 2017."
Meanwhile, the asking prices for 2-storey terraced houses range from RM1 million to RM1.35 million,  according to Khong, depending on building condition and renovation works done, while those of 3-storey shopoffices are between RM2.75 million and RM2.9 million.
For the 2-storey detached houses, Chen notes that the asking price for a unit with a land area of 6,300 sq ft and built-up of 4,000 sq ft is RM3.58 million. A 3-storey corner terraced shopoffice with a land area of 4,033 sq ft and built-up of 7,063 sq ft has an asking price of RM7.5 million. 
Both Wong and Chen anticipate that parking issues at Taman Megah's commercial area will ease upon the completion of Megah Rise, owing to its two levels of basement car park.
"As this is a mature residential area with no more vacant land for development, improvements will be limited in Taman Megah," says Wong.