This article first appeared in City & Country, The Edge Malaysia Weekly, on September 17, 2018 - September 23, 2018.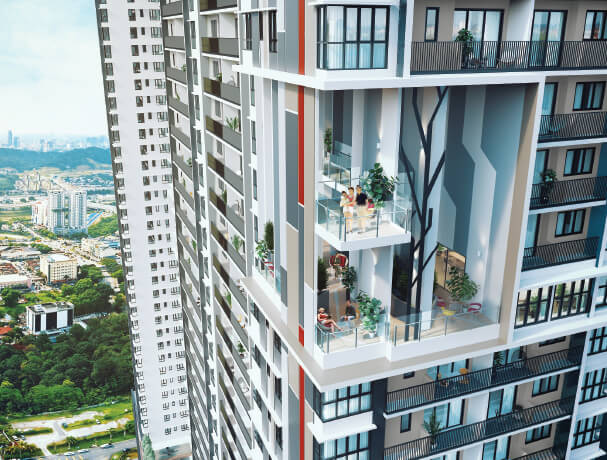 Both the towers in Phase 1 of Kuchai Sentral will have sky lounges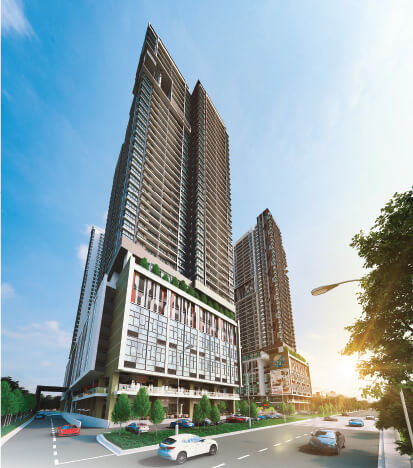 An artist's impression of the first phase of the development, featuring its retail component on the lower levels for the benefit of residents and the public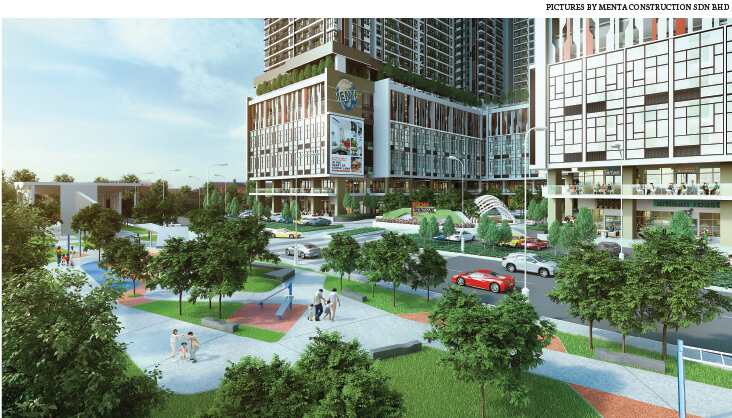 An artist's impression of the development's linear park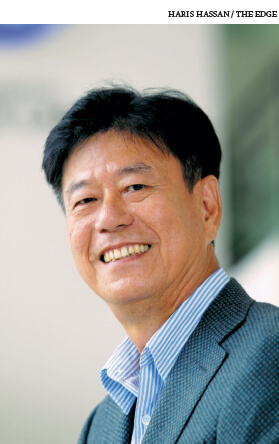 Kuchai Lama is an old residential area where most of the residents' children have grown up. And as this is a mainly Chinese area, families will want to live near each other, making this product very suitable for them." - Tan
The growing popularity of Old Klang Road or Jalan Kelang Lama, one of the oldest thoroughfares in Kuala Lumpur, has seen the appreciation of property values and the emergence of new developments on the stretch of road. An upcoming development is Menta Construction Sdn Bhd's Kuchai Sentral in Taman Kuchai Lama.
"We want to create a landmark in Kuchai Lama," CEO Tan Choon Hock tells City & Country, adding that he wants Kuchai Sentral to be a place where families can continue to live close to each other.
"Kuchai Lama is an old residential area where most of the residents' children have grown up. And as this is a mainly Chinese area, families will want to live near each other, making this product very suitable for them."
Estimated to have a gross development value (GDV) of RM1.4 billion, Kuchai Sentral features four residential towers of between 38 and 42-storeys and a net lettable area of 80,756 sq ft, and will be developed in two phases. Phase 1 will comprise two residential towers atop an elevated car park podium, the two bottom levels of which have been earmarked for a retail component. Phase 2 will feature the other two residential towers, retail outlets, offices and grocery space.
Menta Construction will launch the residential units in Phase 1 by the end of this month while the unveiling of Phase 2 will depend on future market conditions.
As the developer is targeting the upwardly mobile, young families as well as upgraders for the development, there must also be suitable retail options, Tan remarks. "What is on offer in Kuchai Sentral will be similar to what is found in Publika, Mont'Kiara."
Moreover, the retail component of the project will be managed by the developer to ensure that the food and beverage offerings and conveniences meet the needs of Kuchai Sentral's residents.
The development sits on 6.91 acres that were acquired by Tan for RM15 million in 2012. Initially, the land had a residential title but he eventually converted it to commercial to offer the residents and the public more retail options.
"I was thinking that Kuchai Lama is a mature area and we have a big piece of land, so why not do something special? One of the selling points of our project is our commercial element," Tan says.
What is on offer
Phase 1 features Towers A and B, which will house 941 serviced apartments and 40 duplexes. There will also be 45 retail outlets. The apartments come in four layouts, ranging from the smallest at 656 sq ft with 1+1 bedroom and 1 bathroom to the biggest at 1,312 sq ft with 3+1 bedrooms and 3 bathrooms. The duplexes, with a built-up of 714 sq ft, will have 1+1 bedroom, 1 bathroom and 1 powder room.
The maintenance fee of 30 sen psf is inclusive of the sinking fund.
Tan says the units will come partially furnished with kitchen cabinets, hood and hob, water heaters, shower screen and air-conditioning units in the bedrooms and living room.
The selling price starts at RM414,867 (an average of RM611 psf) with the duplexes going for RM527,393 (average of RM714 psf). Each unit comes with one to two parking bays. The parking area for residents is separate from the retail parking bays, which are open to the public.
According to Tan, once the whole development is completed, there will be more than 2,000 resident parking bays and 1,000 public parking bays, ensuring that the F&B outlets have more than the residents as their customers.
With links to highways like the Kuala Lumpur-Putrajaya Maju Expressway (MEX), Sungai Besi Highway, Shah Alam Highway (KESAS), New Pantai Expressway (NPE), SMART Highway and Federal Highway, the area's connectivity is good.
"The location is also just a 5 to 10-minute walk from the upcoming Kuchai Lama MRT Station," Tan says. Nearby amenities include schools like SK Seri Setia, SMK Seri Sentosa, SJK (C) Choong Wen and SJK (T) Sg Besi. Not far are also the NSK supermarket and numerous F&B options.
Phase 1 facilities for residents after the development is completed in four years include a gym, multipurpose hall, reading room, meeting room and games room, swimming pool, barbecue area, open lounge, Jacuzzi, jogging track, half basketball court and children's play area.
Additionally, both Towers A and B will have sky lounges for the residents. In Tower A, it will be on Levels 22 and 31 while in Tower B, it will be on Levels 23 and 33A. There will be sofas, reading corners and WiFi hotspots for residents to enjoy, not to mention a view of Kuala Lumpur.
Acknowledging that those who live in the area and are familiar with Kuchai Sentral's location will have concerns over its accessibility, Tan says the infrastructure will be improved at a later date to ensure that movement to and from the development is smooth. On traffic congestion along Jalan Kuchai Lama headed towards the project, he points out that this only occurs at peak hours.
Positive vibes
According to CCO & Associates (KL) Sdn Bhd director Chan Wai Seen, Kuchai Lama's property landscape features mainly landed homes, shopoffices and factories.
"The scarcity of land and its increasing cost have contributed to the emergence of high-rises, mainly condominiums and serviced apartments in this locality," he says.
"The early developments in Kuchai Lama were generally not well planned and it was not considered a good place to live. However, the widening of Old Klang Road, improved accessibility to the North-South Expressway and the completion of NPE and KESAS have improved the attractiveness of Kuchai Lama considerably.
"But though Kuchai Lama has seen significant development, it continues to lag behind Petaling Jaya, Bangsar South in Kerinchi, Damansara and so on in terms of commercial developments like purpose-built offices, shopping complexes and hotels."
ExaStrata Solutions Sdn Bhd CEO Adzman Shah Mohd Ariffin highlights that Kuchai Lama is an established suburban locale that is 8km southwest of the Kuala Lumpur city centre and about 60% of whose population are Chinese.
"The locality has become popular of late due to its proximity and ease of access to the city centre and surrounding amenities," he says. "The established housing area offers a choice of accommodation that is suitable for owner-occupiers and investors. With the prices of condos ranging from RM350 to RM400 psf in the older schemes and RM550 to RM650 psf in the newer ones, this locality is considered good value."
Chan highlights that demand for high-end developments in Kuchai Lama has been affected by the current property market slowdown and will take some time to recover.
"Good-quality projects priced at RM500 to RM600 psf in Kuchai Lama are generally well accepted in the market," he says.
According to Adzman, house prices in Kuchai Lama have been rising steadily in tandem with those in the surrounding areas like Taman Gembira, Taman Kuchai Jaya and Taman OUG. The challenge for the area is traffic congestion on the internal roads, which is due to the streets being narrow and haphazard parking.
"Nevertheless, location-wise, [Kuchai Lama] is still sought after with more modern high-rises coming up in pockets of land, offering lifestyle living with facilities," Adzman says, adding that high-rises are the way forward for the area as land there is limited. Still, developers need to be mindful of traffic flow and how to mitigate congestion.
As for the property outlook for Kuchai Lama, Chan says, "I am quite positive about the new and reasonably priced residential projects there in the medium to long term. In the short term, luxury and highly priced projects may undergo a market correction.
"The short-term performance will depend on the country's economic situation. At this point, there are too many uncertainties. Kuchai Lama's strategic location will be its key driver while the completion of MRT2 will be a new stimulant for the locality."
Adzman concurs. "The outlook for the locality remains good. With the saturation of the Kuala Lumpur city centre and overspill to suburban areas, Kuchai Lama will no doubt be one of the housing areas to benefit from higher values in the future," he says.
From construction to property development
As Menta Construction Sdn Bhd CEO Tan Choon Hock excitedly shares details of the company's maiden development in Kuchai Lama in Jalan Kelang Lama, the question many might ask is, why now? Why would a successful construction company — which was incorporated on April 6, 1982, and has done work in excess of RM4 billion, including a RM1.2 billion
construction project for Petronas' Refinery and Petrochemical Integrated Development (RAPID) in Pengerang, Johor — want to move into property development?
"I have been buying land over the years, and now have many parcels in KL and the Klang Valley," Tan says. "I also have a good friend with experience in property development to help me, and I feel it is the right time to do it."
Moving into a new industry is never an easy task but Tan is not one to shy away from a challenge. After graduating from Confucian Private Secondary School, he immediately found work in Jalan Kelang Lama wiring motors. But after a year, boredom drove him to find work in a hardware store. Tan recalls how his parents told him such businesses never go bust. So, at the age of 19 in 1978, he applied for a job at a hardware store, got it and turned up for work, only to discover that it was a furniture hardware store.
Tan eventually obtained a permit to sell sand. "It was a new industry and I didn't mind learning about it. At the time, being young, I liked to learn new things," he laughs.
He recalls the hours under the hot sun. "It was tough work," he says, shaking his head and wondering how he survived those days.
But survive he did and in 1981, when the sand business was not doing well, he roped in his brother, Choon Soon, and three other partners to start Menta Construction Sdn Bhd, with each of them forking out RM10,000.
The company's name is a combination of two Chinese words — ¬ü¹F (Mi dá) — which loosely translates into "beautifully finish an activity".
The company's first project was the government quarters at Institut Penyelidikan dan Kemajuan Pertanian Malaysia (Mardi), Serdang. Tan recalls that the over RM300,000 project required him to get machinery on loan from his friends and work day and night to complete it. After it was done, the company made some money, which spurred him on.
However, when the commodity crisis of the 1980s struck, his three partners decided to cash out of the business as collection at the time was difficult. This left Tan and his brother to continue the business. In 1991, Tan had a lucky break, which allowed him to grow his reputation as a reliable and trustworthy contractor.
A developer needed a hill in Section 17, Petaling Jaya, to be levelled and the earth to be carted off somewhere. Tan looked around for areas that required land filling and found such a place in Taman Tun Dr Ismail (TTDI). So, the earth removed from the hill found itself in TTDI, an operation that earned Tan his first million ringgit. His name grew from there and he got more jobs in the area.
When the 1997/98 Asian financial crisis struck, Tan was fortunate enough to not get caught in the turmoil.
"In the first crisis in 1985, we were not badly affected as we were still very small," Tan says. "During the second crisis in 1998, luckily I had acquired equipment that had good second-hand value. Before 1998, I had secured a deal from Lion Group for its Lion Cheras Mahkota project, where there were 900 acres to clear and earthworks to be done. I was forced at the time to buy all the equipment because earthworks were starting on the Kuala Lumpur International Airport and demand for lorries at the time was very high, from RM16 per hour to RM36 per hour and still it was hard to get them.
"So, I decided to buy my own machinery, about 30 units, and I completed the project. Luckily, when the crisis happened, I decided to sell the machines overseas, in the US. I made a profit of about RM8 million."
He then started buying repossessed construction machinery at rock-bottom prices to build his fleet again. He recalls buying a particular truck that would normally cost RM100,000 for only RM6,500. "I grabbed so many quality machines," he says.
And when the times improved, Tan was ready.
What is interesting about Tan's journey is that he did not have a mentor or someone to guide him on doing business. Hard work and persistence saw him through many difficult periods and, certainly, fortune smiled on him. However, there are key values and principles that he holds close to his heart.
"My management principle is very simple: you must be honest," Tan says. "I think I learnt this from my mother when I was young. She taught me that you must be honest, tell the truth, do the right thing and you cannot cheat others. Until today, I remember my mother's teachings."
On his plans for the future, Tan says he wants to build a township. While he is coy about how much land bank he has acquired over the years, he does reveal that he has a total of 50 acres ready for development in several areas around the Klang Valley.
Facing challenges head-on early in life and finding solutions where there did not seem to be any have held Tan in good stead over the years. As he embarks on a new venture, one can expect him to go about it like he normally does — with focus and dogged determination.