This article first appeared in Options, The Edge Malaysia Weekly, on February 11, 2019 - February 17, 2019.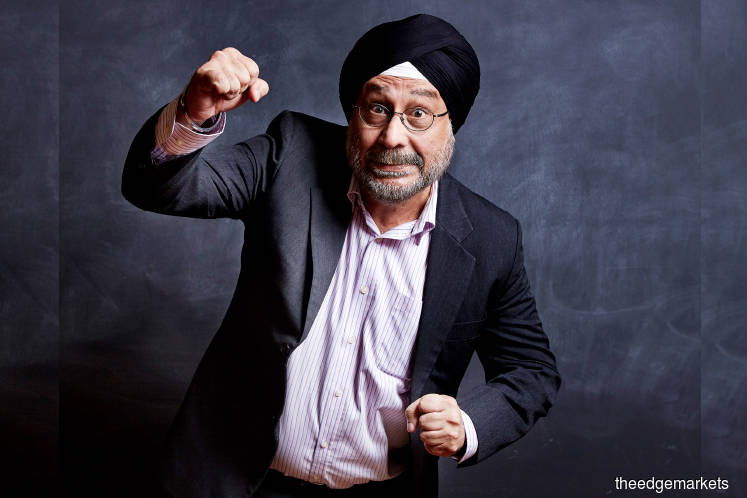 Professor Harmandar Singh Naranjan Singh started off in advertising but his career has since spanned multiple creative industries and continues to expand. Shalini Yeap talks to the advertising and brand communications guru, writer, academic, exco member of Mercy Malaysia and founder of Sledgehammer Communications about how his role has evolved over the decades, the trappings of digital advertising and his experience with the non-profit organisation.
I may wear many hats but only one turban!" laughs Professor Harmandar Singh Naranjan Singh as we trace his career path during an interview at Mercy Malaysia's office. Call it a catchphrase — you may have heard it before — but there could not be a truer way of summing up the illustrious career of Ham Singh, as he is fondly called. Whether he is writing 10,000 words per week, lecturing at Taylor's University Lakeside campus, organising multiple industry events or overseeing the communications bureau of Mercy Malaysia, the founder of Sledgehammer Communications is nailing it.
Born in Bukit Besi in Dungun, Terengganu, Harmandar's family moved to Selangor when his father got a job at Associated Pan Malaysia Cement Sdn Bhd in Rawang. Despite having left the east coast state in his adolescence, he says he is a true anak Terengganu at heart.
Harmandar, who has a way with words, soon discovered that the advertising industry combined his affinity for prose with idea creation, which he not only enjoys but also has a knack for. "I liked writing for advertising and that there was such deep thinking required to make complex things seem simple when it comes to delivering a message. That naturally drew me to it. I do a lot of thinking; even when I am not writing, I am actually 'writing' in my head, so when I get to the computer, I already have my first few paragraphs [mentally-written]. I have always been that kind of a thinker and I found having to come up with advertising concepts to be in line with my depth and pace," says the man who was a weekly columnist with The Star and New Sunday Times for 11 years.