This article first appeared in City & Country, The Edge Malaysia Weekly, on December 17, 2018 - December 23, 2018.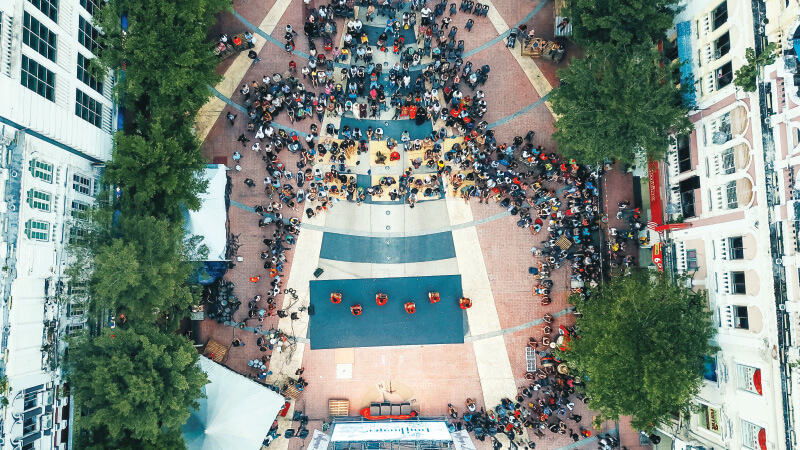 Cultural activities held at Medan Pasar in downtown Kuala Lumpur. Such activites are held to engage the public and also activate and utilise public space.
As a child, I often heard the term "gotong royong" and used to see groups of people helping clean drains or help villagers spruce up their homes and environment. While the term loosely translates into "teamwork", it goes deeper than that. It speaks of community living, of community spaces, and of people and heritage being recognised and appreciated. As villages grew into towns and later cities, the gotong-royong ideals fell by the wayside, and now people are finding it hard to connect with each other and their communities.
However, a gotong-royong revival seems to be making its way back into modern society. Think City Sdn Bhd — a community-focused urban regeneration organisation that is a subsidiary of Khazanah Nasional Bhd and funded by Yayasan Hasanah — is going all out to change the way we look at cities.
"Cities need multifaceted skills and capabilities to bring renewal and rejuvenation," says Think City managing director Hamdan Abdul Majeed. "This will need the help of professionals ranging from architects, lawyers and historians to planners, psychologists and sociologists. Their composite skills are what we need to make a city work."
In an interview with City & Country at the organisation's rented premises in Jalan Hang Kasturi in the middle of downtown Kuala Lumpur, Hamdan says since Think City's inception in 2009 in Penang, it had managed 675 projects as at June this year. It is estimated that by its 10th anniversary next year, Think City would have generated an estimated total project value of RM267 million while incurring operational expenditure of RM28 million.
Humble beginnings
Hamdan kick-started Think City after he appointed as head of Khazanah's Penang office.
"Part of my work allowed me to lead the project we had conceived — the renewal of George Town — and that led to Think City," he says, adding that in the beginning, "the challenge was to rethink how Penang could be renewed as a growth centre".
"It was in that context that we put together a strategy and published it. It was called 'Cities, People and the Economy'. It was a study done on positioning Penang for the future."
The study looked at how cities are considered the "dynamo of competition" and, as such, how they could attract investment and talent, and retain both.
"While cities need to ensure the quality of jobs, people also need quality of place," Hamdan points out. "And cities compete; the nature of competition is such that there are inherent strengths in cities that you need to take advantage of, whether it is their location, natural endowments or historical urban fabric that has allowed them to grow over time. This is represented by the buildings, the people, culture and activities that, when combined, create the soul of the place."
The initiative to rejuvenate George Town started  by giving out grants for conservation efforts. "We started off in George Town by providing grants to support the renewal of the historical fabric of the city," Hamdan says.
Over time, and with much engagement with all the stakeholders of the city, Think City's mission and vision led to the restoration and activation of public spaces and the rehabilitation and reuse of many heritage sites and buildings.
Projects like the park at the junction of Armenian Street and Acheen Street have been well received. What used to house a flea market with unsavoury characters today is a bright and happy place for families with young children.
Other projects include the upgrading of shophouses in Kimberley Street and the restoration of Cheah Kongsi clan house and temple. Think City also organises events and exhibitions within heritage sites like artisan workshops to engage with the public and create awareness of hidden places.
Upcoming bigger projects include the North Seafront Master Plan that encompasses the area from Dewan Sri Pinang in the west down to Fort Cornwallis and the entrance to Swettenham Pier in the east.
For all its hard work and positive change it has brought about since its inception, Think City
received the Excellence in Urban Regeneration Award for Regeneration of George Town at the 2017 The Edge Malaysia Property Excellence Awards.
Testing ideas
However, Hamdan and his team are not resting on their laurels. After tasting success in Penang, Think City decided it was time to test what it had learnt and find out if it could be replicated elsewhere.
"As we expanded, we looked at the different formats of the cities. Butterworth is an industrialised brown out-area while Kuala Lumpur is the capital city but has a historical downtown that is under-utilised. Johor Baru is a border city that is both historical and a royal town," explains Hamdan.
"So, there were different challenges and we wanted to see if what we experienced in George Town was relevant and replicable in other places. We scaled up to see whether that was possible and based on the early resources that we have, we have gained traction. The programme is making an impact and we now have a number of projects in all these different cities."
Having set up its KL office in 2015, the projects started by Think City have been slowly gaining ground.
One of Think City's key objectives for Kuala Lumpur is to revitalise downtown KL, which is underutilised. Some of the projects in the area that it started by giving grants to improve public spaces include upgrading Lebuh Ampang and Kwong Hing Building as well as the restoration of the façade of the Sin Sze Ya Temple. There is also a management initiative for restoring the shophouses at No 62 and 64 Jalan Tun Perak.
One of Think City's successful restoration projects is the conversion of three interconnected shophouses into 12 units at 80 Jalan Rotan, off Jalan Kampung Attap. The shophouses used to provide small entrepreneurs with space to run their businesses and also housed the Selangor Zhongshan Association.
"We did this project with the Zhongshan Association and worked with a property owner to renew and repurpose a few shophouses that were built in the 1950s. From a vacant asset, it is a thriving arts hub today with many enterprises springing up, and it is expanding," says Hamdan.
There are also lane way improvement projects and façade upgrades that are slowly getting the attention of city folk. Even the building where the organisation is located, which used to be a bank, has become a cultural and activity venue. It has spaces for exhibitions, flea markets, performances, talks and, on the day of this writer's visit, a sensory experience tour of the bank's old vault beneath street level for people to understand what the visually impaired go through on a daily basis.
Meanwhile in Butterworth, where Think City opened its office in 2014, the projects include the reactivation of public spaces like pocket parks in Kampung Benggali and the Butterworth Art Alley with its numerous murals by local artists.
The Think City office in Johor Baru opened in 2016 and grants were given to support community groups in the 13th Johor Baru Arts Festival. And there have been back lane pop-up parks with small theatre performances that have been well received. There also have been engagement sessions with stakeholders for future lane way improvement.
No one-size-fits-all approach
Think City's entry into new cities has been challenging, requiring tweaks and adjustments to plans and strategies.
"This is not a cookie-cutter approach. We spend time in each city to find out its needs, vision, plans, desires of the stakeholders and demands of the citizens, and from there we do a baseline to understand where we are starting from.
"And then we crowdsource initiatives to generate momentum. We identify collaborations with the city government. And augment where the needs are and then we try to lead initiatives where there are no takers to ensure that all the different things that make a city great are championed," says Hamdan.
Community involvement is key to the success of many of Think City's projects. However, it also means dealing with naysayers and criticism. It is par for the course for the Think City team though, and instead of taking it personally or pushing back with force, Hamdan and his team take a different approach — they engage.
"You need to have a plan and vision and build that plan and vision with others," he says. "And get many people on board … We try to ensure many people get onto the journey. In any process of regeneration, there will be winners and losers. I think we need to be sympathetic and have empathy for those who are displaced by the result of the process of regeneration.
"Now, that is something we do not ignore; we try to engage so that we find ways to address some of the issues and concerns and needs. Sometimes you are successful, sometimes you are not. That is the way things are."
One way to prove what Think City is doing benefits the community is by showing that it can be done incrementally. "So, like working in an area like Masjid Jamek. Restoring a few buildings, demonstrating and showcasing exhibitions and activities in the building, programmes to improve the lane ways, creating parks, public space improvements, enhancing the public realm and working with the city government are all different things that are fundamental.
"I use the analogy of a firefly. You create a community of fireflies, eventually it provides the illumination that is needed. That lights up the space, it creates a new milieu in what was dark before. So, it is the power of the collective," Hamdan explains.
As Think City continues to help cities reconnect with citizens and places, it is also looking at itself. "Next year, we are reaching our decade of making cities better. We are also taking time to reflect on our path way forward. Part of that journey is also introspection as well as trying to get information from the cities where we have been working as to whether we should continue with the approach and the role we have played or think of pivoting, adapting and changing. So, that is a conversation we are starting now," Hamdan says.