This article first appeared in The Edge Malaysia Weekly, on May 16, 2022 - May 22, 2022.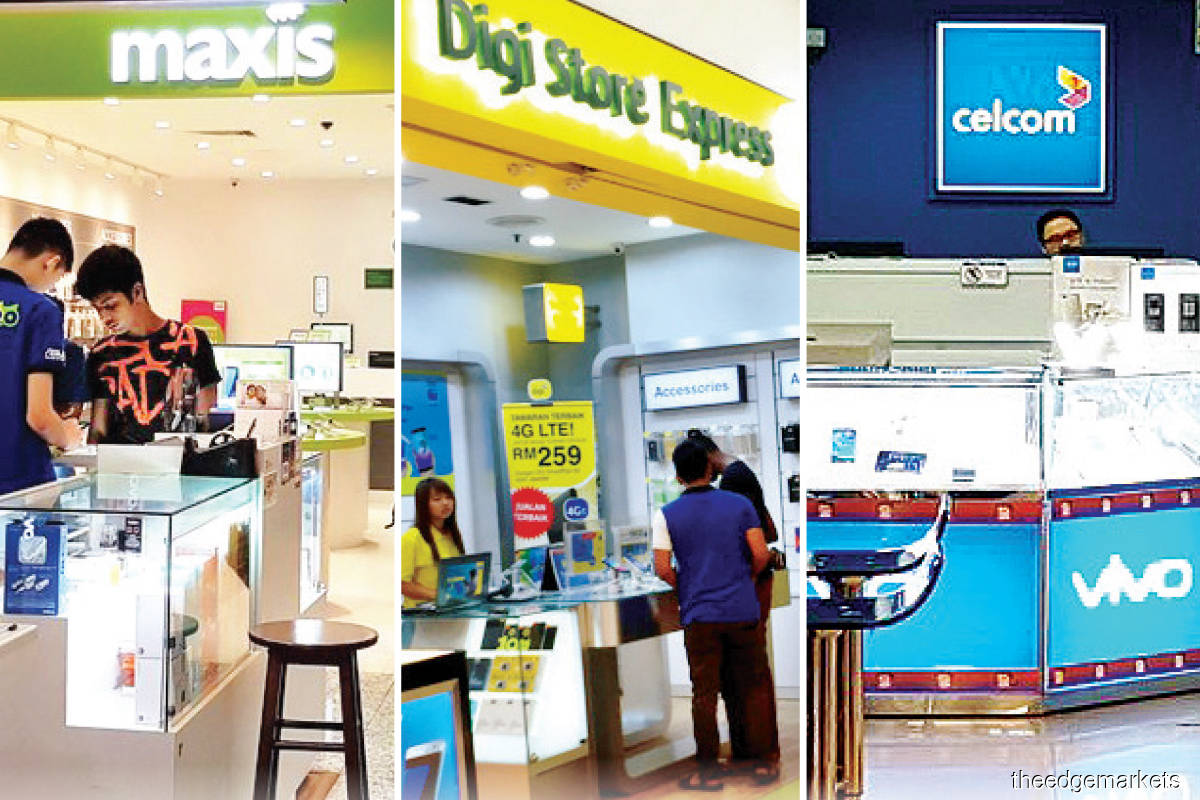 GENEROUS dividend-paying, blue-chip telecoms stocks are underperforming the bellwether FBM KLCI by a wide margin and have collectively lost some RM26 billion in market value year to date (YTD). During this period, the entire market collectively lost about RM22 billion from RM1.75 trillion at the start of the year (Malayan Banking Bhd, Public Bank Bhd, Petronas Chemicals Group Bhd and Hong Leong Bank Bhd collectively gained RM29.5 billion).
And the two worst-performing stocks among the four largest listed telcos are Maxis Bhd and Digi.Com Bhd, which paid their shareholders nearly all the profits earned for FY2021 and are among the handful of counters that pay dividends every quarter.
In fact, not only did Maxis maintain its dividend payout at RM1.33 billion or 17 sen per share for FY2021 — the same as FY2020, despite net profit coming in 5% lower year on year largely due to higher depreciation — it actually paid slightly more than 100% of earnings last year and continued to do so in the first quarter of 2022 (1Q2022).
The dividend of five sen per share that Maxis declared for 1Q2022, which came up to about RM391 million, was a 131% payout — trumping its net profit of RM298 million (3.8 sen per share) for the quarter that reflects a higher tax rate due to the one-time 33% Cukai Makmur prosperity tax on chargeable income above RM100 million for the assessment year 2022 (instead of 24% corporate tax) announced in Budget 2022.
Maxis also paid more than 100% of net profit in declaring a dividend of five sen per share for 4Q2021, when earnings per share was 3.7 sen.
While Maxis' five sen dividend per share for 4Q2020 was also more than what it earned that quarter, the RM1.33 billion (17 sen per share) it paid for FY2020 was less than 100% of its RM1.38 billion profit (17.7 sen per share) for that year.
Closing at RM3.81 — which gave it a market capitalisation of RM28.9 billion — on May 10, Maxis had lost over RM9 billion in value as its shares have fallen over 21% YTD — underperforming the FBM KLCI's -0.83% and FBM EMAS' -1.75%. Total return was -20.5% YTD, compared with the FBM KLCI's 0.82% and FBM Emas' -0.33%, Bloomberg data shows at the time of writing.
Digi.Com — which paid out RM1.16 billion (14.9 sen per share) or more than 99.5% of its RM1.17 billion earnings (14.95 per share) as dividends in FY2021 — saw its shares fall some 18% or close to RM7 billion in value year to date. Closing at RM3.57 to reflect a market capitalisation of RM26.9 billion on May 10, total return YTD was -17.3%, according to Bloomberg data.
That's slightly ahead of the 17% YTD share price decline seen for Axiata Group Bhd, whose Malaysian mobile unit, Celcom, is awaiting regulatory approvals to merge with Norwegian Telenor ASA's 49%-owned Digi.Com. Closing at RM3.45 on May 10, Axiata too had lost about RM7.3 billion in value YTD, giving it a market cap of RM30.8 billion at the time of writing, with total return at -15.9% YTD.
Even Telekom Malaysia Bhd (TM), the best performing among the four largest Bursa Malaysia-listed telcos, has lost RM2.6 billion in value as its shares slipped 9.45% YTD to close at RM4.98 on May 10, giving it a market capitalisation of RM18.1 billion. Total return for TM, which pays dividends twice a year, was -8.3% YTD, Bloomberg data show. Analysts' target prices range from JP Morgan's RM3.60 to Macquarie's RM7.70, averaging at RM4.98 at the time of writing. There are 20 "buy" recommendations, versus two "hold" and three "sell" calls.
Time dotCom Bhd — which does not have mobile phone operations but has fibre broadband customers and serves the enterprise market — saw its shares ease only 2% YTD to close at RM4.48 on May 10, giving it a market capitalisation of RM8.2 billion.
The 5G overhang
Persistent uncertainties over 5G and how it would change industry dynamics do not help. Investors who subscribe to the "sell first, ask questions later" mantra probably contributed to the massive decline in stock price that began last year.
While the government had on March 16 this year decided to go ahead with a single wholesale network (SWN) model to accelerate the rollout of 5G in Malaysia, its decision to cede up to a 70% stake in Digital Nasional Bhd (DNB) also raised new questions over what was previously a clear-cut change in industry structure and decision-making process when DNB was set up in March last year.
Even though the government said negotiations on ownership, equity value and other aspects of the proposed 70% equity participation in DNB by telcos are targeted to be concluded by end-June, it remains to be seen if meaningful progress can be made and publicly disclosed in the next seven weeks.
Indications are that little progress had been made since April 8, when the four mobile network operators (MNOs) that had previously lobbied to jointly own a second 5G wholesale network — Celcom Axiata Bhd, Digi Telecommunications Bhd, Maxis Bhd and U Mobile Sdn Bhd — issued a joint statement to say that they "remain in discussions" with DNB and the Malaysian Communications and Multimedia Commission but have yet to agree on key terms of the recently published reference pricing offer or RAO. The latter, they say, is a key step before discussions on commercial access agreements can commence.
It was because of the lobby that the government — which had initially planned to keep 100% equity in DNB until 5G network infrastructure rollout reached 80% in 2024 — decided to cede 70% stake to the MNOs earlier, in the name of public-private partnership in the 5G rollout.
It is also not immediately certain if the government — which affirmed that DNB will continue to be run on a "cost-recovery" and "supply-led" model — will continue to have the final say in the speed and quality of rollout with its minority 30% stake in DNB plus a golden share. It is also not immediately certain whether the 70% stake will be split equally among all mobile network operators (MNOs) who sign up for access and commit to taking up 5G wholesale capacity from DNB, and if DNB will continue to be managed independently from the telcos without being swayed by the profit-leaning collective 70%.
What is clear is that telcos will naturally continue to fight to pay less money to DNB upfront as well as for 5G wholesale access to protect their earnings, which, in turn, affects their ability to pay dividends to shareholders and their share price performance.
The larger impact on earnings from 5G wholesale payments to DNB is expected to start next year, given that DNB is giving free access to its network at least until end-June and network rollout is only targeted to reach about 40% by year end, before expanding to 70% by end-2023, 80% by end-2024 and 90% by 2027.
While there will be savings from network sharing, the fact that DNB was created to fulfil the government's desire to accelerate 5G rollout and expand coverage on a "supply-led" basis, to reach even areas that telcos would likely not roll out 5G on their own until there is more certainty of take-up, means there will be additional cost that will shave off some of the savings from network sharing.
DNB previously said there would be a minimum that all MNOs will have to commit to paying as the network coverage is built, including for areas that telcos may not be able to immediately monetise. Beyond this basic commitment, MNOs that use more will be charged for additional capacity.
The size of this minimum commitment from each of the MNOs is likely to be among the largest hurdles to getting buy-in from the four larger mobile operators — Celcom, Digi.Com, Maxis and U Mobile — which have yet to join Telekom Malaysia Bhd and YTL Communications Sdn Bhd (YES) in signing service agreements with DNB.
DNB had previously said its 5G network would cost RM16.5 billion to build and run over 10 years, including RM4 billion "corporate costs", which analysts reckon can be reduced.
Simple back-of-the-envelope calculations show that the RM16.5 billion works out to RM2.75 billion per MNO, if split six ways. Even if each of the telcos only has to pay RM275 million a year to DNB for 10 years, this amount would likely be bigger than the impact of Cukai Makmur on their respective bottom lines this year.
Indeed, earnings-related issues are not limited to these taxes and 5G wholesale payments alone.
Dividend headroom with Cukai Makmur
Investors have already seen the impact of Cukai Makmur on Maxis' and Digi.Com's first-quarter results, while TM and Axiata will announce their respective 1Q2022 earnings on May 25.
Maxis' net profit came in at RM298 million for 1Q2022, down 10.8% from RM334 million in 1Q2021, even as tax expense rose to RM134 million (31% of pre-tax profit) in the quarter just ended, compared with RM119 million (26% of pre-tax profit) in the same quarter last year.
That's not to say Maxis cannot maintain a 17 sen dividend this year or continue to pay a dividend of five sen per quarter for the rest of this year. It needs RM78.3 million to pay every one sen of dividend.
Since Maxis continues to be profitable and has more than RM4 billion retained earnings in reserves, even without touching its share capital that can also be returned to shareholders, it can continue to pay more than 100% of its earnings, subject to its investment needs.
Maxis — which needs about RM1.3 billion to maintain the dividend of 17 sen per share it paid in FY2020 and FY2021 — has at least RM1.8 billion (23 sen per share) debt headroom before its net debt to Ebitda (earnings before interest, taxes, depreciation and amortisation) rate breaches the palatable threshold of three times, with the ratio rising from 2.2 times at end-2021 to about 2.5 times as at 1Q2022, our back-of-the-envelope calculation shows.
Even if Maxis' earnings were to slip to RM1.6 billion for FY2022 before taxes, it would still make more than RM1 billion profit, or around 13 sen per share, available for distribution after paying Cukai Makmur. The earnings available for dividend rises close to 16 sen if Maxis can maintain pre-tax profit at around RM1.8 billion.
At the RM3.81 that Maxis closed at on May 10, a dividend of 15 sen would shore yield above 4%, while a dividend of 17 sen to 20 sen would reflect yields of 4.5% to 5.2%.
Over at Digi.Com, much depends on its impending merger with Celcom. As it is, Digi.Com's net debt to Ebitda levels is much lower, at only 1.6 times, but its shareholders' equity is also a lot lower at only RM565.7 million as at end-March, after deducting about RM200 million accumulated losses given that it had returned capital to shareholders in 2005 and continued to be generous on dividends.
For 1Q2022, Digi.Com's net profit was down 11% year on year to RM236.15 million, even as tax expenses rose to RM138.2 million (37% of pre-tax profits) from RM93.7 million (26% of pre-tax profits) in 1Q2021.
Digi.Com needs RM77.8 million to pay every one sen of dividend and RM1.17 billion to keep its dividend at 15 sen this year. It declared a dividend of 2.9 sen in 1Q2021, reflecting a payout of over 95%. It paid between 3.4 sen and 4 sen per share per quarter last year, totalling 14.95 sen for FY2021. A dividend of 12 sen to 15 sen per share would reflect a yield of 3.4% to 4.2% at its RM3.57 close on May 10.
In any case, with mobile penetration at over 144% and competition heating up for the home broadband as well as the enterprise market, all players would be hard-pressed to up their game to retain subscribers and win new customers.
TM managing director and CEO Imri Mokhtar tells The Edge that is it conserving some cash for investments in its future, including acquisitions to bolster its enterprise portfolio (see "On the prowl for M&A, JV to grow new digital services unit Credence" on Page 53).
The fact that Maxis has begun to report enterprise revenue on a standalone basis "suggests that management is now more confident about the segment's prospects", Maybank Investment Bank Research analyst Tan Chi Wei wrote in an April 29 note, retaining a "hold" recommendation and RM4.20 target price.
As at end-March, Maxis had 87,700 enterprises with billable services, up 4.2% year on year from 84,200 at end-March 2021, with enterprise revenue growing 5.4% year on year to RM388 million (of which RM185 million was from traditional postpaid mobile service).
Tan expects Maxis to declare an 18 sen dividend for FY2022, up from 17 sen in FY2021, but pencilled in a dividend of only 13.5 sen for Digi.Com (RM4 target price, hold).
Analysts' dividend forecasts are between 16 sen and 21 sen for Maxis, and 13 sen and 17 sen for Digi.Com, according to Bloomberg data at the time of writing. Forecasts range between 14 sen and 21 sen for TM (13 sen in FY2021), and between 9.5 sen and 15 sen for Axiata (9.5 sen in FY2021).
Whether or not analysts are right about mobile operators' ability to continue paying good dividends this year despite Cukai Makmur, their stock prices would continue to be weighed down if uncertainties surrounding 5G persist longer than end-June. Delays would ultimately hit the people and the country's economy, which desperately needs to move up the value chain.