This article first appeared in City & Country, The Edge Malaysia Weekly, on October 4, 2021 - October 10, 2021.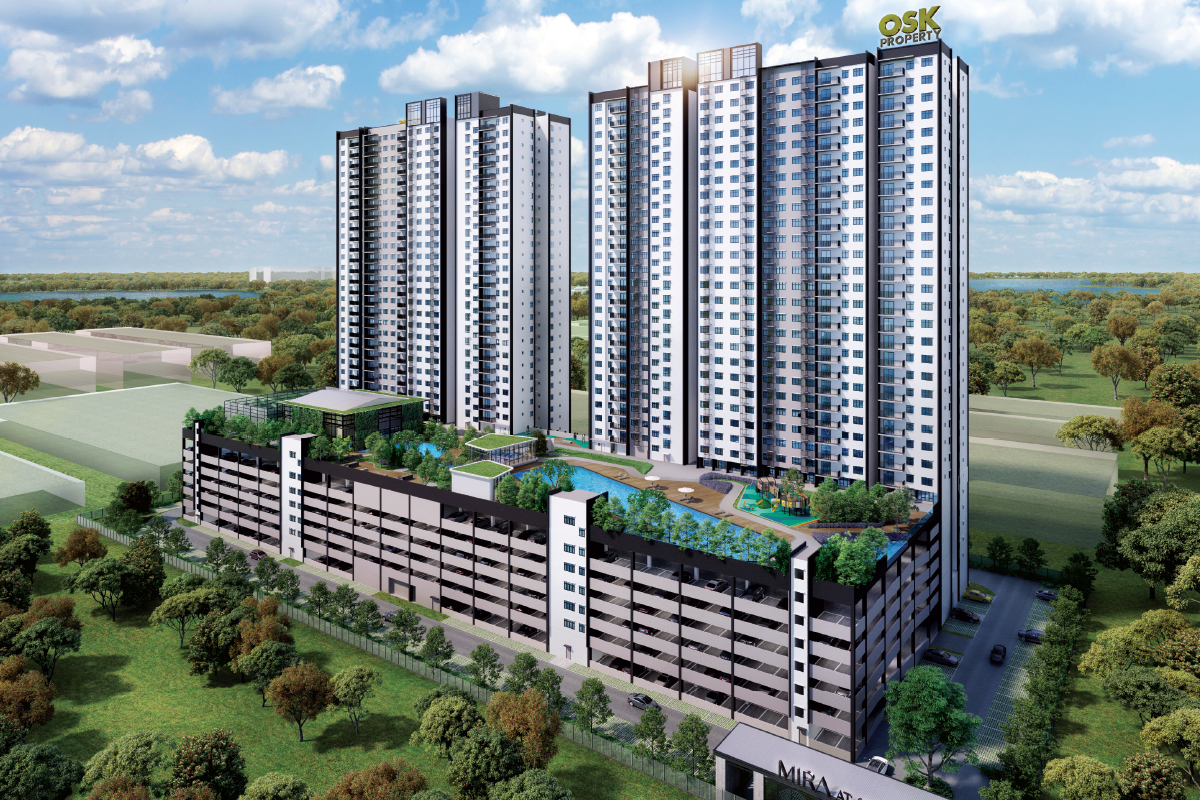 There is an air of anticipation as the OSK Property Holdings Bhd team presents their upcoming master-planned development, Shorea Park in Puchong, via Microsoft Teams on a Tuesday afternoon.
The team proceeds to show a series of renderings, a site map, drone shots and a virtual tour of the future units at the master-planned development. Enveloped by four scenic lakes, the project appears modern and fresh with an appealing green, nature theme.
OSK Property CEO Ong Ghee Bin tells City & Country: "This is our highly anticipated launch for FY2021. Shorea Park will cater for young homeowners, owner-occupiers and investors in the mature area of Puchong and other neighbouring areas for a competitive price."
Located on a freehold 27.7-acre tract, Shorea Park has a gross development value (GDV) of RM1.76 billion and will comprise serviced apartments and a commercial development.
The master-planned development will have five phases, namely Phase 1 (serviced apartment MIRA at Shorea Park), Phase 2 (serviced apartment), Phase 3 (serviced apartment), Phase 4A and Phase 4B (commercial).
Having commenced construction in August, the development of Shorea Park will take 10 years. The project will have practical yet distinctive designs that are inspired by the elements of water, wood, flora, stone and air, says Ong.
The first offering of the development is MIRA at Shorea Park, unveiled on Sept 25 and situated on a freehold 4.98-acre parcel. Due to be completed in August 2025, the two 31-storey towers have a combined GDV of RM363 million and will comprise a total of 908 units.
Buyers can choose from five unit layouts, namely Type A with 1+1 bedrooms (550 sq ft) and one parking bay; Type B with two bedrooms (748 sq ft) and one or two parking bays; Type B1 with two bedrooms (788 sq ft, including balcony) and two parking bays, Type C with three bedrooms (910 sq ft, including balcony) and two or three parking bays; and Type D with four bedrooms (1,011 sq ft, including balcony) and two or three parking bays. Prices range from RM250,000 to RM447,000 per unit.
Ong says, "Despite the current Covid-19 situation, we are confident and have received encouraging response for the first tower of MIRA at Shorea Park. If we achieve our sales target, we will launch the second tower in 4Q2021."
Sizeable units in a mature area
The impact of the pandemic is undeniable and OSK Property has witnessed a shift in consumer demand amid the challenging period. "We have found that our clients yearn for larger spaces and balconies, and also to be surrounded by nature.
"In that regard, MIRA at Shorea Park is fitting and highly suitable for long-term occupancy," says Ong, adding that the balconies will have panoramic views of Puchong and its vicinity.
The units will also have interchangeable spaces, allowing residents to design their homes based on their respective needs. In terms of design, MIRA at Shorea Park is inspired by the element of water, with a cohesion of cool colours. "The name 'MIRA' itself is the Sanskrit word for 'ocean'," says chief operating officer Seth Lim.
MIRA at Shorea Park will have many facilities, including a jogging track, futsal court, oasis lounge, 60m swimming pool, wading pool, hydrotherapy spa, reflective stream, barbecue area, gym, outdoor fitness area and herb garden. "We will also offer a multipurpose hall and co-working space (an extension of working from home). The size of the co-working space will be equivalent to three apartments," says Lim.
According to the OSK Property team, the facilities are smartly designed with ample spaces to avoid crowding. "We have taken into account the feedback we have received from our consumers in light of Covid-19 and we would like to further ensure their safety," says Lim. 
Looking at Shorea Park in totality, Ong says it has a desirable location in the mature area of Puchong. "The development is located in Taman Meranti Permai in Puchong South, which is close to the Bandar Bukit Puchong 2 township.
"Amenities nearby include Setia Walk, IOI Boulevard, IOI City Mall, Tamarind Square, Lotus's Bandar Bukit Puchong,  Aeon Big Puchong Utama, Hero Market, Columbia Asia Hospital, KPMC Puchong Specialist Centre, Taylor's International School, SK Pulau Meranti, SMK Puchong Utama and SJK(C) Sin Ming," he continues.
Shorea Park is accessible via the Damansara-Puchong Expressway (LDP), South Klang Valley Expressway (SKVE), Putrajaya-Cyberjaya Expressway, Maju Expressway (MEX) and North-South Expressway Central Link (ELITE).
"This development is part of our OSK Essential Home Series and the Home Ownership Campaign (HOC) 2021," Ong says, adding that the group hopes to see Shorea Park catering for the needs of its target market and rising in value in the long run.
Optimism, and ongoing launches
Looking at the grand scheme of things, OSK Property appears fairly optimistic about the market sentiment, with the hope that the situation will improve in the coming months. "With the [high] vaccination rate and gradual reopening of the economy, we are quite bullish about the near future. As the property division of an organisation, we have been prudent in our approach … our business model has always been focused on sustainable growth," says Ong.
"We have also worked closely and collaborated with our construction division to ensure that we keep our costs down. By doing so, our products will enter the market at competitive prices. 
"Despite the softening of the market, our ongoing products have been able to do well because of the right pricing strategy that we adopted. Another perk [of this collaboration] is that the product quality is ensured — all of our recently completed products achieved Quality Assessment System in Construction (QLASSIC) scores of over 80%. Also, the collaboration will ensure the timeliness of the products' completions," he explains.
In terms of price range, the developer will continue to roll out competitively priced products. "We will continue to focus on the middle-range type of launches, with price points of RM400 to RM500 psf and above, and we will continue to be nimble in tailoring our products to suit the current market need," says Ong.
"In the last two years, we have been ramping up our launches in our townships of Yarra Park in Sungai Petani, Kedah, and Iringan Bayu in Seremban, Negeri Sembilan. The landed developments there are doing very well, so much so that we have brought forward some of the launches.
"We are also on the lookout for more land. One of our aims is to have more tracts for townships in the next 10 years, and we think that there may be opportunities in this regard," he asserts. 
To date, OSK Property has a land bank of 2,206 acres with an estimated effective GDV of RM14.6 billion in the Klang Valley, Sungai Petani, Butterworth, Kuantan and Seremban, as well as Melbourne in Australia.
"We recently acquired 860 acres in Iringan Bayu with a GDV of RM1.26 billion, in addition to our other land bank in Sentul (10.1 acres) and Shah Alam (15.4 acres)," reveals Ong. The respective projects for some of the new acquisitions are still in the planning stage and have been earmarked for FY2022.
Meanwhile, OSK Property recently launched the Erama semi-detached houses at Iringan Bayu in March and May. "Phase 8A units will have 3+1-bedroom, 2-bathroom layouts with built-ups of 1,319 sq ft and prices starting from RM534,420," says Ong.
"Phase 8B units will have 4+1-bedroom, 4-bathroom layouts with built-ups of 2,090 sq ft and prices starting from RM680,000. Given the positive response, we look forward to a potential launch of Phase 8C — 2-storey terraced homes — in October.
"We have also launched two new additions to our Yarra Park township in Sungai Petani — Westfield Zone 3 one-storey semi-detached houses and Northfield Zone 2 one-storey terraced homes. 
"Our upcoming launch will be the Eastfield supersized link homes. We expect to introduce Southfield Residence and Southfield Villa, comprising semi-detached units and bungalows, from September onwards. Looking ahead, we are confident that our products will continue to do well despite the softening of the market," he adds. 
The group has wholeheartedly embraced digitalisation to expand its reach during the pandemic. "Our sales teams have also been trained to conduct [online] live-sharing sessions with our customers and have gained in confidence over time. On occasion, we have conducted online signings of sale and purchase agreements (SPAs)," says Ong.
"We have boosted our digital efforts, such as conducting more virtual tours, producing videos … it has become the new norm. Currently, all our meetings are held virtually and we have also efficiently shifted our processes, documents and even payments to online platforms.
"We have also entered into collaborations with online sales platforms such as Shopee and Lazada. Nonetheless, we find that most of our consumers prefer to see the show units in real life," shares Ong.
"We still have our traditional marketing campaigns such as print and billboards, but digital marketing has certainly gained more prominence [especially during this time] — for example, search engine optimisation, Facebook, and we even tried TikTok. But we have found that our consumers still prefer to come to the sales galleries, have their coffee, see, feel and touch the walls of the show units — it's a big-ticket item," says Lim.