This article first appeared in City & Country, The Edge Malaysia Weekly, on August 23, 2021 - August 29, 2021.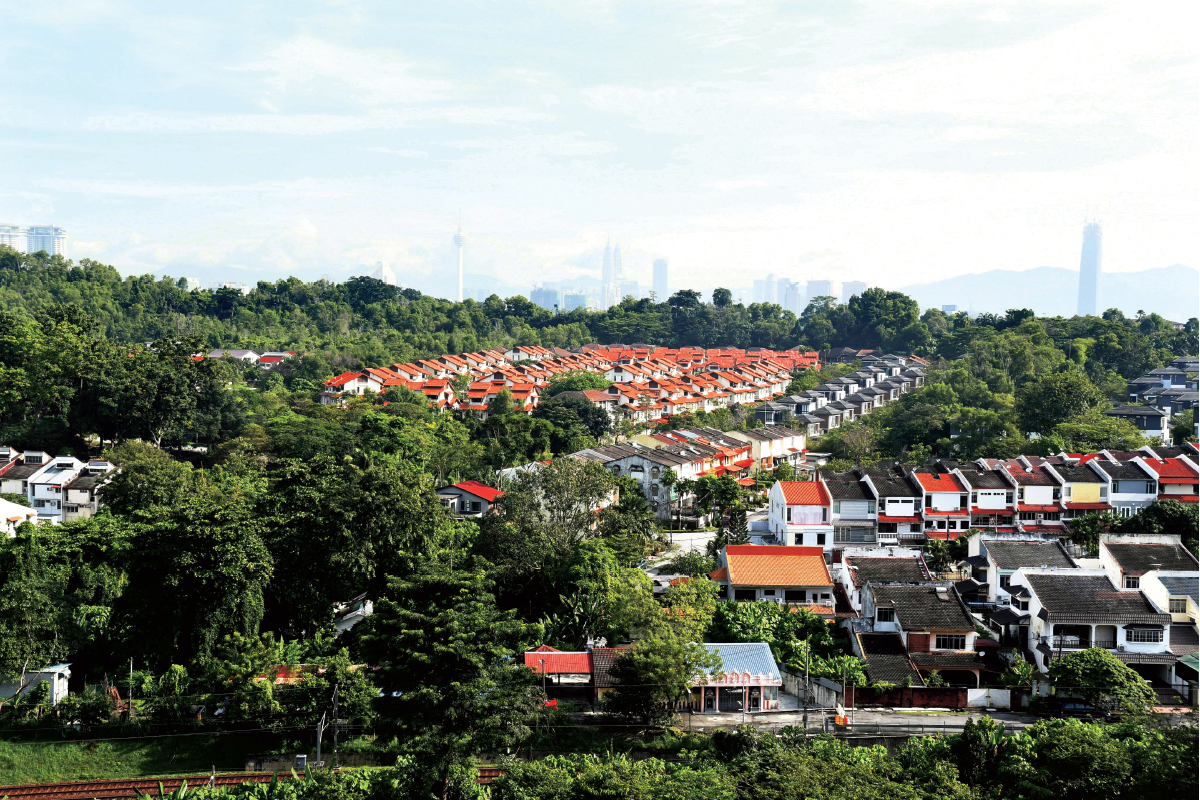 Covered in greenery, the low-density and mature neighbourhood of Seputeh in Kuala Lumpur bustles with traffic and activity on a sunny afternoon. Visitors and residents can be seen frequenting food stalls and restaurants such as Restoran Siu Siu and the popular Nasi Lemak Daun Pisang. Nearby landmarks include the popular Mid Valley Megamall and Glasshouse at Seputeh.
With its older landed homes and newer commercial and apartment buildings, Seputeh is an amalgamation of old and new. Developed in the 1970s, the area has witnessed noticeable growth, yet has managed to maintain its charm. PPC International Sdn Bhd managing director Datuk Siders Sittampalam says: "Seputeh is a small, mature neighbourhood and an established residential enclave. It is situated in the heart of Kuala Lumpur, right next to the prosperous township of Bangsar. Besides enjoying proximity to the city centre, it is also endowed with good accessibility and amenities, including access to the Seputeh KTM station."
Residential properties in the neighbourhood are a mix of landed and non-landed properties such as 2- and 3-storey terraced houses, semi-detached houses, bungalows and condominiums, Siders adds.
According to KGV International Property Consultants executive director Anthony Chua, Seputeh is the area located on the left of Jalan Syed Putra heading towards Petaling Jaya, and stretches from the MCOBA Building to Menara Seputeh. It is synonymous with the name Robson Heights. A major development under construction here is Setia Sky Seputeh by S P Setia Bhd, a luxurious high-rise condo, he adds.
"With the opening of Mid Valley Megamall in 1999, Seputeh —being within walking distance — enjoyed an additional attraction to the neighbourhood. Along with that, mid- to high-end condominiums were built, leading to a general appreciation in the value of properties in Seputeh," says Siders.
LaurelCap Sdn Bhd executive director Stanley Toh says, "Seputeh consists of real estate ranging from condos, apartments, terraced housing and other landed properties. The housing estate is intertwined with other areas such as Robson Heights, Robson Hills and Taman Desa. A major driving factor is the development of Bandar Malaysia, which will have a spillover effect on Taman Seputeh. However, the status [of the development] is still relatively unknown."
The neighbourhood has a balanced demographic. PPC International's Siders says residents of most of the developments are a mix of lower-middle- and middle-income earners. Many of the residents in the landed terrace properties, with some from the lower- to middle-class segment, have been living there for a long time, while the newer bungalows and condominiums are populated by the middle- to upper-middle class comprising upgraders and younger families, he adds.
KGV International's Chua says, "Seputeh attracts those who want a conducive living environment in a more natural setting as opposed to areas packed with commercial conveniences such as shopping and offices. The preferred property types here are mostly semi-detached and detached houses. There are also roads with terraced houses in Taman Seputeh, an old residential housing estate.
"From our observation, the target market [for newer developments] appears to be family-oriented and owner-occupiers from the upper-middle-income class. A recent development, Setia Sky Seputeh, offers large units of more than 2,000 sq ft, targeted at family-oriented buyers."
Bullish demand and spillover effect
In terms of demand, Seputeh has performed well over the years despite the challenges in the market. 
"There have been more subsale transactions of apartment/condo units than of landed properties over the last two years. There were 33 transactions of landed properties and 92 transactions of non-landed properties. Nevertheless, the total absolute prices of landed properties in Seputeh are higher than apartments/condos. So, in terms of affordability, the demand is skewed towards non-landed properties," explains LaurelCap's Toh.
"In terms of the residential segment, the average price of landed units is RM750 psf. For non-landed properties, it is RM550 psf for serviced apartments. Landed units can fetch rents at an average of RM1.30 psf per month, with yields of 2%, while non-landed units can fetch rents at an average of RM1.80 psf per month, with yields of 3.9% to 4%."
Meanwhile, demand in the commercial segment is fairly moderate. Commercial properties in Seputeh command an average rental rate of RM2.50 psf per month, with yields of 4% to 5%, while the average selling price is RM440 psf, says Toh.
Seputeh also benefits from a proximity to areas such as Bangsar. "The landed residential properties were mostly built in the 1970s and are aged in both design and condition. Within the last few years, however, small plots of land have been developed into projects with bungalows in a gated-and-guarded concept, that is, Seputeh Gardens and Seputeh Heights," observes Siders.
"In addition, larger residential land has been subdivided and placed on the market as bungalow lots with infrastructure. Adjoining locations such as Bangsar and Pantai Hills have seen a high appreciation in the value of landed properties, especially terraced houses, which are perceived to be unaffordable to many buyers. As such, there has been spillover demand into Seputeh, since it is close to Bangsar and shares its amenities, besides being 4.5km and 7.9km from the Kuala Lumpur city centre and Petaling Jaya city respectively."
Siders says the younger generation prefers high-rise developments, especially condos with newer designs and good facilities, but that cost less than those in Bangsar or Pantai Hills. He adds that there is a dearth of planned gated-and-guarded developments of bungalows in Bangsar, whereas Seputeh offers a few.
Challenging, yet promising, outlook
"Seputeh, just like Bangsar or Damansara Heights, is located within 5km of the KL city centre and endowed with a good public transport system such as the KTM Seputeh station, which connects to other railway networks such as the Light Rail Transit (LRT), Mass Rapid Transit (MRT), KL Monorail and Express Rail Link (ERL) via KL Sentral.
"Seputeh is also near good amenities and facilities such as private hospitals, malls, public and private schools/institutions and offices. Sitting between the KL city centre and PJ city adds to its attraction in terms of benefitting from the amenities available therein," Siders says.
Nevertheless, the neighbourhood has its challenges. 
"The locality comprises a mix of newer and high-end developments as well as older residential properties such as 2- and 3-storey terraced houses and flats. The existing older roads are narrow and create the occasional bottleneck on egress traffic, especially on roads leading to the Federal Highway. 
"Another key challenge is its undulating and hilly landscape, which poses landslide issues, especially closer to [Thean Hou Temple]," he adds.
Chua points out two key challenges. "First, its low density means a smaller population size, and this has resulted in the limited number of shops in the locality. However, its proximity to Mid Valley Megamall and Old Klang Road offers Seputeh residents easy access to commercial offerings. Second, the hilly terrain hinders the development of high-rise projects on higher ground."
Still, the area's prospects appear to be promising. 
"Since it is located on the fringe of KL and next to the Bangsar township, it has become popular among buyers, especially the working population. The residential neighbourhood is bound to appeal to the upper-middle class as newer developments are introduced with the redevelopment of older properties," says Siders.
KGV International's Chua concurs. "Seputeh is one of the few enclaves in KL where developments are not overly extended and still maintain their original greenery. It is underrated compared with Bangsar or Kenny Heights. Over the years, prices have been rising but at a more steady pace, unlike elsewhere. 
"Future developments should try to blend in with the present characteristics and not be overly dense. The current infrastructure in Seputeh, particularly its road system, may not be able to cope with high traffic, as the roads are mostly narrow and designed for residents."
Toh sums it up: "The property market outlook in Taman Seputeh looks to be stable. There are a few new developments such as Setia Sky Seputeh, which has set a benchmark in terms of price psf (which is between RM850 to RM900) in that area. Mid Valley Megamall has and always will be a pull factor. In the immediate term, prices will remain stable, owing to the subdued property market sentiment exacerbated by the Covid-19 pandemic. 
"In the long term, prices of properties will increase albeit at a slower pace unless catalytic developments on the fringes of Seputeh, such as Bandar Malaysia, materialise."