This article first appeared in The Edge Malaysia Weekly, on May 16, 2022 - May 22, 2022.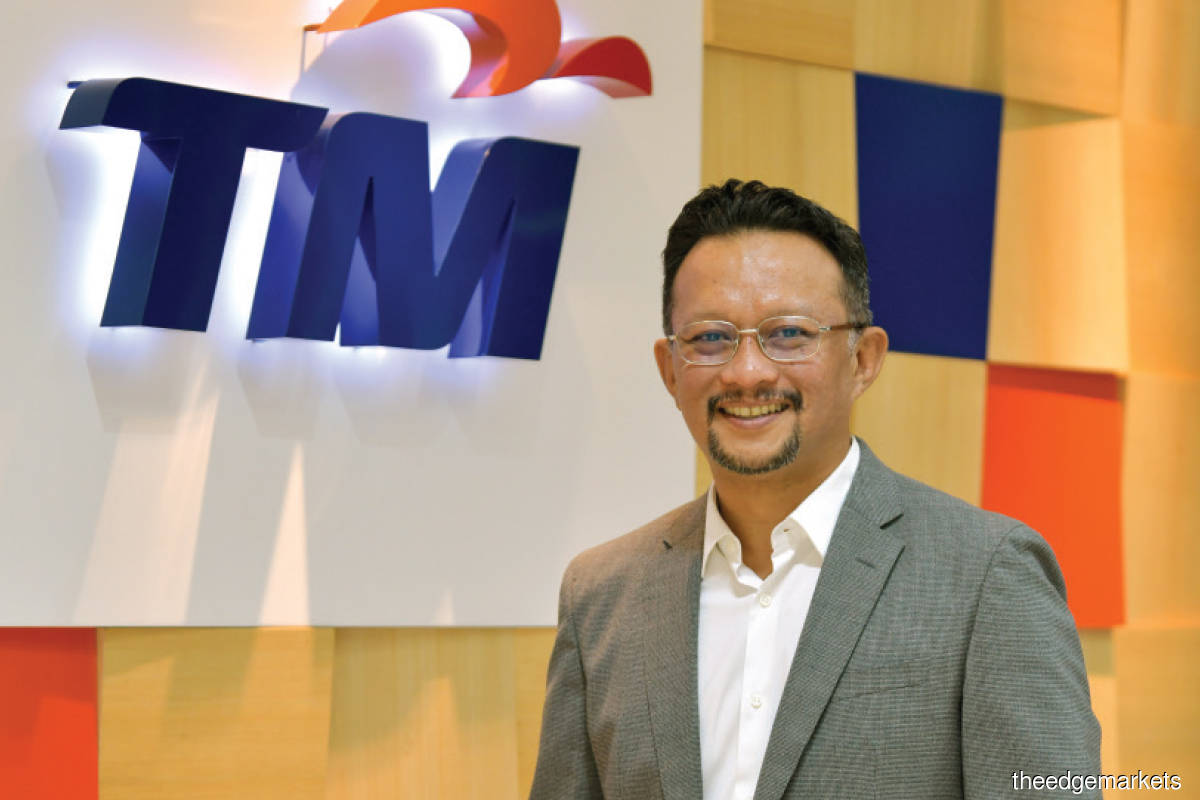 TELEKOM Malaysia Bhd (TM) is guiding a second consecutive year of revenue growth in 2022, after stemming three straight years of top-line decline last year — a testament to the efficacy of its three-year transformation plan that runs until 2023. Its profits would have grown year on year had it not been for higher amortisation and taxes.
TM is currently favoured by equity analysts over its local peers in the mobile telecommunications space, given that its high-speed broadband (HSBB) infrastructure and submarine cable connectivity continue to be the backbone of the country's digitalisation efforts and transition to 5G. The telco will be getting RM2 billion over 10 years from leasing its fibre to Digital Nasional Bhd (DNB), which is building the country's 5G single wholesale network (SWN).
Yet, TM managing director and group CEO Imri Mokhtar knows that the country's oldest telco needs to up its game fast to capture new growth areas in the digital and enterprise space, as well as better defend its home turf, as other larger mobile operators successfully attract more mobile phone subscribers to also take up home broadband packages that are offered using wholesale capacity on TM's HSBB network.
To better serve the enterprise market and support the nation's digital transformation, TM created Credence, a new unit for digital services, that will be eyeing mergers and acquisitions (M&A) as well as joint ventures to bolster its proposition and capabilities in the digital space.
Not only will Credence complement TM's business-to-business arm, TM One, the unit will be positioned to seek business in as well as outside Malaysia and may eventually be spun off as a standalone entity if all goes well, says Imri. "We are actively scouting the market [for acquisitions]. If we find the right opportunity, we will make the announcement." (See "On the prowl for M&A, JV to grow new digital services unit Credence" on Page 53.)
On the consumer front, the battle for home broadband subscriptions heated up further this month with dominant pay-TV provider and content aggregator Astro Malaysia Holdings Bhd allowing potential customers to sign up for Astro Fibre broadband without taking up any TV offerings.
Obviously targeting higher-end customers to whom it can subsequently market content offerings (as reflected by the larger pricing differential for higher-end versus lower-end packages), Astro Fibre 800Mbps headline pricing of RM249 undercuts the RM349 for TM's unifi Home 800Mbps (that comes with unifiTV plus unifi Mobile postpaid SIM). Astro's 800Mbps headline pricing is also more aggressive than its sister company Maxis Home Fibre's RM299 per month and Digi Business Fibre's RM318 bundles for the same speed.
Astro is not the only rival wooing top-end customers via aggressive pricing. TIME dotCom Bhd's TIME Fibre Home 1Gbps is RM199 per month (RM500 installation fee waived with a 24-month contract) while Celcom Home Fibre offers 1Gbps at RM229 per month but only in Sabah, according to data on their respective websites at the time of writing.
The aggression comes as no surprise, given that Malaysia's pay-TV penetration is over 80% and mobile phone penetration is currently more than 144%, compared with 41.4% for fixed broadband at end-2021.
Mobile phone penetration was already more than 130% six years ago when TM re-entered the mobile market in 2016 with the launch of webe (which has since been rebranded as unifi Mobile) following its acquisition of Packet One Sdn Bhd.
'Half mobile player' no more
That more players are positioning to capture the home and office broadband market means the battle for TM is one of retaining, rather than just upselling to, its 2.78 million fixed broadband subscribers in homes nationwide (90% unifi, 10% Streamyx), almost 400,000 small and medium enterprises and 9,000 corporate and enterprise customers across different verticals including healthcare, education and manufacturing. TM will also seek to convert an undisclosed number of voice-only fixed-line users on its legacy copper network over the next three to five years.
Imri says that with 5G, TM can market unifi Mobile more effectively to its home, corporate and enterprise customers and offer converged solutions packages to its existing customers who may otherwise be lured away by mobile operators that can already do the same.
"It was because there was a gap [in offering] that TM [re-]entered mobile six years ago," he explains, relating the desire to serve customers outside of the home or office, just like mobile operators can cater to customers at home or in the office with access to TM's HSBB network.
"The approach is not standalone mobile but more as a bundle to our existing customers — natural since mobile penetration is more than 140% and mobile operators are moving into homes. So, TM is doing the opposite by moving outside the home [and offices]," he elaborates.
Describing the 75-year-old telco as "a late entrant" to the mobile scene, Imri concedes that there were "some challenges" in rolling out its mobile network. The differential in mobile network coverage is among the key reasons its presence in the mobile space had been underwhelming after six years, resulting in some deeming it as a "half mobile player" despite owning the coveted HSBB network infrastructure and having access to spectrum in the 850MHz, 2300MHz and 2600MHz bands.
TM does not disclose the number of unifi Mobile subscribers, but it is understood that there are about one million of them, most of whom are also broadband subscribers. That is just a fraction of the 47.2 million mobile phone subscribers (70% prepaid) and 42.02 million mobile broadband subscriptions as at end-2021, the Malaysian Communications and Multimedia Commission's (MCMC) data show.
Level playing field with 5G
"But we do believe the landscape will change with 5G. With the industry moving to an SWN model, where access to the same network is provided to all licensees, what was an advantage or handicap before on 4G, which is the network, will [become] a level playing field," says Imri.
"The move to a service-based competition rather than a network-based competition is already happening in the fibre space. In addition to the 2.78 million unifi customers, there are another half a million users [customers of rival operators] that are on the same network that TM is supporting on fibre. It is interesting to see the same play out in the mobile space. I believe it is the consumers and businesses that will benefit as the focus of innovation and investment will be more on services and solutions by the telcos rather than investment in [duplicate] infrastructure."
Most of those half a million customers riding on TM's HSBB network are likely Maxis customers. Maxis had 560,000 home and business fibre connections as at end-March, up from 536,000 at end-2021 and 444,000 at end-2020. Maxis fibre average revenue per user (Arpu) increased 3.8% year on year to RM109 per month in 2021 from RM105 per month in 2020, according to disclosures in its 2021 annual report. That compares with RM141 a month for unifi and RM93 per month for Streamyx as at 4Q2021.
Digi.Com had 16,500 fibre subscribers (Arpu: RM124 per month) at end-March, up from 12,600 (Arpu: RM116 per month) at end-2021. There is no breakdown of Celcom's home fibre subscribers in Axiata Group Bhd's 4Q2021 results report or 2021 annual report. TIME, which serves multi-dwelling premises like condominiums in the Klang Valley, Penang and Johor, also did not provide fibre subscription numbers in its 4Q2021 results report.
There are opportunities to upsell with only 14% or 455,500 of the country's 3.25 million households with fixed broadband subscribers taking packages with speeds of at least 500Mbps at end-2021, according to the statistics provided by MCMC. Including non-households, the ratio is 14.3% or 533,700 of the country's 3.73 million fixed broadband subscribers (see Chart 1).
Given that the MCMC data also show about 46% or 1.7 million fixed broadband subscribers (including non-households) and close to 28% of the country's 45.7 million mobile broadband subscriptions were in the Klang Valley at end-2021, the availability of widespread and reliable 5G coverage there may well change the profile of broadband subscriptions according to speeds in the country.
While the government in March agreed to cede 70% equity in DNB to telcos (negotiations targeted to conclude by end-June), there is no change to DNB's aims to reach 80% population coverage by end-2024. Coverage is supposed to reach 40% by year end (Penang, Johor, Selangor, Negeri Sembilan, Perak, Sabah, Sarawak) and 70% by end-2023.
5G impact on fixed broadband
When launching 5G in Putrajaya, Cyberjaya and parts of Kuala Lumpur in mid-December last year, DNB told reporters that users at the weakest point of 5G coverage would receive 100Mbps on a 5G-compatible device. Average speeds where 5G has been rolled out are above 600Mbps, says DNB's website.
Imri does not disclose how many unifi and Streamyx subscribers in the 5G coverage areas have packages of less than 100Mbps, but notes that TM continues to upgrade its offerings to better serve customers.
At end-2021, some 1.27 million households or 39% of fixed broadband subscriptions were for speeds lower than 50Mbps, MCMC data show. About 46% of fixed broadband subscriptions were in the 100Mbps to 500Mbps range.
Asked whether the minimum 100Mbps speed on the 5G network would be a threat to TM's fixed broadband take-up, Imri replies, "There will be an impact on new fixed broadband sign-ups, especially from B40 households, whom today are mobile-centric individuals and households. However, we don't expect this impact to be significant as mobile usage is limited by the shared capacity of each cellular tower as well as data caps of mobile packages, while fixed broadband is designed to meet the rapidly growing demands of households and businesses, which expect unlimited and uninterrupted data streaming experience."
Tight-lipped when asked about details of TM's subscribers on its legacy copper wires and their contribution to group earnings, Imri cites the experience of migrating Streamyx subscribers to better unifi packages.
"There will be a drop in customers as we migrate from copper to fibre. However, the net impact is expected to be positive once the migration exercise is completed," says Imri.
"The migration impact and cost will be offset by network savings and the sale of copper cables. Thereafter, it will be net positive on our financials," he adds, without providing specifics on the value of the asset and potential savings from the copper network shutdown, which includes that for electricity and maintenance.
According to MCMC data, as at end-2019, there were 2.2 million Direct Exchange Lines (DELs) or analogue fixed-line telephone subscriptions (34% of 6.47 million total fixed-line subscriptions, which includes Voice-over-Internet Protocol (VoIP) and other fixed wireless equivalents and public payphones) — half that of the 4.6 million in 2001, with 73% being residential and 27% business.
Could the HSBB network be spun off?
While emphasising the need for TM to grow its profits as a public-listed company, Imri lets on that the RM2 billion it is charging DNB over 10 years is a price tag that takes into consideration the national interest because it is a government-linked entity that has public service obligations — attesting to its commitment to infrastructure sharing. "If we charge more than RM2 billion, it goes to the cost of DNB's 5G rollout that will be passed on to consumers."
He says TM — like the four larger mobile operators Celcom, Digi, Maxis and U Mobile — had also been invited to take up part of the 70% equity stake that the government is offering to telcos. However, he is tight-lipped on negotiations over how much TM would have to pay every month, quarter and year in wholesale payments to access DNB's network and offer 5G services, as well as its potential impact on its financials going forward. Negotiations are still targeted to be completed by end-June at the time of writing (see "RM26 bil lost from top telco stocks reflects profit pain, 5G uncertainties" on Page 50).
"So, TM's interest in 5G comes at three levels. The first is as a network partner [by providing] the fibre backhaul, which is the RM2 billion over 10 years. That will be gradual, in line with the rollout [ramp up in capacity] and not a straight-line RM200 million a year," says Imri.
"The second is network wholesale [purchase of 5G capacity from DNB] and the third is equity. We are interested and have registered our interest with the government, [but we] need to see the valuations and terms."
Asked whether TM would be prepared to part with its HSBB network that cost RM11.3 billion to build (RM8.9 billion excluding RM2.4 billion from the government), if offered the right price while continuing to have wholesale access to it, Imri says there is already structural separation within TM from an accounting perspective.
"As long as TM is fairly compensated like how it has been done in other countries, it is something that can be considered and ultimately decided by shareholders. Personally, I don't believe that is a necessity. It is only a necessity if there is a need in the market. It is a regulated service [and] we believe we have been serving the market in a fair manner. Otherwise, we wouldn't see in addition to the 2.78 million unifi customers, the 550,000-plus [ports for customers of rivals riding on the HSBB network to offer fibre broadband]. Competition is flourishing," Imri says, noting that the government has a golden share in TM, though Khazanah Nasional Bhd only has a 20.11% stake and Kumpulan Wang Persaraan (Diperbadankan) has 10.38%.
"From a regulatory perspective, if there is market failure, then one should consider other models. But there isn't any market failure today because the competition is growing," he points out, adding that there would also be national security considerations as it also serves the military, police and government networks.
Elaborating on ongoing cost-optimisation efforts, Imri notes the rental savings when most of the staff move out from Menara TM in Jalan Pantai Baharu (except the top five floors of the 55-storey building) in January 2023 to its own premises in Cyberjaya, where its R&D centre and 400,000 sq ft Tier III Klang Valley Core Data Centre are located.
"We continuously measure and transform ourselves to deliver on our market guidance and aspiration, [but] improvements all go back to the fundamental belief that, all else being equal, it is the customer experience that makes the difference," says Imri, when describing how his son chose who to buy from because of better pre-sale advice. "Everyone has a floor [when it comes to price]. That's why we have to work on a winning customer experience [and be a] human-centred technology company."