This article first appeared in Enterprise, The Edge Malaysia Weekly, on May 8, 2017 - May 14, 2017.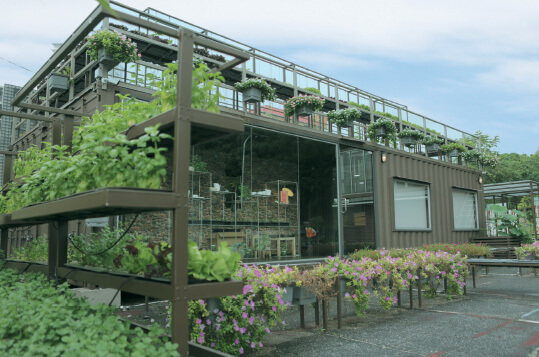 The different types of vegetable and flowering plants growing out of cartridges at Plant Cartridge's headquarters in Bangsar, Kuala Lumpur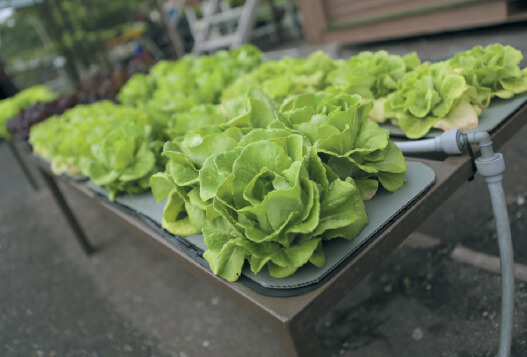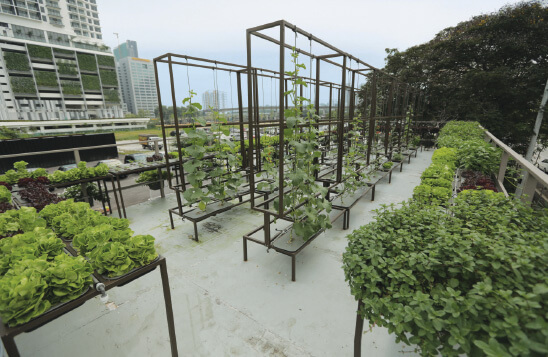 Food security issues such as empty harvests and genetically modified foods are some of the biggest threats facing the world today. Plant Cartridge Sdn Bhd aims to tackle these issues by applying science and technology to agriculture.
At the entrance of a repurposed container cabin, which houses Plant Cartridge Sdn Bhd, stands a mint plant. While it is not the centrepiece of the landscape — which is a section of an open car park that is scattered with a mismatch of shoots, shrubs and creepers — the plant's overflowing green foliage is what the purveyors encourage you to gently brush, pluck a leaf and chew on.
The mint plant and all the prototypes growing at every nook and cranny of the cabin is a dream come true for aspiring urban farmers who have no knowledge of how to begin growing these for their own consumption in the comfort of their homes. With Plant Cartridge's one-step growing kits, there is no longer a need to figure out how to care for them, ponder over the type of soil to use or fuss over the fertiliser. 
The mint plant is just one of the many being grown there using the mechanism. There are also herbs such as basil and coriander, vegetables such as lettuce and tomatoes, and flowering plants grown using hydroponics.
At first glance, it may not look any different from other soilless growing methods. The key difference is Plant Cartridge's one-step growing system.
CEO Liang Chan Ning says the growing kit was developed with the aim of making sustainable urban farming at home, or micro urban farming, a mainstream activity without having to get one's hands dirty. In the long run, the technology start-up wants to help deal with the global food shortage as this method of farming utilises fewer resources and produces better quality and affordable local crops compared with industrial farms.
Many who aspire to leave their fast-paced lives to go back to a simpler, less complicated time would undoubtedly think of growing their own food. But few would be equipped for the arduous life of an ordinary farmer. 
Liang would know. Having spent a decade as a high-flying IT consultant, the choice to switch required a lot more commitment than he expected.
"In IT, my scope of work involved enterprise system solutions and business process management. My interest in urban farming was piqued when I was engaged by the government of Papua New Guinea to work on e-government policies and projects because it wanted to develop cyber cities," he says.
"It just so happened that in Papua New Guinea, food was very expensive. That was when I saw an opportunity to venture into something like this. It felt like something more worthwhile because farming gives more satisfaction, as you would be able to feed someone directly compared with having a multimillion-dollar IT project with no direct benefit to the man in the street."
It must have been kismet as he found an urban farming technology in Australia called the Autopot System and convinced the inventor, Jim Fah, to become his mentor. "Jim taught me everything about agriculture. I was someone who had never planted anything in my life," says Liang. 
"My fingers were used to typing on a keyboard. But now, those fingers were mixing soil, selecting seeds, removing weeds and much more. I chose to go from an indoor environment to an outdoor one. That changed everything for me."
He spent a couple of years with Fah, during which he also worked on projects in Malaysia. "We built industrial farms using his technique throughout the country. But I realised that this scope of work is very tedious and one really needs passion to thrive," says Liang. 
His heart was set on farming as it had given him a renewed sense of purpose. "When I felt the earth in my hands and when I patiently waited for the plant grow, I felt a sense of fulfilment," he says.
How different from his previous life, where everything moved so quickly. "In IT, as soon as you develop one programme, you move on to the next. But when you actually grow something, you learn to stop and smell the roses. For one, you cannot force the plant to grow," says Liang.
Having observed the changes in him because of his new vocation, his peers began to take an interest. "I am not sure why, but people in IT seem to gravitate towards farming and agriculture. My friends came looking for me and told me that they, too, wanted to get into farming," he says. 
"But I had to tell them that if they wanted to get into something like this, they could not do it half-heartedly. If you do not have the passion and urge to learn the skills, it is difficult to sustain."
Industrial farming is all about control and that is no easy task. "If you want to grow professionally or want to get substantial yield, then you really need to learn a different set of skills. It is a very steep learning curve," says Liang.
"You need to know the techniques of germinating seeds as well as how to test the soil's pH levels, select seeds, mix the growing medium, when to water the plants and much more. All this is very knowledge-intensive and takes years of experience, a lot of trial and error, to get it right."
Liang did not want to discourage his friends, so he worked on simplifying the process. "I wondered if we could make it simpler and easier for ordinary people to grow their own food." 
That was when he came across Nespresso machines, which brew espresso and coffee from single-use capsules or pods containing pre-apportioned ground coffee beans, sometimes with added flavourings. It got him thinking. 
"With the Nespresso coffee pods, you could have coffee similar to the ones made by a professional barista in the comfort of your own home, without having to learn the intricacies of making good coffee. I thought, why couldn't we do the same with plants as well? If we could make it happen, even people who claim they do not have green fingers can grow their own food professionally and get higher yields," says Liang.
Soon after, he got like-minded friends in IT and agriculture together and formed a small team in 2015. They spent two years researching different techniques before coming up with the current growing kit. 
"We tried many methods. The original cartridge was bigger than a cup — just like the first mobile phone, it was the size of a brick. There were a lot of technicalities involved, although when you look at the cartridge now, it looks quite simple. But for something to be simple, we have to understand in-depth the technical factors," says Liang. 
"We tried a lot of different things and we failed many times. We spent a lot of money on prototyping and trialing as this is not software that you can try out and delete if it does not work out. This needs a lot of time as we need to test the cycle of the plants."
The most basic growing kit is called Leev. It consists of a box of eight cartridges and a 2ft-long covered rectangular ultraviolet-coated polyethylene tank with a hole in the centre for topping up the water for the plants and eight holes to hold the pods in place. The cartridges contain selected seeds and the growing medium, which is a closely guarded trade secret.
The most basic growing kit consists of a box of eight cartridges (Kleaf) and a 2ft-long covered rectangular ultraviolet-coated polyethylene tank (Leev), with a hole in the centre for topping up the water for the plants and eight holes to hold the pods in place. The cartridges contain selected seeds and the growing medium (Plife), which is a closely guarded trade secret. The kit is priced at RM129.
Cartridges are available for butterhead, coriander, Thai basil, dwarf pak choy and Hong Kong choy sum. For those who would like to place their growing tray indoors, they can buy Ligo — an indoor growing light that costs RM299. The next product, Frank and Kloom, will be rolled out in the fourth quarter of this year.
"Leev is the most basic design. It means 'promise' in Norwegian. It goes with our slogan, Gift Life," says Liang 
"Frank has a built-in tank and is more advanced. It works like a washing machine, where you can plug in the water into the connector. It is a standalone piece, so you can put it in your kitchen to grow. It will be released later this year."
There are two aspects of engineering involved — the engineering of the cartridge and the selection of the seeds. "By automating the system, we wanted to solve three critical issues. First, people who want to get started but do not know which seeds to select. There aren't many varieties available and generally the seeds in the market aren't productive. If you use 10 seeds, only two might grow, so it is a waste of space and time. We solved this issue by providing the varieties people want. All they have to do is select the cartridge," says Liang.
"Second, when you have selected the seeds, you must know how to mix the growing medium and its composition. You need to know whether growing the plant requires a mix of black soil or if you should mix in a bit of burnt earth. Using this system, you no longer have to worry about all that. You do not even have to dirty your hands. It is all done for you.
"Third, this is a one-step growing mechanism. Normally, when people grow professionally, they have to sow the seeds in a nursery and then transplant. Generally, most failures happen during transplanting. For example, you need to check the temperature of the surroundings so that it does not shock the plant. Normally, people transplant at night, but this is not common knowledge for novice planters. And if it goes wrong, which is most of the time, the plant dies." 
With the one-step growing mechanism, the team at Plant Cartridge solved all of the major issues. From seed to sprout, the plant grows entirely in the cartridge. 
The solution is highly scalable as well, making it a suitable option for industrial farming as well. Plant Cartridge has been working with private housing developers, municipal councils and private landowners to build sustainable farms on underutilised urban spaces. 
"In Malaysia, we keep saying that people are cutting down the forests. But what do we do when there isn't enough land to cater for the demand? When I worked on commercial farms, I witnessed it firsthand. Forests were cut down to build large commercial farms and if the farm was not successful, the forest could not grow back," says Liang.
"Under Kuala Lumpur City Hall's Greener KL initiative, it actually identified 150,000 sq m of space on government buildings that could be used for something like this. But no one is working on it. This growing system is a good solution."
As he says, the cartridge is the hardware. "We have the software, where we build farms and share our expertise. The hardware — the basic growing kit and cartridges — is mainly for the consumer market, for ordinary people to grow their own food at home." 
How does it work? Pour the water into the tank, plug the cartridges in and remove the seal. The plants can be placed indoors or outdoors provided that they get ample sunlight — a minimum of 8,000 lumens (the measure of the total amount of visible light) to be exact.
"The stronger the sunlight, the fewer the hours the plant needs to be under the sun. So, for indoor plants, if you use lamps that use less voltage to save on electricity, you will to have leave the light switched on longer. If you use higher-intensity light, then the exposure time is shorter," says Liang. 
He adds that the company will be releasing growing kits with LED lighting technology for indoor gardens soon. 
Is the food safe? Liang says the nutrients in the plants grown using this system are no different from regular vegetables sans the chemicals and pesticides. "Some people may find vegetables grown using this method stronger in flavour. That is because it is fresh — it is still alive when harvested. And when cooked immediately ... tastes just like sashimi (Japanese for thinly sliced raw food)."
He recognises the common misconception surrounding the idea of using technology in farming. "Using technology does not make it bad. A lot of inventions out there are to make our lives better. We are growing fresh and safe food with higher yields. We want to increase the production of food that is safe for consumption," he says.
The seeds are selected to give higher yields, but they are neither genetically modified nor contain harmful substances. The growing medium, which consists of perlite (an amorphous volcanic glass), among others, is merely a sterile component to hold the roots, says Liang.
"The soil has three main functions — to hold the roots so the plant does not fall, to absorb water like a sponge and provide it whenever it is needed and to incubate bacteria so that it can digest manure or droppings and convert it into food that can be absorbed by the plants. 
"Plants are very selective. They cannot absorb every single thing. They can only absorb what they need. So, if we can provide these three things, we do not need soil. What we have inside the cartridges are just to hold the roots and not let them fall and also to help the plant absorb water.
"We are not changing how plants grow. We are just simplifying and automating the process. It is just a different approach."
As it stands, the cartridges are not made out of biodegradable material as it costs 10 times more, he says. However, Plant Cartridge encourages its customers to return the pods once the growing cycle ends so that they can be recycled for new batches. 
Most vegetables grow once, says Liang. Herbs, however, can grow up to three months before there is a need to change the cartridges. "Generally, for optimal output, you need to change the cartridges for herbs every two months.
"For others, it depends on the lifespan. Tomatoes, for instance, can grow up to five or six months. But it can grow very tall. You can let it grow taller, but there will be little harvest so it is just wasting your space. 
"In commercial farming, we go for the optimum yield, not the timing. For home growers, they can use this for five to six months because the quantity is not so critical for them."
Although it has been less than six months since the company launched its first product, the response has been overwhelming. According to Liang, it has been profitable and orders are on the rise. 
At the initial stage of development, the company was self-funded. But recently, a couple of angel investors have come in. Liang says they have spent close to RM1 million on prototyping, 3D printing and computer numerical control machines to test every iteration of the product before proceeding to manufacturing. 
The injection of fresh capital has also allowed the company to expand. It is currently operating out of a 10,000 sq ft warehouse in Shah Alam, Selangor.
Plant Cartridge was recently accredited under the Cradle Angel Tax Incentive Scheme, which means investments in the company by accredited investors could be tax deductible (up to RM500,000). The company has also been selected for the Cradle Coach and Grow programme.
Last year, Plant Cartridge was awarded the Multimedia Super Corridor status, or pioneer status for technology and invention. "We are in the process of getting patents as well," says Liang.
It generally take a few years for the patent to be granted, he adds. "We are claiming a couple of patents for our technology, which includes but is not limited to our cartridge and growing units."
It is also seeking intellectual property and industrial design protection for its yet-to-be-released products and looking to trademark its brand. Moving forward, apart from rolling out the different tanks, it will be releasing more than 60 types of cartridges, says Liang. 
"We want to make agriculture sexy again. We want to make people feel like growing. Agriculture is not something immediate and it is not an innate skill. So, we need to make it sexy, simple and clean, like the iPhone. That is the standard we want to achieve. Design is everything and we want to make sure that the users have the best experience from the time they get the product."
He adds that the company is working on a mobile app that will tell users if their plant is getting enough sunlight. The app is being beta tested and has not been released to the public.
"The app will give you the tools to manage the growing plant. It is not directly connected to the growing kit yet because we feel it is quite redundant at this stage as people just want the produce. If there are all these sensors telling me there isn't enough water when I am away, what can I do? Nothing," he says.
"So, instead of giving all this hi-tech information, we just give people the tools that we feel they need based on our experience. For instance, when there isn't enough sunlight, the app will just indicate by showing a green, yellow or red light."
This is what happens when you bring IT and agriculture together. "We have also integrated a tool to test if the tray is balanced. All you need to do is place your phone on the tray. There is also a tool to track the growth. It will show you when the plant can be harvested."
All this may seem elementary to professional growers. "But we have been amateurs and we know that the struggle is real," Liang laughs.
"In professional farming, we harvest tomatoes on the fourth week. But actually, you can already do it on the third week. If you want to eat baby lettuce, you just harvest the lettuce earlier. The application will prompt you to do all this. 
"At least, you do not feel like you are alone in the process. There are communities online to turn to for advice, although they are very fragmented." 
Plant Cartridge hopes to address the lack of a growing community. As the basics have been automated, they teach more advanced skillsets to groups at its headquarters in Jalan Riong, the "community centre". Here, visitors are taught the growth cycle of different plants, what is wrong when a plant's leaves turn yellow and how to identify pests.
The company's main aim is to increase food security, so it prices its growing kits reasonably. For instance, the most basic growing set bundled together with Ligo is priced at RM375. 
It also has plans to expand to cities in the region where food supply is an issue. "We hope that by having more people grow their own food, we can help deal with the global food shortage," says Liang. 
"We are trying to work with people who are doing some philanthropic work in Europe. But right now, we are trying to figure out how we can help. This is not like donating rice, where you do it once and it ends. This has to be a comprehensive solution and there are multiple touch points that we have to address."
To explain the scope of the problem, he points to China, where only 1.2% of the land is arable but there is such a huge population. "How are people going to eat in the future? Where is the food supposed to come from? 
"By 2050, 68% of the world's population will live in cities. So, if everyone moves to the cities, who will be left on the farms? Who wants to stand in the sun and toil all day?
"We cannot force people to farm, so we aim to build more sexy gadgets to make it more attractive. Instead of doing manual work, we teach them to be specialists and then the younger people will be interested in doing this."