This article first appeared in City & Country, The Edge Malaysia Weekly, on August 6, 2018 - August 12, 2018.
Click / Tap image to enlarge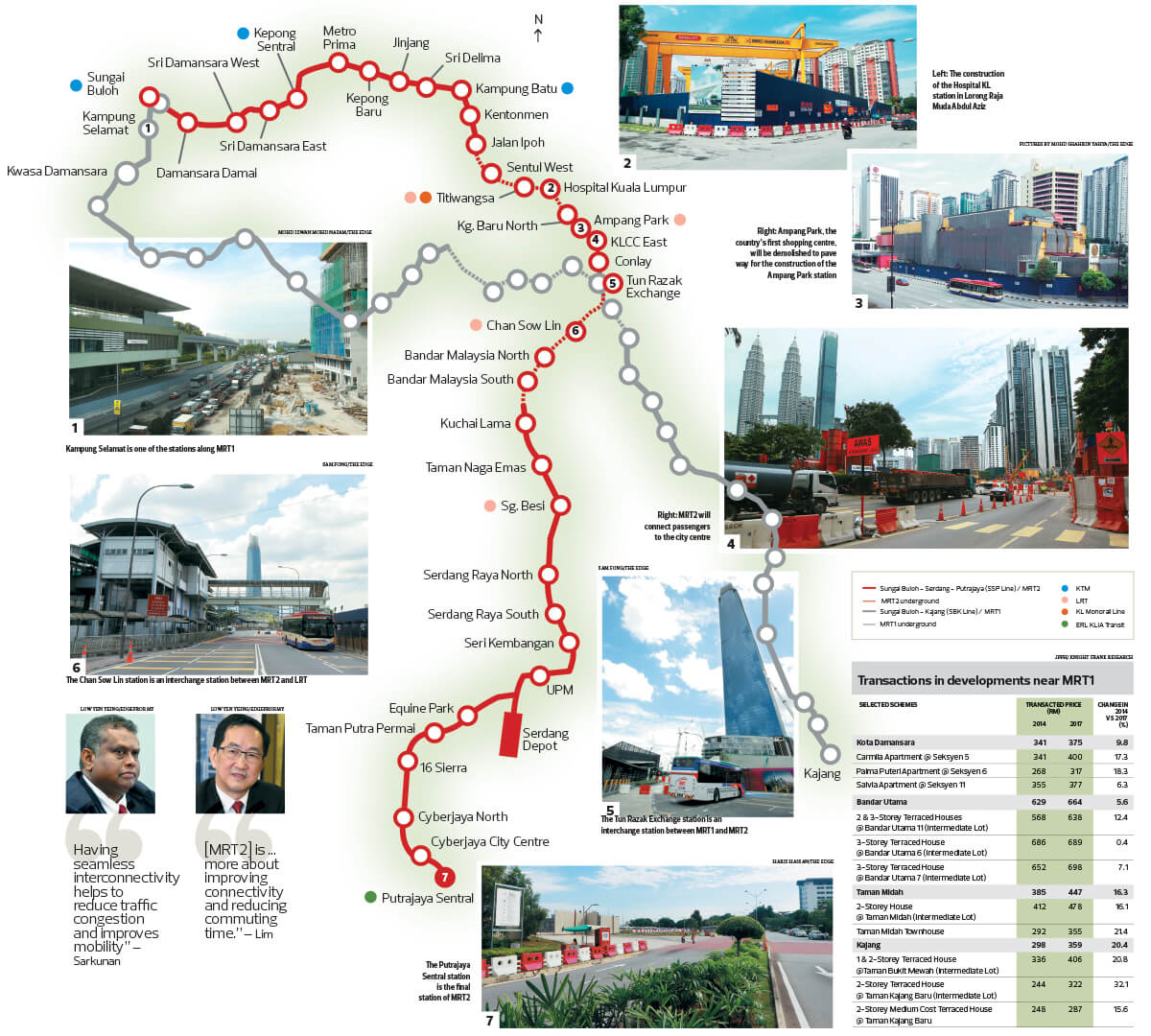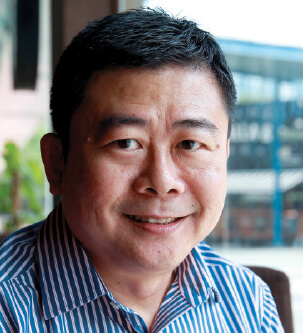 Many will find the MRT a cheaper — but still reliable — mode of transport compared with owning a car." — Chen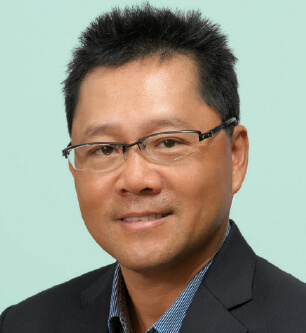 The presence of MRT stations will be a key selling point for new projects located within easy reach." — Hong
Location, location, location — that is the mantra we often hear when it comes to purchasing a property. With Greater Klang Valley getting more congested, it may be an opportune time to look at properties close to public transport infrastructure.
"Follow the infrastructure" has become another popular phrase with homebuyers in recent years following the development — ongoing and planned — of various public transport systems and highways. Experts say properties built along the alignment of public transport infrastructure would be the best bet.
Knight Frank Malaysia managing director Sarkunan Subramaniam reckons that a good and efficient public transport network is vital for the Greater Klang Valley as its population continues to grow rapidly.
"By 2020, 7 out of 10 Malaysians are expected to live in urban areas and the population in Greater Kuala Lumpur is estimated to be about 7.2 million. Having seamless interconnectivity helps to reduce traffic congestion and improves mobility," he tells City & Country.
"It will also help raise the country's ranking in global liveability indices. In the 2017 Global Liveability Ranking by Economist Intelligence Unit, Kuala Lumpur was ranked 70th, making it Southeast Asia's second most liveable city after Singapore."
Greater Klang Valley has seen various public transport projects developed over the past decades, including Keretapi Tanah Melayu, Light Rail Transit, KL Monorail, Express Rail Link (ERL) and Mass Rapid Transit Line 1 (MRT1, also known as Sungai Buloh-Kajang or SBK Line).
MRT Line 2 is the latest public transport system to be added to the Klang Valley Integrated Transit Map. Also known as Sungai Buloh-Serdang-Putrajaya Line or SSP Line, it connects Sungai Buloh to Putrajaya via the Kuala Lumpur city centre and Serdang.
MRT2 will serve a corridor with a population of about two million, stretching from Sungai Buloh to Putrajaya. The 52.2km alignment will have 35 stations in all, 11 of which are interchange stations. It is under construction even as Mass Rapid Transit Corp Sdn Bhd is trying to reduce the cost, which currently stands at around RM32 billion.
The landmarks along this line include Tun Razak Exchange (Tun Razak Exchange station), Hospital Kuala Lumpur (Hospital Kuala Lumpur station), KLCC Petronas Twin Towers (KLCC East station), Bandar Malaysia (Bandar Malaysia North and Bandar Malaysia South stations), Universiti Putra Malaysia (UPM station) and federal administrative centre Putrajaya (Putrajaya Sentral station).
Phase 1, from the Sungai Buloh Station to the Kampung Batu Station, is scheduled to begin operations in July 2021, while the rest of the line from the Kampung Batu Station to the Putrajaya Sentral Station will be operational under Phase 2 in July 2022. Upon commencement of full service, SSP Line is expected to have a ridership of 529,000 passengers per day.
Opening up new opportunities
Apart from location, people also look for convenience and ways to avoid traffic congestion. Thus, a development near an MRT station is attractive, even if it is not in a popular area such as Petaling Jaya or Damansara.
Hartamas Real Estate (Malaysia) Sdn Bhd group managing director Eric Lim says the proposed MRT2 stations are what the public is expecting as they are in the right locations where the population is growing rapidly.
"In a few years' time when MRT2 is expected to be completed, it will help improve connectivity in the Klang Valley. In a way, it is not about moving away from popular residential areas but more about improving connectivity and reducing commuting time."
Property experts agree that prices have soared dramatically in established areas in the Klang Valley, so much so that many feel buying a property in these areas is beyond them.
PA International Property Consultants (KL) Sdn Bhd managing director Jerome Hong says the rise in land prices, spurred by the diminishing land bank, has caused property prices in the inner city to rise beyond the affordability level. Hence, many homebuyers have little option but to buy smaller homes within the inner city or consider properties further away.
"The presence of the MRT, particularly the upcoming MRT2, will increase connectivity, help spur growth in suburban areas and balance the population catchment in these areas."
Sarkunan says people will have a wider range of homes to suit their budgets and lifestyle as commuting becomes more affordable, convenient and safer.
Suburban areas built along public transport routes, such as MRT2, may attract more potential homebuyers and investors because of the improved connectivity, he says. The less developed areas along these routes are also expected to see more projects, including transit-oriented developments near the designated stations.
"The full completion of MRT2 by 2020 will extend city connectivity to millions of people residing and working in suburban areas such as Sungai Buloh and Serdang as well as the federal administrative centre of Putrajaya," Sarkunan explains.
Improved infrastructure will open up new opportunities. Many people have made public transport one of their main considerations in buying their next property — whether it is for their own occupation or for investment.
Apart from traffic congestion, the rising cost of living is another reason why people opt to use the MRT, says LandServe Sdn Bhd managing director Chen King Hoaw. "Many will find the MRT a cheaper — but still reliable — mode of transport compared with owning a car."
He believes areas close to MRT stations can become the next property hot spots as demand will rise when more supporting amenities and services are completed.
"Upcoming infrastructure, such as the MRT, is a wise alternative that will help to bring people from one place to another. As the Klang Valley continues to grow, we can never rely on just highways and roads," Chen adds.
Hong expects more homebuyers to move to suburban areas. "The presence of MRT stations will be a key selling point for new projects located within easy reach. Property prices will also take into account the distance from the stations. Demand for properties near the stations is likely to increase," he says.
Complementing MRT Line 1
Looking back on MRT1, Hong observes that the line has spurred property growth in areas that were previously less popular.
These include areas around the Kampung Selamat and Sungai Buloh stations, where a number of developments have sprouted since the announcement of MRT1, indicating growing demand for mid to upmarket properties.
Similarly, for MRT2, there has been a positive effect on prices of properties located within 1km of the stations, although the increase in property prices is not solely due to the infrastructure.
The economy, ease of obtaining loans as well as surrounding infrastructure and amenities also have an impact on prices.
"The prices of stratified properties within 500m to 1km of the stations have increased by about 15% to 20% on average (based on 2015 transactions) following the announcement of the MRT2 alignment in late 2014. For affordable properties of RM400,000 and below, prices have risen by 35% to 40%.
"Transactions last year, however, reveal the increase in the values of similar properties have been more moderate, averaging 5% to 10%, because of the subdued property market compared with 2015,"explains PA Internationl Property Consultants' Hong.
Landserve's Chen says the construction of MRT1 has seen the removal of many illegal buildings and structures, and roads and drains being widened.
"Despite the sluggish property market over the last five years, the prices of residential properties below RM1 million in these
areas continued to rise while rentals have remained stable."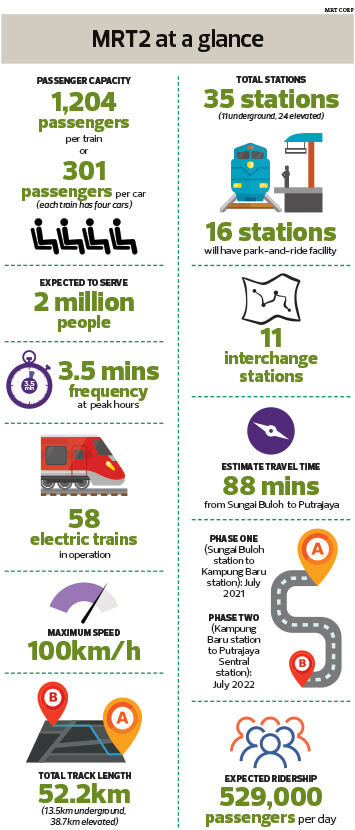 The impact of MRT2
Knight Frank's Sarkunan believes that the upcoming MRT2 will complement the existing MRT1 and further improve connectivity between the city and various suburban areas within Greater Klang Valley currently not served by any public transport.
He also expects the completion of MRT2 to mitigate traffic congestion in densely populated residential areas such as Sungai Buloh, Kepong and Sri Damansara.
"The localities expected to benefit from improved connectivity include Damansara Damai, Kepong Sentral, Kepong Baru, Jinjang, Seri Kembangan, Equine Park and Cyberjaya North," he adds.
"Commuters who travel to the city daily can now opt to utilise public transport if the housing areas are located along the transport routes."
Chen expects MRT2 to have a similar impact on the market, saying it will not only complement MRT1 but also all the LRT lines.
"MRT2 traverses populous neighbourhoods and as the demand for properties near the stations increases, so will the property prices in these areas."
Chen believes people will begin to accept the MRT and LRT as reliable and cost-efficient modes of transport once all the lines are connected to key places.
"These rail systems may not be suitable for everyone but if they can serve a substantial fraction of the population and tourists, then they can be considered a success."
Hong, meanwhile, believes MRT2 will have a direct impact on real estate via an increase in land value and land use along the corridor and will create economic spillover activities and increase job opportunities.
He believes new developments along the MRT2 alignment — especially in Seri Kembangan, Taman Putra Permai and Cyberjaya — will benefit from the new infrastructure.
"Taman Putra Permai is quite densely populated and known for congestion during peak hours. The MRT has spurred not only many high-rise developments in the locality but also gated landed properties. MRT2 will pass through Cyberjaya to Putrajaya, and this will help increase the population as well as developments in the areas and property prices."
Hartamas' Lim believes any infrastructure project will boost the property market. The MRT2, he says, together with the existing urban rail network, will form the backbone of the public transport system in Greater Kuala Lumpur.
However, he cautions, "The decision to buy a property should not be based on infrastructure alone. However, a property near an MRT station provides additional value and the demand will be stronger than for one that is located away from it. Improved access will help boost property prices and rental yield."
Sarkunan thinks MRT2 may have less impact than MRT1 as the latter is connected to KL Sentral interchange — Malaysia's largest transit hub.
"KL Sentral station is the capital city's integrated rail transport centre that is served by six rail systems, offering global and local connectivity. It seamlessly links urban and suburban areas to the Kuala Lumpur International Airport, Putrajaya, Cyberjaya and other key areas within Greater Kuala Lumpur," he says.