This article first appeared in City & Country, The Edge Malaysia Weekly, on September 20, 2021 - September 26, 2021.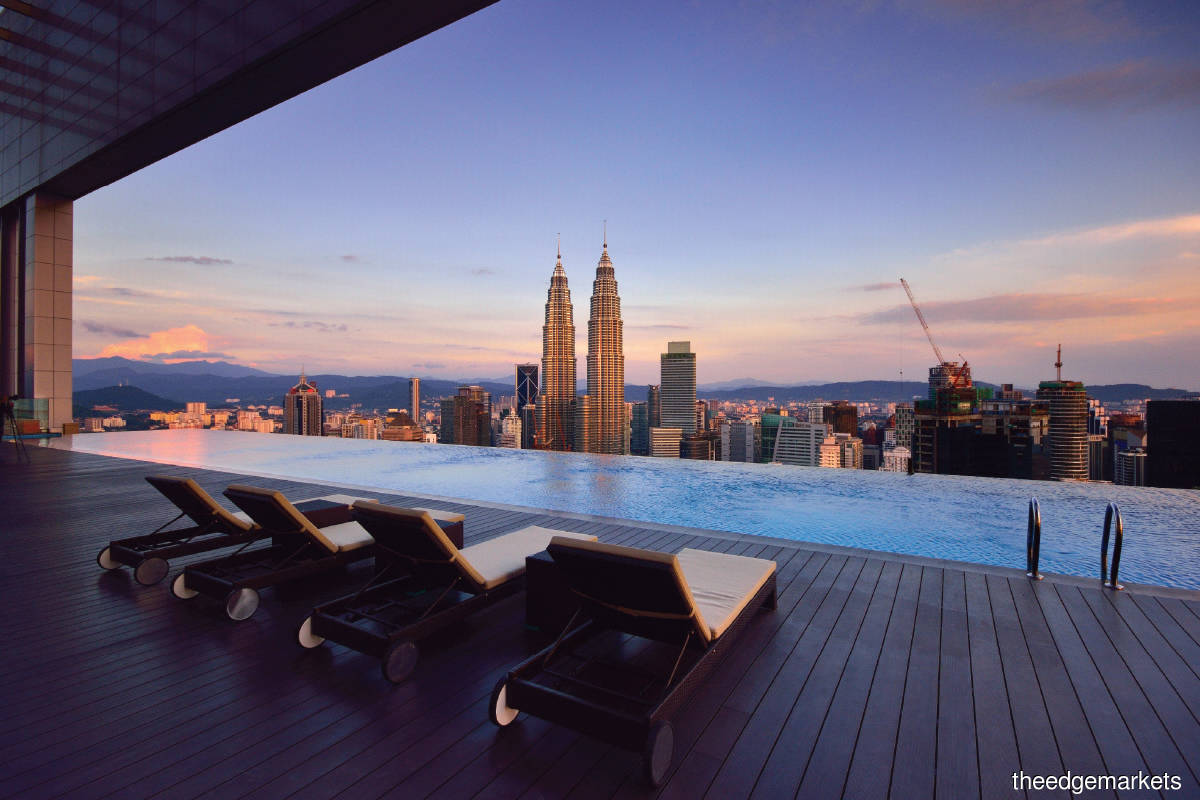 Property tourism was a blooming market segment about five years ago. My introduction to this segment was at a launch party held at a hotel in Bandar Utama, and it was revelatory.
Hundreds of eager investors had flown in from Hong Kong and Shanghai just to attend the event. The developer said at least 80% of them had already signed the sale and purchase agreements (SPA) for their purchases here, mostly second homes. Prior to the event, the foreign investors had participated in seminars, private tours (around the developer's properties) and stayed at the developer's hotels (its hospitality division).
All the details had been ironed out, personalised and arranged by the developer, almost to a fault. From lavish dinners and Musang King feasts to cultural tours in the city, the foreign investors were wined and dined as the developer showcased what the country had to offer.
JLL Property Services (Malaysia) Sdn Bhd country head YY Lau says property tourism is understood as a subcategory of tourism, where the tourists' main or partial intention of going to a country is to visit sales galleries and subsequently purchase properties. The market was relatively vibrant about six years ago, before slowing down pre-pandemic.
"We witnessed numerous developments receiving busloads of tourists daily to visit their sales galleries [at the time]. Developments were being promoted aggressively in places such as China and Hong Kong. Such efforts were being driven by the respective developers, despite having entities such as Malaysia Property Incorporated, set up by FIABCI (the International Real Estate Federation) and the EPU (Economic Planning Unit) in 2008 [and ceased operation in 2016] to promote our properties abroad," says Lau.
"It is worth noting that while some developments clearly have foreign purchasers as one of their main target markets, not many projects are publicly promoted as 'property tourism developments' due to several challenges."
The property tourism formula seemed to have worked for some developers. Foreign investors, predominantly from countries in Asia-Pacific and the Middle East, were enticed by what Malaysia had to offer — a multicultural environment, well-built infrastructure, being close to nature, commendable schools and facilities — in terms of having their main or second home here.
For a while, the segment appeared to see consistent activity, with developments such as The Estate by Meridian Bhd, The Sail by Sheng Tai International Sdn Bhd and Forest City by Country Garden cropping up.
But with borders still closed and travel halted, as well as changing policies and other challenges amid the Covid-19 pandemic, how will property tourism fare in the near and long term? Will this segment regain its momentum?
MM2H woes, travel bubbles and Tourism Recovery Plan
According to property consultants, two recent announcements will impact the property tourism segment, namely the revised Malaysia My Second Home (MM2H) programme and the Tourism Recovery Plan (and opening of local tourism bubbles).
To recap, on Aug 11, the government announced tighter conditions for the MM2H programme (which had been suspended since August last year and will resume next month). The conditions include the requirement for applicants to have a minimum of RM1 million in a Malaysian fixed deposit account — a notable increase from the previous requirement of RM300,000 for applicants below 50 years old and RM150,000 for applicants 50 years old and above.
Applicants must also have an offshore income of at least RM40,000 a month (compared with RM10,000 previously). In addition, applicants must show proof of an additional RM1.5 million in liquid assets and spend at least 90 days a year in Malaysia.
A new quota has been imposed on MM2H participants, being limited to no more than 1% of the Malaysian population. There has also been an increase in the processing fee and levy, among others. The general consensus among property consultants on the revised MM2H programme is, unsurprisingly, unfavourable.
CBRE | WTW group managing director Foo Gee Jen opines, "The latest announcement on MM2H may hinder the recovery of the tourism market further as it appears [as though] we are pushing for a higher level of entry [requirements] at the wrong time, when the world is experiencing a pandemic.
"Although the average number of MM2H visa approvals is low at only 2,500 per year since 2002, they are mostly high-income earners, which will bring a higher multiplier impact on our economic segments, especially in medical, education, tourism, food and beverage and, to a certain extent, the real estate market."
Lau concurs. "Should this [revised] criteria mean that the older one is to be rescinded, this may cause hardship to the existing MM2H participants. To change the criteria quite drastically could send out a signal to existing MM2H participants that the government has overturned its decision in the past despite the faith they had in the Malaysian government when they were first admitted," she says.
"This may send out unintended signals, creating a loss of confidence for future MM2H applicants. For this reason, the government may wish to consider allowing the foreigners who have entered and lived in Malaysia in the past to continue in their visa status until their five-year status expires [as agreed upon when they were admitted]."
Lau highlights that the new criteria may have a positive impact on the demand for higher-end properties "provided that the transition to this new ruling is handled smoothly and credibly in the eyes of foreign investors".
Knight Frank Malaysia managing director Sarkunan Subramaniam agrees. "This [new ruling] will somewhat affect property tourism as it will drastically impact the MM2H programme and with it, foreign investments, especially in the residential sector."
Metro REC Sdn Bhd head of agency Terence Yap says, "The revised MM2H programme is indeed a setback for the property tourism segment. The new guidelines have received negative feedback from applicants [new and old] and property investors alike, especially foreigners. They will shy away from Malaysia and seek other countries with friendlier policies.
"We are pushing away investors and retirees who wish to make Malaysia their second home. What is the rationale for the changes? Everyone is equally puzzled. In times such as this, we should be encouraging more participants to live here. Their spending, and probably property purchases, will increase government revenue, directly and indirectly."
Meanwhile, the Tourism Recovery Plan (and opening of tourism bubbles such as Langkawi) serves as a glimmer of hope for the segment as it jump-starts local tourism and overall market confidence.
On Sept 2, the government announced that in its efforts to rebuild the hospitality segment, Malaysia will reopen Langkawi island in Kedah under a travel bubble plan on Sept 16. Other destinations will be allowed to operate when the locality's vaccination rate is 80%, it added.
Lau says, "If Langkawi's reopening proves to be successful, Malaysia will expand its reopening plans to Kuching, Sarawak, and other holiday islands off Peninsular Malaysia such as Redang, Perhentian, Pangkor and Tioman.
"The Tourism Recovery Plan aims to restore confidence in travel and to revive domestic tourism, which includes leisure and business tourism. Some of the programmes include the Malaysian Association of Hotels (MAH) and e-market platforms to promote holiday and hotel packages, collaboration with the Malaysia Budget and Business Hotel Association (MyBHA) to assist selected budget hotels (3 stars and below) across the country through 'Jom Nginap' and 'Malaysia Welcomes You' campaigns, and the 'Cuti-Cuti Malaysia' campaign with the cooperation of airline companies to encourage domestic tourism.
"We believe there is a lot of pent-up demand for leisure, even if it is for domestic tourism. For instance, Malaysia recorded the biggest growth in the domestic tourism market among Asean countries in 2H2020 when lockdowns were lifted."
Foo says, "Langkawi may be suitable for a green bubble location, but may be less convenient for international and domestic tourism, as access to the island is only possible by ferry or air, both of which involve passengers in crowded and confined spaces. More critically, Langkawi needs to prove that it is Covid-19-free before international tourists are convinced it is a safe destination. In addition, if entry processes are not streamlined and visitors face time-consuming screening, the prospects of a high volume of visitors will rapidly disappear."
He adds, "Other countries have also initiated studies on green bubble programmes while Thailand has been more audacious, opening a selected area [such as Phuket] to all tourists with minimal conditions such as proof of vaccination. It may be better to learn from programmes from other countries, as well as observe whether the 'green bubble' or 'open' options provide better tourist numbers, before we implement an international tourism strategy.
"From a long-term perspective, meaningful recovery for the hospitality sector will require resumption of global tourism. These may be dependent on the containment of the pandemic and efficacy of vaccinations."
'Local' property tourism
The key denominator for property tourism is still tourism (with foreign tourists), which remains stationary at the moment. 
"As property tourism typically involves residential and commercial properties, it is significantly affected by the pandemic and the Movement Control Order. This is largely due to the borders of most countries being closed, thus affecting the movement of tourists," says JLL Malaysia's Lau. 
"This is on top of property tourism having already slowed down prior to the pandemic, partially resulting from measures by some countries, such as stricter regulations on capital outflows, as seen in China."
CBRE | WTW's Foo opines, "A pandemic crisis of this magnitude has resulted in rather homogenous economic impacts around the world, whereby consumption and investment confidence are running low. Hence, cross-border investment undertakings such as property acquisitions would not be top of mind at this time and this will impact property tourism as well."
Despite the bleak outlook, there may be some opportunities for the property tourism segment. "We believe that [the Tourism Recovery Plan and opening of tourism bubbles] will not have any major immediate impact on property tourism. In the long run, if the [travel] bubble continues to be open, locals may start to consider having holiday homes and investing in the residential sectors in other local active markets," says Knight Frank Malaysia's Sarkunan.
"We believe this depends very much on whether interstate travel will remain open for some time to come. But certainly this year and maybe until the middle of next year, we do not see much movement on property tourism. However, if the travel bubble does not burst post mid-2022, then we may see some positive movement."
Last year, when interstate travel was allowed, Sarkunan highlighted and suggested that local investors be encouraged to "buy their own holiday homes or second homes so they can travel whenever they please [without the trouble of booking hotels]. Our local holiday destinations and resorts [were] always fully booked".
At the time, he said it would be worthwhile to look into growing our own "local" property tourism (among local investors who live in different states) rather than foreign property tourism. It is something that the developers involved in property tourism should be concentrating on. Product diversification is key, he added.
"For example, Penang is an attractive market [with plenty of choice when it comes to second homes], or Terengganu. Perhaps property tourism can perform the same services as they do with foreign investors [such as take local investors on property tours in other states to view their developments, sponsor their accommodation] and then try to make a sale. These developers could perhaps offer better prices or discounts for local buyers [to motivate more sales]," said Sarkunan.
Foo also highlights the importance of domestic buyers. "It is important to point out that foreigners contributed an estimated 3% [or less] of annual property sales in Malaysia. Since feeble investment appetite and health concerns are expected to linger on, property tourism and foreign property purchasers, in particular, may take on more of an auxiliary demand role.
"Domestic buyers are by far the main consumer base and likely to be the more viable source for both tourism and the property market to draw support from in this trying time."
Other challenges
According to Foo, developers will need to step up their game in terms of product specifications and price manoeuvring to match local market demand. "The ongoing Home Ownership Campaign (HOC), for instance, is a potential platform to tap into to ride the wave," he points out.
"With regard to property tourism, technology is an option to breach the travel barrier. For instance, agents can bank on augmented reality to conduct virtual tours. In fact, by doing so, they stand a better chance of expanding their market reach with less hassle compared with organising physical visits. Quality products can still capture the attention of upbeat investors."
Metro REC's Yap says, "Some developers are doing online marketing and virtual seminars to promote their developments during this period of closed borders. This is the best platform for communication. We feel this is also a good time for developers to clean up their websites and increase their presence on social media."
Lau also opines that some improvements can be done during this time. "There are opportunities for the relevant bodies or authorities to come up with initiatives or measures that can benefit both the local/national interest and property tourists. This does not only involve capital inbound to Malaysia, but also the opportunity to tap international talent or entrepreneurs.
"In addition, more can be done to improve the tourism sector, which had seen stagnation even before the pandemic. Post Covid-19, the country can be better managed to improve investor confidence, and to increase focus and promotion in countries with high interest in investing in Malaysian properties."
Meanwhile, the low occupancy rate is one of the challenges in property tourism, she says. "The risk of low occupancy rate, multiplied in numerous developments, may subsequently result in so-called 'ghost towns'. In addition, uncertainty still persists as the government's dynamic decisions on movement restrictions and border closures, following the volatility of infection cases, can significantly disrupt sectors, including property tourism."
Concerted efforts are needed, especially at the federal government level. "So far, property tourism is mainly being promoted by state governments,  for example, Johor's efforts to have 'international zones' in Iskandar Malaysia, where certain restrictions are relaxed, such as no minimum purchase price and Real Property Gains Tax for foreigners. The ample land available throughout the country can possibly be categorised similarly," says Lau.
Metro REC's Yap says, "The recovery period may stretch longer than expected [with the high number of Covid-19 cases]. But having said that, developers such as Sheng Tai International, which has offices overseas, are still able to secure purchasers even during this pandemic period because they are actively promoting their projects via their local offices overseas and online platform.
"The government and developers should continue to work hand in hand to promote Malaysia as a choice destination. This can be done via roadshows with the Ministry of Tourism Malaysia and developers after the reopening of borders. Meanwhile, they should continue to promote Malaysia online."
Sentiment and outlook
The impact of the pandemic on property tourism will most likely last for the next two years, says Sarkunan. "Foreign investors will start to look inwards and will perhaps be more inclined to invest in their own countries. Most developers are currently focusing on bread-and-butter deals. Based on our data of transactions, between 1H2019, 2H2019 and 1H2020, the reduction on y-o-y comparison is easily 25% to 30% for the volume of commercial and residential units."
Foo concurs, saying that the outlook for property tourism appears subdued. "Malaysia's property market could expect a new norm of slow growth in the next two to three years in which appreciation is likely to subside. As such, there will be some contrasts in marketability [and reception] towards Malaysia's properties in the international market if compared with yesteryear," he says.
"Sentiment on property tourism may vary as property tourism brings numerous pros and cons. We cannot deny the benefit of capital inflow to the country, which further stimulates the economy as well as having higher take-up rates of the properties in the visited country," says Lau.
"Property tourists will also help the retail and hospitality industries in the country as tourists typically do some spending and stay in mid- to high-end hotels. On the other hand, since property tourism generally involves purchase for investment or for holiday homes, this may put the development at risk when it comes to the vacancy rate. In addition, such a situation may result in the developer having to tiptoe around potentially sensitive issues revolving around high volume of foreign purchasers in a development.
"In the near term, the outlook for property tourism is still bleak. This is expected to change possibly in the medium and long term when the economic situation improves. For some countries, we are possibly looking at the lowest point in international tourism activities, which means it can only go up from here. As international tourism improves, so will property tourism."
Nonetheless, from a long-term point of view, the prospects for property tourism in Malaysia are still palpable. "By regional standards, Malaysia's properties have always been competitively priced and provided good value for money in terms of space, build quality and living conditions. Not to mention, Malaysia has consistently qualified as among the top-rated retirement destinations in the world," says Foo.
"In Malaysia, property as an asset has proved to be a reliable hedge against inflation for the last decade or two. Attributes such as these are the hopeful pull factors to regain and hold on to foreign interest in Malaysia's property market once the dust settles."
Yap says, "Malaysia is still a very attractive country for property tourism. We have received a lot of positive feedback from working expatriates in Malaysia who want to make the country their home.
"We believe the long-term outlook will be positive, but we need to reach out to those who have yet to visit Malaysia and introduce our rich culture, food and history so that they will eventually make an investment in Malaysia, especially in property. We foresee that take-up rates will increase after the borders are reopened."