This article first appeared in Options, The Edge Malaysia Weekly, on November 26, 2018 - December 02, 2018.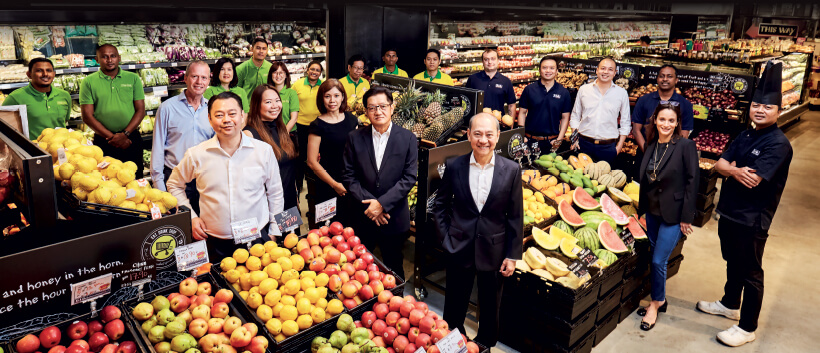 Ong (foreground), surrounded by his ace teams from Pasaraya OTK, Village Grocer and B.I.G.
The Food Purveyor's Ong Kim Too builds on his family's legacy, which comprises supermarket brands Pasaraya OTK, Village Grocer and, most recently, Ben's Independent Grocer, writes Diana Khoo. Following the idea of service and pleasure, the group is dedicated to the provision of good, fresh produce as well as the accompanying joys of sitting down to a well-laden table.
Supermarkets, to me, are as super as their name implies. No matter where I am in the world, I would always make it a point to track one down, exploring each aisle thorough­ly.­ ­Growing up in a traditional family, I remem­ber how my great-aunt would shop for provisions daily, sometimes from the wet market but more often than not from the old-fashioned chap hoay tnah, a truck with open sides driven by the "roving vegetable man", who hawked everything from fresh tofu and seafood to salted, preserved greens — a godsend for the housebound housewives of yesteryear.
It was only with my parents that I got to go to supermarkets. In the eyes of a child, it was a world away from the vegetable man's stall. Air-conditioned, usually within a shopping complex and with aisles illuminated by fluorescent lights, it was here at the modern supermarket that my world expanded marvellously and magically. I remember my mother buying slices of pink cooked ham — which I would steal from the fridge and eat as is — and being introduced to luscious peaches that did not come from a can.
Through the supermarket, my childhood diet extended to Italy via spaghetti with tomato sauce and to England when we had chops and peas for dinner. Once, there was a Scandinavian food fair and it happily resulted in my tuck box filled with salmon pâté sandwiches for recess — the height of culinary sophistication for a curious nine-year-old.
The supermarkets of today do not let down the young generation. In fact, they have become places of greater grocerial (if I could be so bold as to take liberties with that noun) magic.
For the full story, pick up a copy of The Edge Malaysia (November 26, 2018) at your nearest news stands or visit optionstheedge.com.