This article first appeared in Enterprise, The Edge Malaysia Weekly, on February 10, 2020 - February 16, 2020.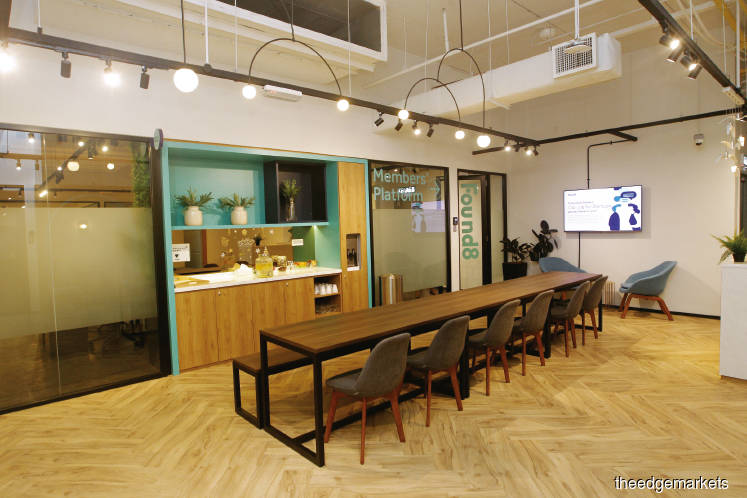 Asia-Pacific has seen a rapid increase in co-working spaces since the concept hit its shores less than a decade ago. Thanks to factors such as the start-up boom and growing number of remote employees, co-working spaces have thrived in the region, providing a flexible, cost-effective work area that gives users a sense of community.
In fact, the demand for such offices is growing faster in Asia-Pacific than anywhere else in the world, according to research by real estate consultant JLL. In its May 2018 report, it pointed out that the region's stock of flexible floor space (net lettable area occupied by major co-working and serviced office operators) was growing at 35.7% a year, compared with 25.7% in the US and 21.6% in Europe.
Capturing the market opportunity are dozens of co-working space operators. In the Greater Kuala Lumpur area alone, there are 63 co-working spaces — mostly in suburban areas such as Bangsar and KL Sentral, according to property consultancy firm Savills Malaysia.
In this environment, co-working spaces have to stand out from the crowd by offering additional value to attract and retain tenants. Found8, a co-working space that opened its doors at KL Sentral a few months ago, is betting on its corporate innovation expertise and community of investors to attract prospective tenants, says country manager Ganesh Mahendranathan.
Originally launched in Singapore, Found8 was founded by seasoned entrepreneurs Michelle Yong and Grace Sai. Yong is a fourth-generation family business leader and head of Aurum group, which includes Aurum Investments — a venture capital fund that invests in property technology start-ups, among others. Sai is founder of Impact Hub, the first co-working space in Singapore.
"The founders are not people who are just trying to sell office space. They are community builders who really understand the ecosystem. They want the space to consist of high-growth, innovation-centric companies that are looking to scale, investors such as venture capitalists and business angels, as well as accelerators," says Ganesh.
"The idea is to create an environment where businesses can grow and synergise. If they can get this value-add at Found8, then they will be happier and more willing to pay a premium to be there."
The space in KL Sentral is Found8's first co-working space in Malaysia. It has five locations in Singapore.
Among the benefits provided to members are dedicated check-ins to address their pain points, which may include fundraising, talent acquisition, lead generation and regional expansion. It is able to help them with these matters because of strategic partnerships with Google, Amazon Web Services and accelerator firm Techstars.
Selected start-ups will even get the opportunity to work with an adviser from Google for 12 weeks to receive honest and actionable feedback through Found8's Startup Advisors Programme.
Ganesh says that in less than two months, its co-working space in Kuala Lumpur is already housing start-up accelerators such as 1337 Ventures and ScaleUp Malaysia, venture capital firms such as Monkhill Ventures and Found8's very own Found. Ventures and Aurum Investments, as well as equity crowdfunding platform Fundnel. Its members include innovation community builders such as Startup Mamak, Malaysia's largest Facebook entrepreneurship community and Drinkentrepreneurs Malaysia, a network of entrepreneurs and professionals, in addition to tech start-ups in various verticals.
As an entrepreneur who was involved in multiple start-ups before, Ganesh understands their need to optimise cash flow. So, Found8 offers flexible contract arrangements that support the start-ups' scaling strategy.
"For instance, several of our members are on ramp-up plans, where we offer teams larger rooms which they commit to growing into. This also gives us an opportunity to deliver on our value proposition and build credibility in a new market," he says.
"It would be a lot easier for us to just focus on traditional small and medium enterprises (SMEs) looking for workspace as it would give us a lot of certainty in terms of monthly recurring revenue and larger contract values. However, that would mean giving up on our ethos of building an innovation-centric and vibrant community. We are more than prepared to take short-term pain for long-term gains."
Catering for companies of all sizes
Co-working spaces allow occupiers to avoid large upfront capital expenses and commitments to longer leases typically associated with a conventional landlord. That means one of its main challenges is occupier retention — once a company has expanded, it is likely to move into a conventional space.
Ganesh says this assumption may not necessarily be true. "If we look at WeWork's annual revenue, about 25% is from companies with more than 1,000 employees such as Microsoft and Salesforce. Tech giants such as Amazon, IBM and Verizon are also testing the use of co-working spaces."
Co-working spaces are popular among companies of all sizes, mainly because they are seen as allowing them to optimise their cash flow. Flexible offices are seen as environments that can be optimised, eliminating the need to purchase and maintain the upkeep of fixed assets.
"One thing I realised about companies, especially high-growth start-ups, is that there are times when they need to cut down on staff, either due to competitors entering the market, policy changes or other things. If this happens, they will end up with unoccupied spaces and desks. In other words, a waste of resources," says Ganesh.
"Also, if they are looking at a place like KL Sentral, the rough cost per sq ft is about RM7. The average space per desk is 50 sq ft. So, if they are looking at a 10-person team, they will be paying RM350 per person. This does not include the price of the tables and chairs. While co-working spaces will cost more than that, they include perks such as access to event lounges, shared facilities and member-only events."
He says Found8 would also like to house satellite teams of large corporations. Recently, corporations have started to set up innovation arms away from their headquarters. This allows the satellite team to operate like a start-up — being agile and flexible, not chained to red tape and lengthy governance processes.
"As much as corporates want to work with start-ups, their internal governance processes are a major hurdle. Let's say they want to partner a start-up for an upcoming product. It may take them up to six months to come up with a solid decision. Would the start-ups want to wait for them to get back? Most likely not," says Ganesh.
"There is an increasing number of companies that have satellite arms, innovation labs and their own accelerator programmes to help them innovate. I think they are moving in the right direction."
Found8 is already in talks with several companies to house their satellite teams. The company is looking to expand to Australia, India and Thailand. It hopes to have at least three locations in each country within the next three years.