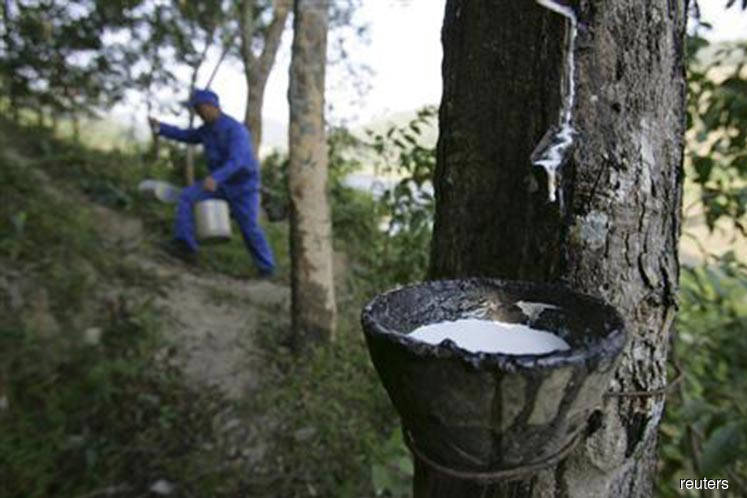 KUALA LUMPUR (Oct 31): Global rubber prices are not only impacted by demand and supply but other factors including the performance of futures markets and crude oil prices, said Deputy Plantation Industries and Commodities Minister Datuk Datu Nasrun Datu Mansur.
Currency exchange rates and economic growth in major rubber consuming countries also affect rubber prices, he added.
Nasrun was responding to a parliamentary question by Beruas Member of Parliament Datuk Ngeh Koo Ham today, who asked why the International Tripartite Rubber Council (ITRC) — comprising the world's major rubber producers namely Malaysia, Indonesia and Thailand — has not been completely successful in strengthening rubber prices to satisfactory levels.
To this, Nasrun said the cooperation among ITRC members has been lukewarm due to the non-compliance between its two members namely Thailand and Indonesia in certain programmes under the council such as the Agreed Export Tonnage Scheme (AETS).
The AETS is a short-term measure to address the drop in natural rubber prices, which was mainly due to negative market sentiment caused by various factors including uncertainties in global economic growth.
"Whatever efforts or initiatives made by the ITRC can only control global natural rubber prices to a certain extent. The partnership among Malaysia, Thailand and Indonesia has not been that successful due to the non-compliance between Thailand and Indonesia in programmes under ITRC such as the AETS," Nasrun said.
"Despite this, the AETS, among other ITRC initiatives, is still able to control world rubber prices from tumbling further and stabilise it to higher levels, at least for the short term," he added.
Meanwhile, Nasrun said the inclusion of Vietnam into the ITRC as a strategic partner will increase the global rubber production share of 67% by the three initial member countries of the council to 76%, while the global rubber export share will rise from 76% to 89%.
Plantation Industries and Commodities Minister Datuk Seri Mah Siew Keong had welcomed Vietnam's agreement to join the ITRC fraternity during the ITRC's Ministerial Committee meeting in Bangkok, Thailand, on Sept 15 this year.
"Vietnam's participation in ITRC will further enhance the effectiveness of the council's role in stabilising rubber prices, hence ensuring the income of smallholders," Nasrun said.