This article first appeared in City & Country, The Edge Malaysia Weekly, on July 12, 2021 - July 18, 2021.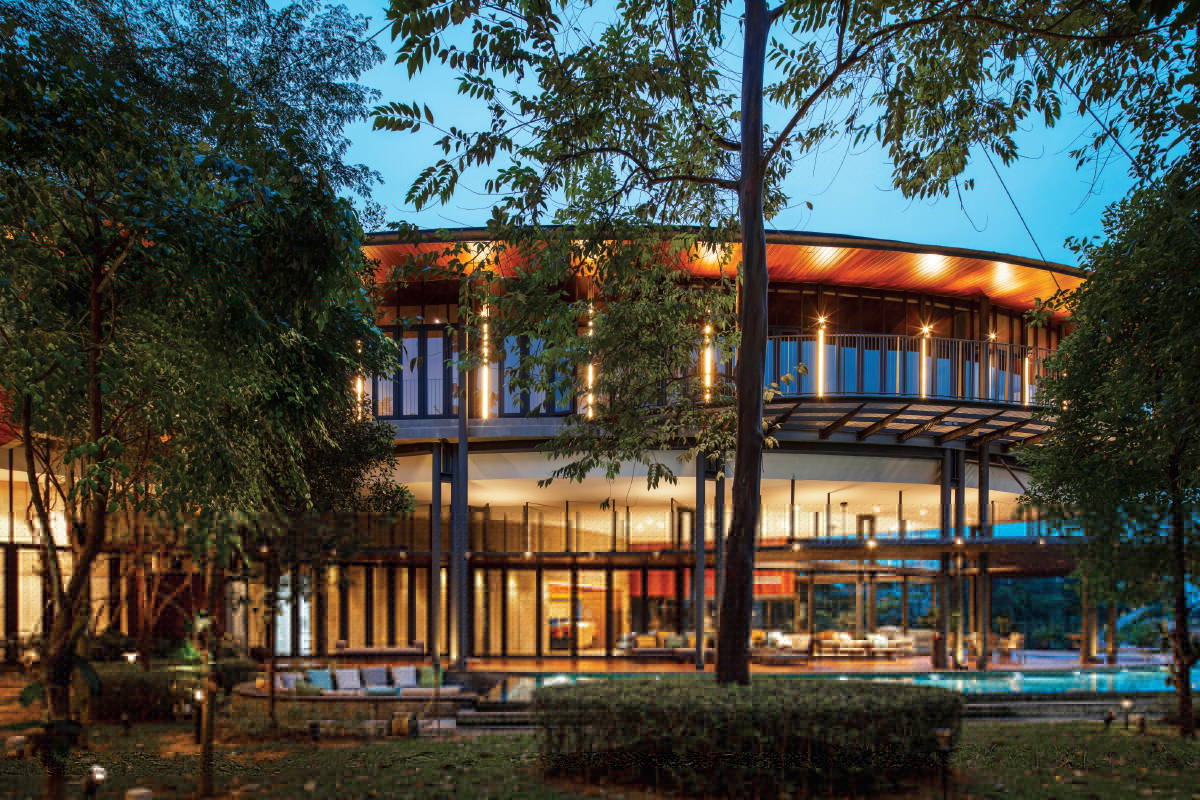 The two-hour Zoom interview with Wooi Lok Kuang passed by quickly as the principal of Wooi Architect spoke candidly and passionately about a subject close to his heart — architecture.
It was Wooi's interest in drawing and art since young that led him to discover his love for architecture during his university days in Sydney, Australia, where he studied under renowned Australian architects Russell Jack, Bruce Rickard and Richard Leplastrier. "I would say my time in the University of New South Wales has influenced my designs as it is those key figures that have given me the basics and kept me humble as I try to get as close to their standards as possible."
Born and bred in Kedah, Wooi returned to his homeland after 10 years abroad. "I think I'm very place-attached. I also have a very close affinity with kampung living as my father had a very small sundry shop or kedai runcit in a kampung area in Kedah," he says.
The authentic and sustainable way of life in the traditional Malay villages where he spent his childhood also helped shape his outlook in architecture. "People talk about sustainability these days, but back in those days when people had a kenduri in the kampung, they'd just use bamboo lashed together with rattan to make a small hut for guests … and bamboo is a fast-growing type of grass, which seems to be back in fashion these days. It's really just pragmatic thinking.
"In construction, this also means accounting for every piece of wood used and expressing them as such, rather than try to hide it … as opposed to things like plaster ceiling, which is fortunately less popular now, that covers up all the structure behind it. In a nutshell, I call it honesty, authenticity or frugality if you like," he says.
Wooi started his practice in 1996 and is today a key industry figure, with many of his works having won awards and accolades in the country and abroad. He is also involved in education, currently mentoring seven students from Universiti Putra Malaysia, and has taken an interest in the country's timber industry. In 2003, Wooi chaired the Malaysian Timber Industry Board special committee for Specifying Timber for Building Construction on behalf of the Malaysian Institute of Architects.
Most of the architect's work is on bungalows, and it is for this that he is known for. "Houses are the hardest things to do. Architects that want to profit won't do bungalows; they would want to go into mass housing or high-rise buildings. "
While Wooi does not consider his designs to be of a particular style, he believes in having principles. "My principles are very simple. For example, I would use locally available materials such as timber, which can be replanted, and steel, which can be recycled."
He also believes in designs that encourage natural ventilation. "The houses I design should have an option to not require air conditioning. They just need the fan going if there is no air movement. Like my house [Wooi Residence], 80% of it does not need the air con; only the bedroom, which I keep small to use less air con."
Wooi feels the Covid-19 pandemic has vindicated his work. "When Singapore reopened their schools, the first thing they did was to turn off all the air cons and to open the windows because if the virus is inside, it'll recirculate. Air conditioning was also a sensitive issue in Australia back in those days because of Legionnaires' disease, " he says, adding that healthy buildings mean having a good dose of natural sunlight and air flow.
"I didn't design my house anticipating Covid-19, but I feel that is the best way to live. For me, designing so-called luxury bungalows does not refer to the materials but rather, it has to do with the way we do it."
Wooi also sees architecture as a form of art. "When you experience something like a painting, I feel a house can be like that. When a house is more than a house, it can help you relate to nature in a different way, and can reframe our experiences of a familiar place, such as our climate. For example, if a cloud is floating through and forms an overcast … or how the air feels different after the rain, you'll realise it in my designs. I see luxury as how we relate to nature."
"I'm not a business architect, or an architect that builds what people wants me to build. For example, I would protest building in places like Mount Kinabalu or Belum (forest reserve). I tell my students the same thing … to be strong enough to say, 'No, we shouldn't build in Belum. It should remain as it is because it is our green lung.' That is my philosophy," he remarks.
Wooi Residence
Situated in Shah Alam, Selangor, Wooi Residence is the architect's home. "This house was essentially created as a model of an alternative way to build a house in Malaysia using five species of timber," Wooi explains.
The site is about 10ft lower than the front access road but higher than the back. "So the house looks like it has two levels from the front but is three levels from the back due to the site condition," he says.
In addition to catering to his family's lifestyle, Wooi Residence showcases the use of common bricks as the building's structure. "Different from the face bricks that are skin deep and clad on, the bricks I used here do the work ... they carry the building, which goes back to the authentic and honest approach I mentioned earlier," says Wooi, adding that the bricks are sourced from the kiln closest to his house.
Interior-wise, he left the ceiling beams exposed. "I have to make sure they are very thin by working closely with the engineers. As I don't use plaster over it, a lot of coordination and replanning was required such as when laying cables. The floors are also kept to a bare minimum by using concrete."
Ting Residence
For this project in Country Heights Damansara, Kuala Lumpur, Wooi accompanied the owner to pick the site and chose the hillside plot for two natural advantages. "Being on a hillslope, air can be scooped up to create natural air flow. The other thing is having an open and extensive view," he says.
According to Wooi, the curve of the building is due to the site condition. "The first buildable platform is about 41ft above road level. By using a curve to define the front and turning it around, the result is a leaf-shaped roof."
On the exterior, the moss-coated wall is formed using rocks that were originally from the site, says Wooi. "I put the rocks back there and let the moss grow. It may not be for everyone's palate especially when they're trained to look at something one way, but they eventually love the wall like that. The moss has grown beautifully and many eventually found it attractive."
In addition to a lift in the building, a stairway was added as an entry for the client, who loves walking up the steps at Batu Caves. "It's the detailing and putting things together that I'm very much into," Wooi remarks. He says materials such as yellow balau as well as concrete are used here.
With with the help of building information modelling (BIM) technology,  Wooi can also ensure materials are not wasted. "The leftover materials are made into furniture like tables and benches."
He adds that Ting Residence also showcases how a building can be designed to allow for weathering. "The trees at the property have since grown and the wood used has developed a natural patina. I'd like to think it has aged gracefully."
YeYuen Residence
Situated in Setia Eco Park in Shah Alam and next to the Bukit Raja Lake ecological park, YeYuen Residence is designed to accommodate large areas for gatherings with the client's extended family. "I went through detailed interviews with each individual member of the family before I could come out with a design for them." says Wooi.
The building configuration is a three-quarter circular form, almost reminiscent of a Hakka tulou, enclosing an internal garden. The west wing has a more forbidding front and the structure gradually opens up towards the dining area in the east, which in turn opens up to a timber deck, pool and the garden. The intersection forms a tent-like oval-shaped hall for family gatherings.
"I like open spaces that practically don't need air conditioning. All the doors at the dining area can be open so the entire dining can be by the poolside. The open concept also links the internal garden to the forest outside, which again is about connecting back to nature," he says.
The bedrooms, on the first floor of both wings, are designed to admit natural ventilation and sunlight from the clerestory window. The architect later added a 2m by 2m built-in "chair" into the full-height window of each bedroom. "Many discussions took place to convince the client, who was finally convinced after he saw a plywood mock-up. The power of the view is when you frame it and because of the (building's) curve, every room has a unique view of the forest."
Wooi says recycled API pipes were also used to hold up the rooms. "They are steel pipes that are used in oil rigs offshore. Instead of huge concrete columns, I used a group of these slender steel pipes so the eucalyptus trees can blend in well when you look through the frame. This is the poetics of construction that I enjoy very much." 
Designing a house is a sacred task, he states. "That's why they say the house is a temple. It's not rocket science and can be done simply, but if you give a house a different layer of meaning, it can do magic."