This article first appeared in City & Country, The Edge Malaysia Weekly, on June 7, 2021 - June 13, 2021.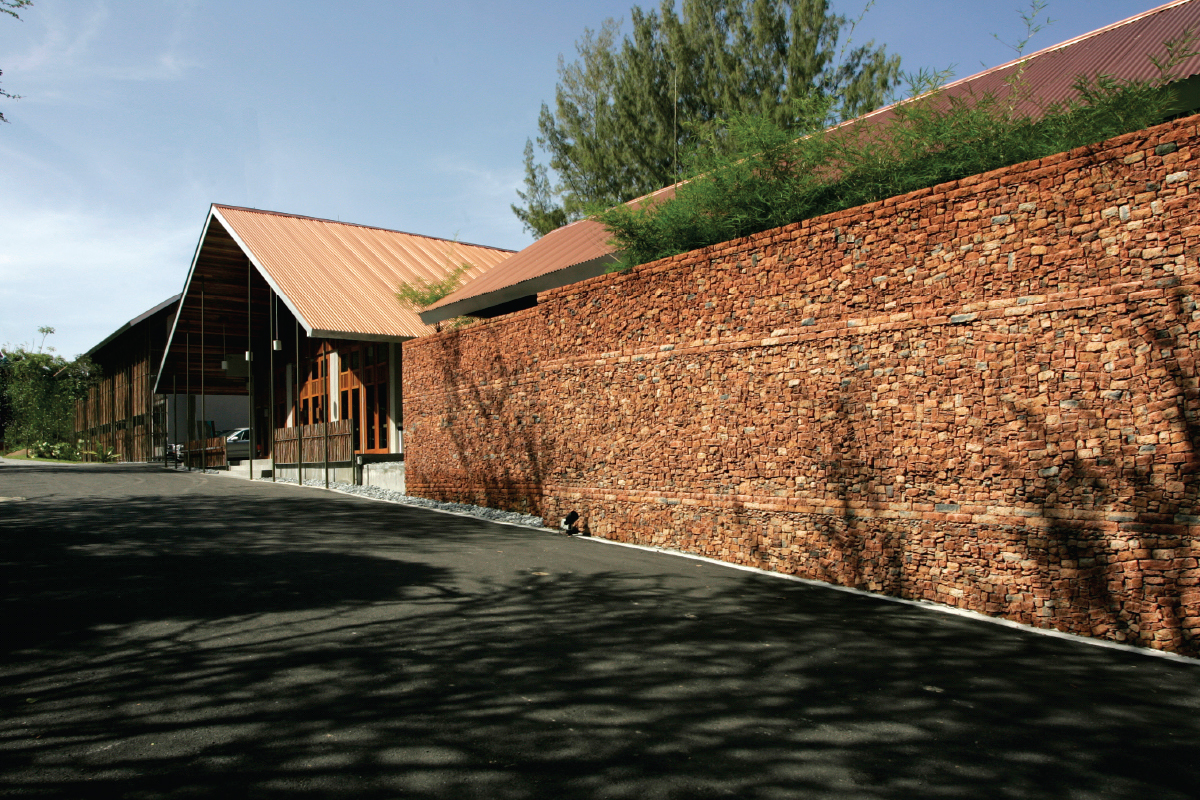 City & Country recently visited the office of C'arch Architecture & Design Sdn Bhd to speak with its founder and director Chris Wong, as well as the firm's partners and directors Wilson Sng and Chew Tick Wah.
On the meeting table, there was a monitor and several sheets of tracing paper with drawings on them. Out of curiosity, I ask the trio whether architects still draw on tracing paper nowadays when they can just use a computer.
They explain to me that this old-school method still offers some advantages over technology. For instance, it allows them to produce freehand drawings of their ideas — the most ancient language for telling stories.
Technology, they point out, has some restrictions when it comes to drawing as they may not be able to get the shapes they want, which then disrupts the thinking process. "It is harder to move with technology when the creative juices are flowing," says Wong.
"Tracing paper allows you to move constantly without worrying about the technical stuff. It allows you to tell the story with shape, form, space and light. As you move along with the ideas, there are correct and incorrect ones. With tracing paper, I can just scribble on it. It allows you to add and subtract stuff more easily.
"A lot of people think architecture is about the building. In fact, it is about the ambience, the surroundings and the emotions they evoke. It is not just about the technical stuff, but also how you curate using the spaces and light.
"When I was a student, we didn't have technology. We copied and pasted, using an ancient method. Previously, if you wanted to tell a story, you needed to draw it. Technology allows you to do a lot of things and design things for you. It has its use. But the question is whether it helps you evoke emotions and response to the space."
C'arch Architecture & Design was founded in 1992 by Wong and another business partner, who later moved to the US. Sng and Chew were appointed directors in 2000 and 2017 respectively.
The firm espouses the principles of modern architecture. It also believes in sustainable design. Some of its notable projects are Damai Suria in Kuala Lumpur's Jalan U Thant, The Mansions in Desa ParkCity, TWY in Mont'Kiara and Belum Rainforest Resort in Perak.
Good architecture
The firm believes that it is important to put both design and human elements into architecture to create what Wong calls "the poetry of space". He says it is like how Apple and Dyson differentiate themselves from their competitors by adding design elements and the human touch to their products. This concept also applies to architecture as he believes good architecture allows people to resonate with the buildings and make them happy.
"In the projects that we have handed over, I asked the residents whether they felt happy being in the building and whether they liked living there. Thankfully, the responses were positive," he says.
"You know it is a dignified space when you walk in. It is not just a box for you to live in, but a place you will enjoy. When we draw, we are able to see how the elements blend together."
Chew points out that good design gives soul to a building and it affects how people behave. Therefore, he believes it is the responsibility of the architects to ensure a place is designed well.
"Architecture is just like human beings — it needs to have a beautiful character, personality and intelligence. By putting human values in the buildings, it will encourage a relationship between the building and humans. These values are useful and helpful to the people living in the buildings," he says.
For Sng, good architecture has the power to make better places. "Architecture is challenging; it is the most difficult of all the arts. We need to deal with people, the building, gravity, the budget and so on. Because of the challenges, we need to be optimists. It is a noble field because we are creating an environment. So, it is a big responsibility," he says.
Giving meaning to buildings
C'arch Architecture & Design believes that it is crucial to understand the essence of a project and to address the concerns of the parties involved — the people who will be living in the buildings, the developer and the engineers.
According to Wong, good design is very much anchored in the functional needs of people, in terms of usage, business and sustainability. Hence, architects need to find a way to make a building better and provide a different story and edge, rather than just fulfilling the brief without any meaning. This is important for a product to thrive.
At the same time, he reckons that a good master plan goes beyond the physical structure. It has to take into consideration people's sensitivities and sensibilities.
"Architects have to understand the needs of the people before planning and doing a proper master plan. If we give people a dignified space, they tend to look after it. If they don't feel that it is a dignified space, the place won't be properly maintained within three weeks," says Wong.
"As for the parties we are working with, we need to understand their concerns and think out of the box to solve them. We also need to help them understand and visualise our ideas to get their support. We need to impress upon the clients that the design can sell, such as a space for the community to build relationships, greenery and so on."
For C'arch Architecture & Design, it means doing something different. For example, instead of a huge guardhouse and boom gate at the front of the development, the guardhouse and boom gate are placed away from the main street of the development for a better view. It allows residents to see a driveway with a lot of greenery instead of a concrete structure when they come home.
Damai Suria was one of the firm's earliest projects. It was done in collaboration with London-based Eric Parry Architects. The low-rise apartment building, which consists of 32 units, took six years to complete, from 1992 to 1998.
Although Damai Suria was built in the 1990s, it features sliding louvres that still feel modern today. Back then, the firm needed to order the louvres from the US, Wong recalls. The adjustable louvres allow for cross-ventilation, privacy and shade. "It has been more than 20 years and I have friends who bought a unit there and told me that it is still as beautiful as the day it was completed," he says proudly.
Another project that the firm has worked on is The Mansions in Desa ParkCity. Sng remembers that the foundation was subterranean rocks and the normal practice would have been to blast the area flat for further developments. Nevertheless, the firm saw it as a signature and believed that the feature should be kept. It then provided a solution to keep the rocks within a safe environment.
"We knew the concern was that the rocks would fall off and hit cars and people, so we designed a concrete landscape wall based on the height of the rocks and how far they would fall. The rocks have become an entrance statement for the development," he says.
In 2007, the firm also had to come up with a creative way to solve a construction issue when it was working on Belum Rainforest Resort, which is located in the middle of a forest complex.
After demolishing an old rest house on the site, the firm needed to think of a way to deal with the leftover bricks as it would cost quite a sum to just throw them away due to the remote location. In the end, it decided to break the bricks into smaller pieces and make an entrance wall with them. It has since become a feature wall and a popular spot for photographs.
Wong emphasises that design not only needs to have soul and meaning, but also a way to differentiate oneself from the others. "Of course, it comes with experience, so you know what can be done. The mistakes you made when you were younger teaches you to become more confident in presenting ideas and getting them accepted. The thinking process and planning are also important," he says.
"Now that we have built a portfolio of designing nice and interesting things, we want to take things to the next level. The partners are seven years apart [in age], but we share a common ground and passion for people. We also have different views, which is good because when one of us has been thinking about an issue for a few days, he can talk to someone. This helps trigger things in your mind. Moving forward, we want to do bigger things and have a bigger impact."