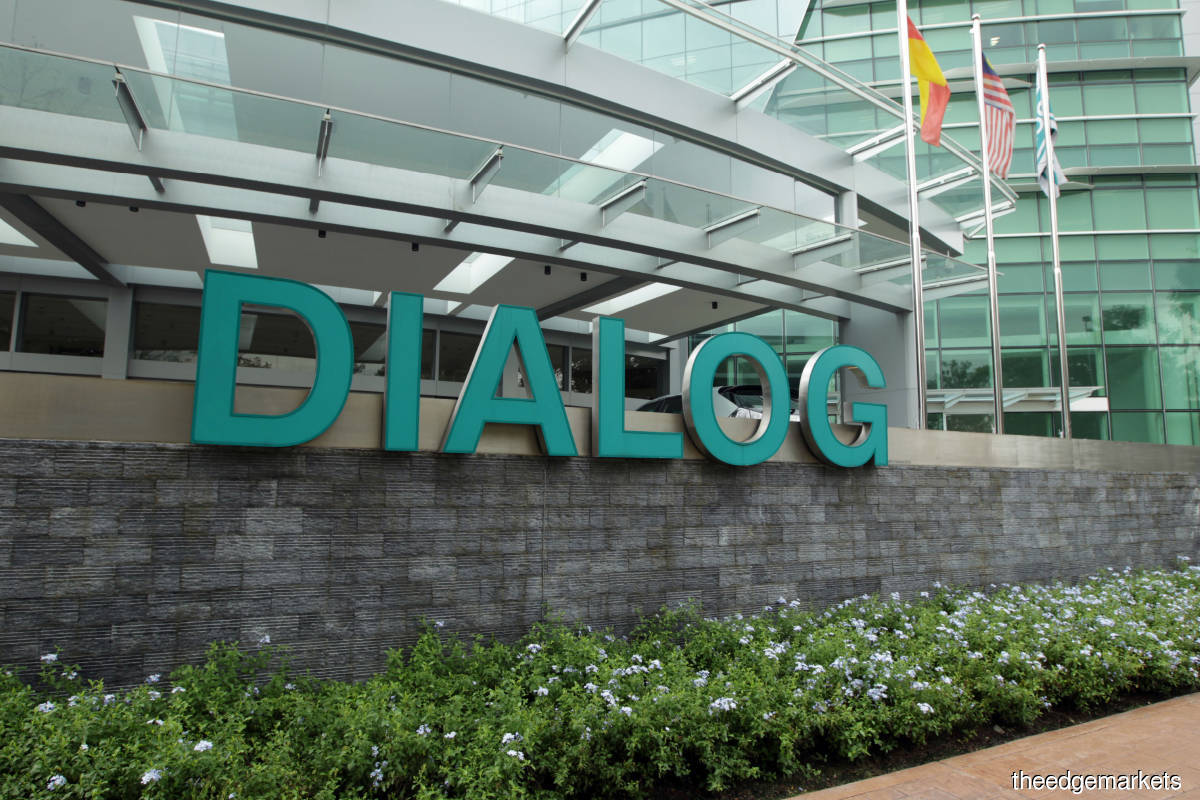 KUALA LUMPUR (Oct 17): Dialog Group Bhd's share price closed at RM3 for the first time in over four months on Thursday (Oct 14, 2021) before settling unchanged on Friday (Oct 15, 2021), following a spike in the oil and gas support services provider's stock price from its lowest closing price in about four years at RM2.31 on Oct 4, 2021.
The Employees Provident Fund (EPF) and Retirement Fund (Inc) were reported to have upped their stakes in Dialog, according to Dialog's Bursa Malaysia filings. The Retirement Fund (Inc) is also known as Kumpulan Wang Persaraan (Diperbadankan) (KWAP).
At Bursa Malaysia on Friday, Dialog's share price closed unchanged at RM3 for a market value of about RM16.95 billion, based on the company's 5.65 billion issued shares.
Dialog saw 10.62 million shares traded at between RM2.92 and RM3.06.
Prior to Dialog's Thursday's closing share price at RM3, the last time the stock's price ended at RM3 was on June 16, 2021.
Since the beginning of October 2021, Dialog's share price had risen to current levels from its closing price of RM2.31 on Oct 4, 2021. 
Prior to Oct 4, 2021, the stock's price had on Sept 20, 2021 also finished at RM2.31, which was possibly the lowest in about four years since Nov 13, 2017, when Dialog's share price ended at RM2.36.
On Friday, Dialog said in a Bursa filing that the EPF upped its direct stake in Dialog to 11.89%, comprising 670.97 million shares on Tuesday (Oct 12, 2021), when the EPF acquired 340,000 shares in the company.
In a separate filing on Friday, Dialog said KWAP made a net purchase of 180,000 Dialog shares, after KWAP acquired and sold 280,000 and 100,000 shares respectively on Thursday.
Following the transactions which involved KWAP's indirect interest in Dialog, KWAP's indirect stake in the company rose to 0.81%, comprising 45.61 million shares, according to Dialog.
KWAP also owns a direct stake of 8.53% comprising 481.2 million shares in Dialog, according to Dialog.
Prior to the transactions, KWAP's indirect stake in Dialog stood at 0.8%, comprising 45.17 million shares on Oct 5, 2021 while the EPF held a direct stake of 11.86%, comprising 669.11 million shares.
Dialog's Bursa filings on Friday included one on the company's proposed renewal of its share buy-back authority and another on Dialog executive chairman Tan Sri Dr Ngau Boon Keat's intention to deal in Dialog shares during the closed period ahead of Dialog's announcement of its financial results for the first quarter ended Sept 30, 2021 (1QFY22). 
In corporate terminology, the closed period is defined as the time between the finalisation of a listed firm's financial results and the public announcement of the numbers.
According to Dialog's Bursa filing and Dialog's latest annual report, Ngau holds a direct stake of 0.82% and an indirect interest of 18.3% in the company.
In the share buy-back statement on the proposed renewal of Dialog's share buy-back authority, the company said it proposes to seek shareholders' consent for the renewal of the authority to purchase up to 10% of its total number of issued shares.
Dialog said the company plans to allocate an amount equal to the retained profit of the company for the purchase of its own shares.
"The retained profits of the company was RM932.48 million, based on the latest audited financial statements as at 30 June 2021.
"The company has implemented a share buy-back scheme since 2005. Under the share buy-back scheme, the company has distributed treasury shares to shareholders as share dividends for the financial years ended 30 June 2006, 30 June 2009 and 30 June 2014. The company intends to continue to distribute share dividends to its shareholders in the future," said Dialog, which indicated it had 3.34 million treasury shares as at Sept 21, 2021.
Dialog's Bursa filings show that it had not undertaken any share buy-back trades since 2011, after its last such transaction on Aug 9, 2011.
In the Aug 9, 2011 filing, Dialog said it purchased 40,000 shares for RM96,097.02 at a per share price of between RM2.38 and RM2.39.