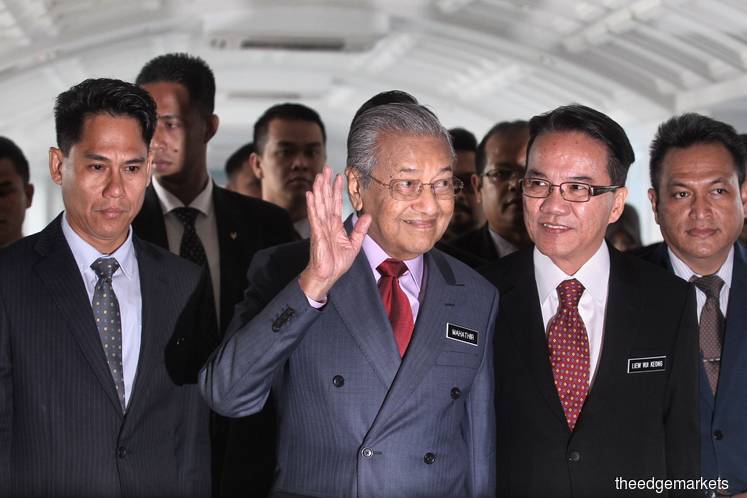 KUALA LUMPUR (July 16): Prime Minister Tun Dr Mahathir Mohamad has described the opposition walkout this morning amidst the appointment of Dewan Rakyat Speaker as an act of 'Sandiwara', an Indonesian term for drama, implying those who left the hall were being dramatic.
"That is 'Sandiwara' (drama), they were acting. For the first time the former prime minister walked out, so now he knows how it is like when people walk out of the hall," he told reporters after lunch at Parliament today.
Today is the first day of the 14th Parliament sitting, where the Dewan Rakyat appointed retired Court of Appeal Judge Datuk Mohamad Ariff Md Yusof as the new Speaker, and all members of Parliament (MP) went through the swearing in ceremony.
Opposition MPs had questioned that the procedure to appoint Mohamad Ariff today was not rightly done and staged a walkout from the Dewan Rakyat.
Kota Bharu MP Datuk Takiyuddin Hassan said the 14-day notice period for the appointment may not be fulfilled and the Government may have backdated the nomination letter to the Parliament secretary.
Dr Mahathir, on the other hand, said he did not perform any backdating to the nomination letter.
"No backdate, it was prepared earlier, so when I assigned, I put the date," he told reporters before leaving Dewan Rakyat today.
Dr Mahathir also said the government was practical-minded in nominating Mohamad Ariff as the Speaker although it is not according to Pakatan Harapan's manifesto, where the Dewan Rakyat Speaker has to be an MP.
"Please remember the manifesto is not a bible, it is a guidance. Sometimes we can do certain things, sometimes we find that we cannot, so we have to be practical minded. But I think the public likes to have somebody who is not related to any party," he said.