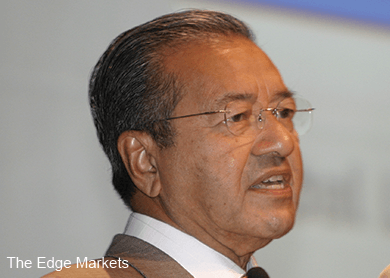 (April 23): Tun Dr Mahathir Mohamad said Malaysia would probably not be a developed country by 2020, even if it managed to become a high-income nation, as raising incomes alone did not amount to achieving a developed status.
"It is not just achieving a higher gross domestic product (GDP) or higher income per capita, these alone do not mean we are a developed country.
"If that were the case, countries like Saudi Arabia and Brunei can also be considered developed," the former prime minister said in his speech at the Malaysia Social Media Week event in Kuala Lumpur today.
"By 2020, I think we will be able to achieve a high income per capita, but we will not be an advanced nation," he said.
2020 was the year Dr Mahathir had set as the target for Malaysia to become a fully developed nation during his 22-year rule as prime minister.
Vision 2020 was his brainchild to make Malaysia a self-sufficient industrialised nation and advanced in all areas of society.
But Dr Mahathir today admitted that he made a "mistake" when launching Vision 2020 by not defining what he meant by a truly developed country.
"I made a mistake in 1991 when launching Vision 2020 because I only said Malaysia should aim to be a developed country by 2020, but I did not explain what being developed meant," he said.
He said a country can be considered developed and advanced as measured by the health of its society, and its implementation of justice and democracy.
Vision 2020 was launched as a guide for Malaysia's future and targeted economic growth at 7% each year until 2020.
Prime Minister Datuk Seri Najib Razak's administration is expected to table the 11th Malaysia Plan in Parliament next month to outline the country's steps toward becoming a high income nation. – The Malaysian Insider