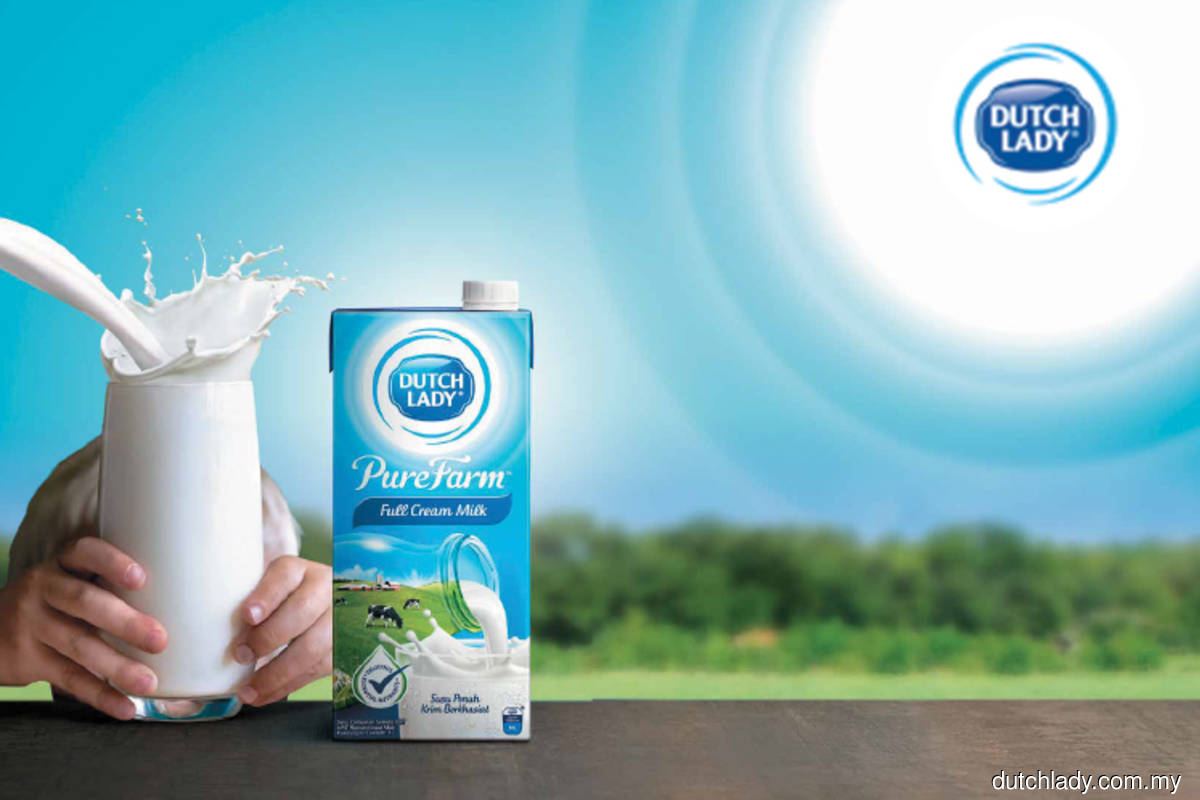 KUALA LUMPUR (Nov 25): Dutch Lady Milk Industries Bhd's net profit for the third quarter ended Sept 30, 2021, more than doubled to RM20.38 million from RM9.24 million a year ago, thanks to lower cost of sales and lower other operating expenses.
Quarterly revenue rose 1.34% to RM290.66 million from RM286.82 million a year ago, its bourse filing on Thursday showed. No dividend was declared.
The group, who said it is experiencing continued strong retail performance, said this was partially offset by lower sales in food service and on-the-go channels.
It also noted that despite continued Covid-19 challenges, it has been able to operate at full capacity and further drive the penetration of milk consumption during the reporting quarter.
For the nine months ended Sept 30, 2021, the group's net profit rose 21.31% to RM64.54 million from RM53.21 million a year earlier, while revenue grew 2.67% to RM833.16 million from RM811.51 million.
On prospects, the group said the market remains volatile and is subject to various domestic and global uncertainties, foreign exchange rate fluctuations, potential regulatory changes and the impact of the Covid-19 pandemic. It also expects the global dairy to stay high for the remainder of 2021.
Notwithstanding these challenges, the group said it will continue to focus on growing milk consumption among consumers.
It also said that the group is determined to invest in Malaysia, even in these trying times.
In December 2019, it announced plans to invest RM400 million between the years of 2021 and 2025 for its future manufacturing activities. On Oct 1 this year, it completed the sale of the Petaling Jaya land, the proceeds of which it plans to use to build new manufacturing facilities in Bandar Baru Enstek.
"Over the long term, the outlook for the company remains positive," it said, adding that the group has good leverage from the strength of its brands, the increasing need and recognition of the goodness and nutritional value of milk, as well as its complementing dairy products amongst Malaysians.
The group will continue to support local dairy farmers and increase the quantity and quality of local fresh milk, it added.
Dutch Lady closed two sen or 0.06% higher at RM33.02 on Thursday (Nov 25), valuing the group at RM2.12 billion. Year-to-date, the counter has dropped 11.24%.