This article first appeared in Digital Edge, The Edge Malaysia Weekly, on November 30, 2020 - December 06, 2020.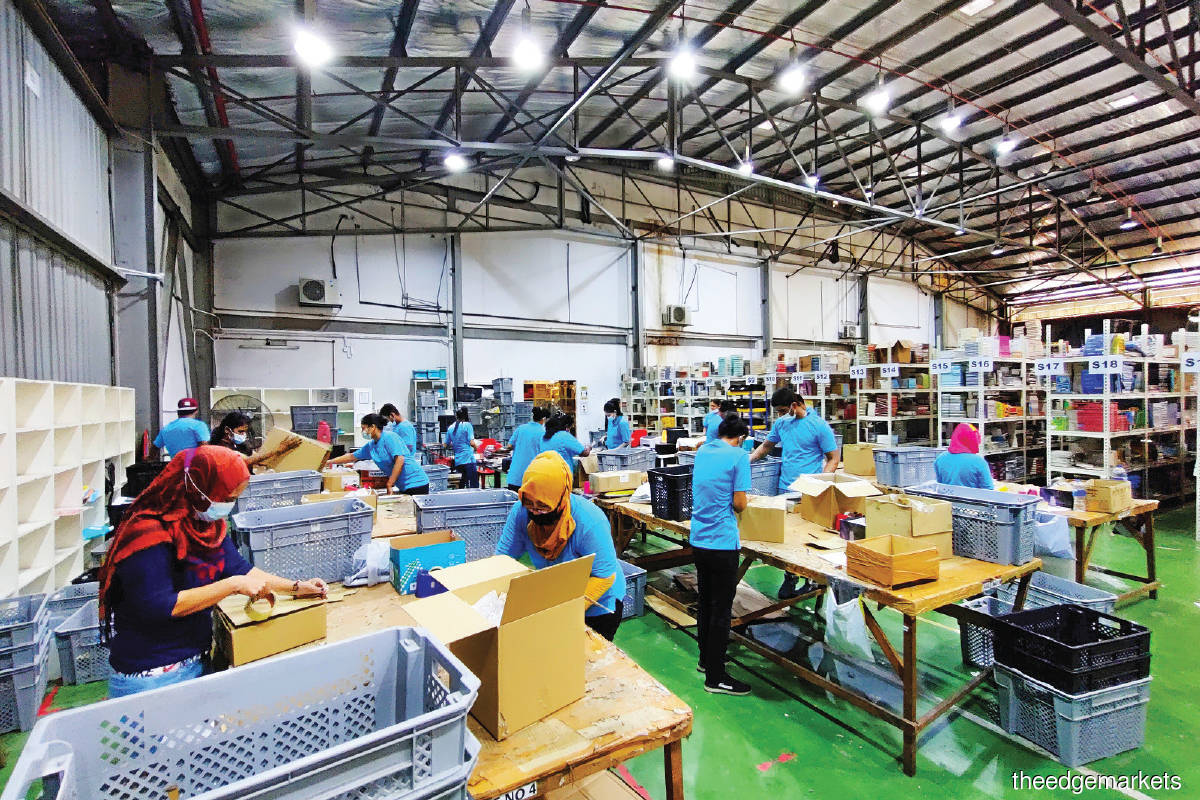 When companies talk about venturing into e-commerce, most people assume that it is just a matter of setting up a website and you are good to go. In reality, however, it is a far more complicated process, and one that many companies get wrong.
The smart ones, however, learn from their mistakes (often very quickly as things need to be optimised on the fly) and tweak their systems as they go along until they come up with a seamless process that actually works.
Andrew Yap and Jacqueline Ng, founders of BookXcess Sdn Bhd, which runs the Big Bad Wolf (BBW) book sale, discovered this when they were planning its first virtual book sale.
For starters, they discovered that items in their warehouse had to be sorted according to their end-destination. "How you use a warehouse varies according to whether it's for storage or e-commerce fulfilment. Even the lighting requirements are different because if you are using it for e-commerce, you need better lighting to be able to select the books. You move away from bulk storage to e-commerce storage using pigeon holes," Yap tells Digital Edge.
For example, if BBW has 70,000 stock-keeping units (SKUs), it will need 70,000 locations on small shelves for the books, instead of bulk palette shelving. The hardware has to be converted to ensure that the book picker can access the books easily.
In March, the store set up BookXcess Online to generate revenue for the company. As it was more accustomed to running its 10 bricks-and-mortar bookstores, Ng says it used the website as a learning opportunity to get acquainted with the e-commerce world.
The revenue from BookXcess Online buffered the cost for the e-commerce transformation. The difference is now, instead of shipping the books in bulk to the sale venue, the company needs to pick individual books for each custom order that comes through the BBW website.
"In April itself, we were already seeing a lot of orders coming through BookXcess but the method of picking and packing couldn't cope with the volume, which was more than 10-fold when Covid-19 hit," says Ng. "We didn't have a picking method at that time, so our orders were backlogged. We had to come up with an immediate solution."
Ng and Yap took the time to speak to vendors and, at the same time, design and develop BBW's website from scratch, to cater to the high traffic and volume. The website alone took close to three months to develop.
Concurrently, the pair sourced for solutions that enabled e-commerce fulfilment, taking a couple of months to find the right partner, sign up for the necessary software and implement their new warehouse layout.
For the website, which is more on the front end, Ng says they worked closely with external website developers for more technical solutions. She adds that the BBW sale website is a little different from day-to-day e-commerce sites like BookXcess Online as it has to cater for a surge in the volume of orders in a short time.
"People who come for the BBW sale don't just buy one or two items, which is normal shopping behaviour. They buy in bulk and take time to browse our 70,000 SKUs, and that behaviour is also something the developer had to take into consideration when developing the platform," she says.
Whereas for the back end, Ng says, they used an order management system (OMS) and warehouse management system (WMS). The OMS receives the orders on the platform and communicates these instantly to the WMS. These systems facilitate the entire process from when the order is first received to when the books are selected right until they are packaged for delivery.
Next, the company designed a shopping cart that allows a warehouse employee to pick out books for multiple orders. Each cart has 10 baskets and fulfills 10 orders in one trip. So the WMS will generate a pick list for each book picker, who will have a tablet with the books they need to pick, in which order.
At the end is the packing station, where the whole basket will be transferred to the packing table and the software will check and scan every international standard book number (ISBN) to make sure it tallies with the order. If there is a wrong or missing ISBN, the order cannot proceed to packing as it will trigger the system that something is wrong.
"We receive thousands of orders per day, so we have to change how we handle them. We process order by order, so it's good that we have an automated quality control process in place," says Ng.
Yap shares that the company has invested about RM10 million to digitise its business. While the racks and shelving at the warehouse alone cost about RM2 million, a large chunk of the investment went into hiring manpower.
"Manpower was needed to shift all these books and put them into the pigeon hole shelving among other things. The labour cost alone took up about about 70% of the whole exercise," he says.
All came crashing down
At the stroke of midnight on Nov 4, thousands of bookworms swarmed BBW's website but were disappointed as the site took a long time to load and, eventually, crashed altogether. Many took to social media to voice their grievances and not long after, BBW acknowledged the problem, apologised to its customers and worked tirelessly to fix the issue.
"Just like with our physical sales, even before we open the doors, people are already on standby waiting to rush in. This is what happened to the website too. Many of our hardcore fans who were excited about the event immediately started searching for books and it overwhelmed the whole database until it eventually crashed," explains Ng.
She adds that the developer had never encountered this magnitude of website searches per second. Some of its vendors also underestimated the visitor volume the site would receive.
"Actually, they understood that a lot of people would flock to the site and prepared sufficient server capacity but they did not expect the consumer behaviour. There is a drastic impact to the server when one customer browses and checks out one or two items in 10 minutes while another takes 30 minutes and checks out 15 items.
"On top of that, we are dealing with thousands of searches per second, so our database has to cater to that too, even though the server capacity can cater to the volume of customers," Ng explains.
In fact, Yap shares that the team quietly launched the website a couple of hours before midnight, just to gauge the traffic better and fix issues that cropped up.
"We were monitoring [the website] every second along with the developers. We were working on shifts the whole night to make sure that if there were any problems, they were caught immediately and we could fix them. That's why we bounced back within a day."
Another reason for the website collapse was an influx of overseas traffic that were data crawling from the site. Ng says they noticed it as they saw the same IP address popping up every second, which was unusual.
"There are people who live overseas but ship the items to a local address. There are also those that shop as a service at a physical sale, so I think it happened at the online sale as well, which, to me, is quite surprising," says Ng.
"We had no choice but to block it and after we did, it cut the surge intensity on the search engines by 30% to 40%."
Despite the technical glitches, Ng and Yap say they received an outpouring of support and understanding from loyal fans. "We got a lot of moral support from our loyal customers, telling us that because it's our first time, problems will happen but we need to keep fighting. That means a lot to us."
The site consistently received a few hundred thousand visitors a day. Even at 5am, there are about 1,000 visitors on the site.
The BBW and Shopee tie-up 
BBW has always prided itself on being a business with the mission of getting people to fall in love with books, aiming to create a new generation of readers as well as winning back a generation of lost readers. To further strengthen its mission, BBW collaborated with Shopee to sell its books on the site from Nov 11 to 14.
Yap says while BookXcess knows it can manage its online sales, there is, however, a segment of consumers it cannot reach. This is where Shopee comes in.
"Any company would rather sell its products on its own site but to us, at the end of the day, as long as there is one person in any corner of Malaysia who never had access to our books, we have not fulfilled our mission," he says.
"The key point is to be available at every touch point where our curent or potential customer is. Shopee is by far the e-commerce market leader, so this collaboration is a milestone for us."