This article first appeared in City & Country, The Edge Malaysia Weekly, on August 8, 2022 - August 14, 2022.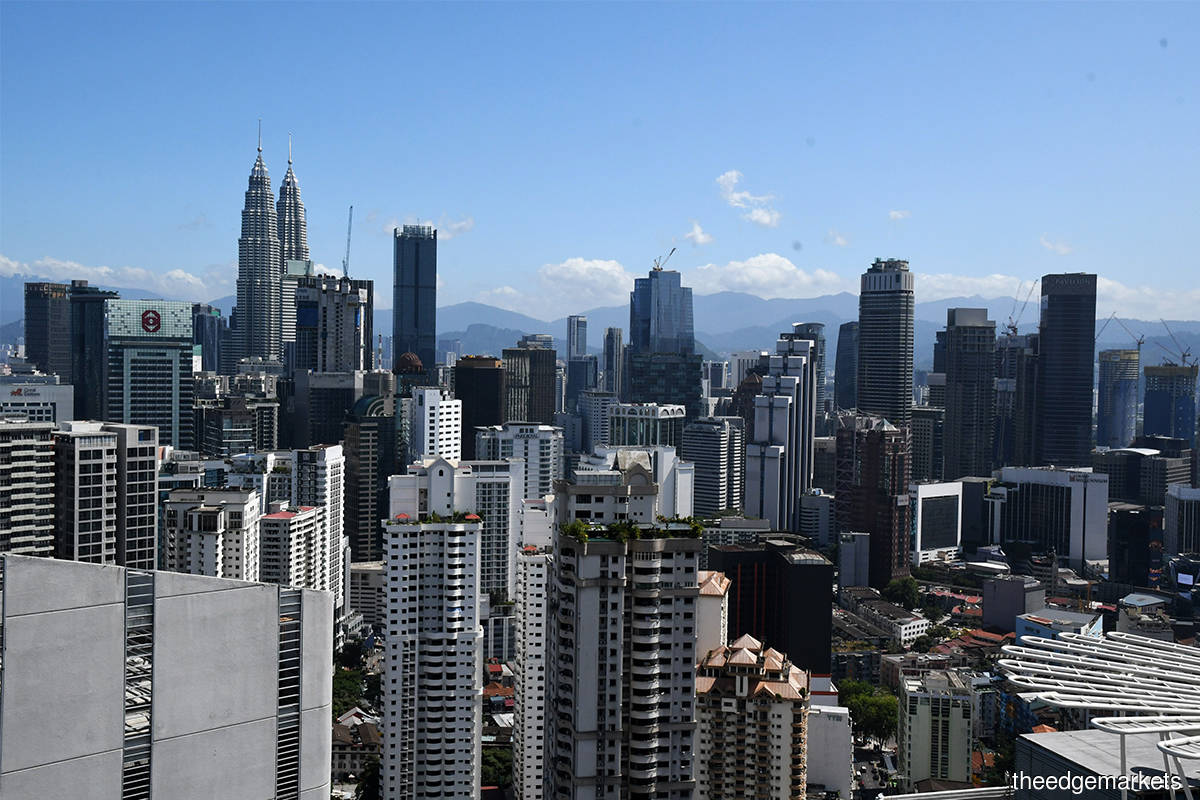 It is anticipated that rental rates and occupancy levels of office buildings in the Klang Valley will continue to experience downward pressure in the second half (2H2022) due to the current excess and incoming supply, and as more organisations embrace the hybrid work model post-lockdown and supply continues to outpace demand.
However, the country's growth momentum is expected to create a positive impact on the office market. With gradual improvements in business sentiment and trade, demand for office space is likely to increase over time, which will stabilise occupancy and rental levels, says Knight Frank Malaysia executive director of corporate services Teh Young Khean in presenting the The Edge | Knight Frank ­Kuala Lumpur and Selangor Office Monitor 2Q2022.
"Despite the work from home trend over the past two years, having a physical office is still important to companies as it reflects and emphasises the company culture and brand. A physical office remains vital for collaborative work and to cultivate a sense of belonging for employees, as it seems to have a greater positive impact on one's physical and mental health," Teh notes.
He says that landlords who successfully reinvent their office buildings by offering better collaboration space and flexibility will likely attract more tenants. Organisations are changing the way the office works by incorporating a little bit of the home element to strike a good balance between comfort and productivity.
"In addition, e-commerce platforms will continue to grow as public participation in these businesses increases. Supporting businesses such as call centres and customer service centres will also be boosted by their growth. Other types of tech companies including digital banks, e-wallet platforms and software developers will also have upside potential," says Teh.
He notes that more office tenants are also expressing a keen interest in green buildings as a result of increasing environmental, social and governance (ESG) awareness. Green buildings certified by the Malaysian Green Technology Corporation are eligible for tax incentives, which also support Agenda 2030's Sustainable Development Goals (SDGs).
"Overall, with the impending supply of about 5.33 million sq ft of office space by 2H2022, there will be heightened competition in Kuala Lumpur's office market. Meanwhile, the Selangor office market is expected to remain resilient with growing leasing activities."
Average rental rates remain mostly unchanged
According to Teh, Malaysia's transition to the endemic phase of Covid-19 on April 1 rejuvenated many sectors of the economy. This is positive for the country's economic recovery and the property sector.
"The pace of recovery in the office sector will continue to pick up in 2H2022 as more employees gradually return to the workplace. During the quarter, overall occupancies for KL city, KL fringe and Selangor were relatively flat with marginal movements of plus or minus 0.2%. Nonetheless, the office market in the Klang Valley remains favourable for tenants," he says.
Quarter on quarter (q-o-q), the average rental rate for Prime A+, Grade A and Grade B offices in KL city's new CBD and old CBD decreased slightly to RM7.09 and RM4.48 psf, while those in the KL city centre peripheral increased by 0.5% to RM3.89 psf.
In KL fringe, the average rental rates for Prime A+, Grade A and Grade B offices in all areas remained unchanged except for Mid Valley City (MVEC)/KL Eco City (KLEC), which increased by 0.5% to RM6.06 psf. Damansara Heights, KL Sentral, Taman Tun Dr Ismail (TTDI)/Mont'Kiara/Dutamas, Bangsar South/Kerinchi and Pantai/Bangsar registered the same rates q-o-q at RM4.48, RM6.35, RM4.83, RM5.47 and RM5.03 psf respectively.
In Selangor, the overall rental rates remained stable in 2Q2022. Petaling Jaya and Subang Jaya saw a marginal decrease in average rental rates to RM4.38 psf (1Q2022: RM4.39) and RM4.11 psf (1Q2022: RM4.12). Shah Alam and Cyberjaya remained unchanged at RM3.41 and RM3.72 psf respectively.
Meanwhile, the overall average occupancy rate in KL city increased slightly by 0.2% to 67.3%. New CBD and old CBD reported a higher occupancy rate of 67.5% (+1%) and 63.1% (+0.3%) respectively, while the KL city centre peripheral decreased substantially to 72.5% (-7.9%) q-o-q.
In KL fringe, the average occupancy rate recorded a slight decrease of 0.2% to 86.7%, with only MVEC/KLEC seeing an increase in occupancy rates to 85%. TTDI/Mont'Kiara/Dutamas and Pantai/Bangsar remained unchanged at 77.3% and 86.8% respectively. Damansara Heights, KL Sentral and Bangsar South/Kerinchi declined to 74.2%, 91.5% and 92.8% respectively.
The overall occupancy rate in Selangor was lower at 73.8% in 2Q2022 compared with 74.3% in 1Q2022. In Petaling Jaya, the average occupancy rate declined by 2% to 71% whereas Subang Jaya, Shah Alam and Cyberjaya saw an improvement in occupancy rates to 77.5%, 86.8% and 73.1%.
In 2Q2022, Kuala Lumpur registered a surge in net absorption of about 347,307 sq ft. 
Selangor, too, recorded a positive net absorption of about 22,044 sq ft during the period under review.
The current estimated supply of office space in KL city is 57.25 million sq ft, followed by KL fringe (28.59 million sq ft) and Selangor (25.53 million sq ft). This brings the total to 111.37 million sq ft.
At present, of a total 9.28 million sq ft of office space under construction, KL city leads with 4.57 million sq ft, followed by KL fringe (2.82 million sq ft) and Selangor (1.89 million sq ft). Knight Frank Malaysia projects an increase of 8.3% in office space over the next 2½ years.
Notable announcements
Sunway XFarms, which was set up in September 2020 with funding and talent by Sunway Property and Sunway Education Group, will occupy three floors spanning 37,000 sq ft within Sunway Tower in Jalan Ampang. The new farm, slated to be launched in 3Q2022, will be the largest indoor vertical farm in the KL city centre.
In Selangor, Malayan Banking Bhd (Maybank) has unveiled Mercu Maybank, its new permanent alternate site office at Financial Avenue @ i-City in Shah Alam. Maybank is relocating part of its operations to Mercu Maybank, where it will occupy 14 floors totalling 162,000 sq ft. The relocation is part of the group's efforts to improve its business continuity management and resilience planning.
Luxchem Trading Sdn Bhd, a wholly owned subsidiary of plastic material and resin manufacturer Luxchem Corp Bhd, has entered into a sale and purchase agreement with Worldwide Emergency Assistance (Malaysia) Sdn Bhd to purchase the entire Block N in Jaya One, Petaling Jaya, for a total consideration of RM19.88 million. Luxchem intends to shift its head office from its current base in Damansara Utama to the newly acquired property which has a built-up area of 28,578 sq ft.