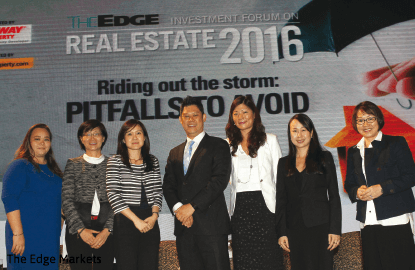 This article first appeared in The Edge Financial Daily, on May 3, 2016.
KUALA LUMPUR: About 600 participants kicked off their long weekend by attending The Edge Investment Forum on Real Estate 2016 (REIF 2016) on Saturday. This was also the 10th property investment forum in Malaysia organised by The Edge Media Group.
Themed "Riding out the storm: Pitfalls to avoid", the forum was held at Sunway Putra Hotel, Kuala Lumpur on Saturday. REIF 2016 was presented by Sunway Property, the property development arm of Sunway Bhd and supported by TheEdgeProperty.com.
"The Malaysian property market has run into headwinds. This is no secret. The transaction volume has dipped. New property launches have slowed. Prices have plateaued but not tumbled as some of us here this morning (Saturday) must be hoping for," said The Edge Communications Sdn Bhd and The Edge Property Sdn Bhd managing director Au Foong Yee in her opening speech on Saturday.
She said that the challenges confronting the sector are not about to go away very soon. However, the reality is that the market is not dead.
"As astute investors, you would know that there is no such thing as a good time to buy property. Anytime is a good time if you know how. What is key is to avoid the pitfalls in riding out the storm — that is the theme of our forum," said Au.
There were three presentations and one panel discussion.
The forum started with a presentation entitled "Market Outlook: Where are we at the curve?" by JLL Property Services (Malaysia) Sdn Bhd country head and managing director Y Y Lau.
She advised investors to keep an eye on the market as buyers of properties under the Developer Interest Bearing Scheme (Dibs) — which was halted by the government in 2014 on concerns that it encouraged speculation and inflated property prices — seek to unload their properties this year.
"The impact of Dibs will be fully felt this year, and there will be a lot of choices for investors who are looking for opportunities," she said.
The following speaker was Savills (Malaysia) Sdn Bhd managing director Allan Soo. His presentation topic was "Investing in retail — shoplots or shop offices?".
According to him, investors should consider buying shop offices — known colloquially as shophouses — next to major malls as they are a more affordable option for tenants compared with retail lots in these malls.
He also expects public transport lines such as the mass rapid transit (MRT) and the extension of the light rapid transit to boost the prospects of shop offices as well.
"Just as an example, at the upcoming Pavilion Mall in Damansara Heights, you have two MRT stations 500m apart from each other, so people can easily commute to that area," he said.
Next was Jalin Realty founder, owner and group chief executive officer (CEO) Ian Chen, with his topic "Investing in properties Down Under: Have you missed the boat?".
He shared that generally, Australia's residential prices enjoy 7% to 8% growth per annum.
"You can only double your property price after investing for 10 years. Australia is not the property investment place for short-term flippers, but for those who want a steady investment return for the long term."
The last session of the day was a panel discussion themed "Where to put your money — real estate, stocks or REITs?".
Moderated by Au, the three panellists — Sunway Bhd managing director to property development division Malaysia and Singapore Sarena Cheah; Kenanga Investment Bank Bhd head of equity research Sarah Lim; and Axis REIT Managers Bhd CEO and finance director Leong Kit May — shared their investment insight with the crowd.
The panellists concluded that no matter whether times are good or bad, there are always opportunities in the real estate industry, be they physical assets, stocks or real estate investment trusts (REITs), depending on one's risk appetite.
Besides the forum, participants also took the opportunity to visit booths set up by Sunway Bhd, Ho Chin Soon Research Sdn Bhd and TheEdgeProperty.com.
A repeat participant, Jeyaratnam, said he wanted to listen to Ian Chen's insight as he had invested in property in Australia. "I got to know this forum from The Edge weekly paper. I'm interested to know what Australian property future is like from this forum."
Another participant, Karen Cheong, who attended the event with her husband, said they would love to know where the investment hotspots are in the current soft market.
"We were looking forward to listening to all the speakers' insight. We do invest in property and would like to know what is the trend ahead."
---
Grab the May 6 issue of TheEdgeProperty.com for a more detailed report on REIF 2016. The full report comes out in the May 9 issue of City & Country, the property pull-out of The Edge weekly.