This article first appeared in Enterprise, The Edge Malaysia Weekly, on July 24, 2017 - July 30, 2017.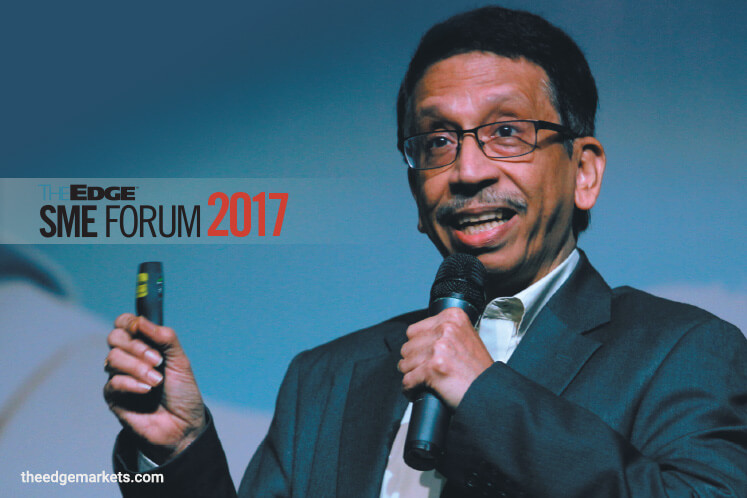 Malaysia has already laid the groundwork for Industry 4.0 with its high internet penetration rate and almost ubiquitous use of smartphones. Now, it needs to drill down and master technologies and capabilities such as big data analysis, artificial intelligence (AI) and the Internet of Things (IoT) so it can fully embrace the opportunities created by the next technological revolution.
Raju Chellam, vice-president of new technologies at Fusionex International, says companies need to know how to combine big and small data to help them make the best decisions. His topic at The Edge SME Forum 2017 was the technologies that Malaysia should bet on.
Big data is the huge amount of data stored in the cloud that a company does not own. With big data, companies can predict market trends and tap into them quickly. They can also diagnose specific issues and challenges their particular industry is facing and come up with solutions quickly.
Small data consists of the company's own data, both structured and unstructured (email, videos and pictures), stored on its databases, as well as the data pulled from Facebook, Twitter and Gmail feeds.
When you combine the two, the amount of data to be analysed becomes too huge, complex and diffused. "Traditional data management tools cannot handle or make sense of it. Therefore, you need tools that can handle and analyse both structured and unstructured data to offer either descriptive, diagnostic, predictive or prescriptive analytics," says Chellam.
Malaysia is now at the stage of digital transformation. "The next step forward should be applying big data analysis and high-performance computing, which enables the AI function," he says.
AI is the science of getting computer-based machines to carry out tasks in an intelligent manner, as if they were done by humans. Machine learning is an application of AI that gives computer-based machines access to data, which allows them learn for themselves and guide users to the right decision.
For instance, if a healthcare company employed these techniques, it would quickly see that Malaysia has an ageing population and be able to understand the dynamics of a huge market and identify opportunities quickly. "The phenomenon of the ageing society is already happening in developed countries such as Japan and Singapore," says Chellam. 
"In Japan, for example, the gross domestic product per capita spent on healthcare by the government is even higher than what it spends on the country's defence. This is also happening in Singapore. It is only a matter of time for Malaysia."
In fact, the country's population is ageing more quickly than predicted. According to the United Nations Economic and Social Council, 9.5% of the population was aged 60 and above last year. This is projected to increase to 14.4% in the next 13 years and 23.5% by 2050. It should take Malaysia about 25 years to become an aged society. 
IoT, which enables big data analysis, is the next technology local companies should invest in, says Chellam. In fact, the implementation of IoT is crucial to SMEs in the manufacturing sector so they can stay ahead of their competitors in the local and overseas markets, he points out. 
In developed countries such as the US, manufacturers install sensors in their machines to obtain data for analytical purposes. These manufacturers also equip the machines with different chips to allow them to communicate with each other to increase efficiency and productivity.
Chellam says Malaysia has always been one of the destinations for global companies to implement advanced technology to enhance manufacturing efficiency and productivity. In fact, local companies are pretty advanced in terms of technology and are open to new ideas. 
"Intel's factory in Penang was the first in the world to utilise data analysis in its production. And some of the analytical products and services it used were from local technology companies," says Chellam.
He says AI is the next big thing and it will benefit local manufacturers, especially the agricultural players. "Agriculture is the third largest sector contributing to the economy after services and manufacturing. Palm oil plays a big role in the sector. With big data and AI, companies can change the genetic components of the oil palm tree and make the trees grow faster and be more productive."
Chellam refuses to predict which sectors will be disrupted because no job or industry is exempt from disruption, he says. "It is going to happen anytime and anywhere. That should be the way of thinking about disruption, instead of thinking where it will happen first." 
An obvious example in Malaysia is how companies such as Grab and Uber have taken market share from the taxi industry. "Even surgeons are not spared. For instance, where three surgeons were once required for an operation, now it may only be a surgeon and a robot," says Chellam.
These disruptions should be viewed as opportunities rather than threats, he points out. "Whenever there is a disruption, new products and services are needed by the market."