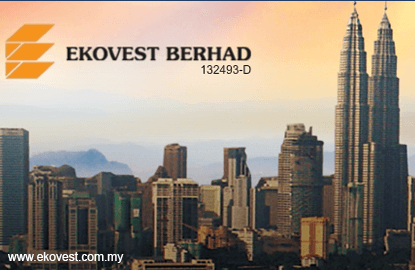 This article first appeared in
The Edge Malaysia Weekly
, on October 10 - 16, 2016.
SHARES in construction outfit Ekovest Bhd have been riding high in the past year, outperforming the company's peers on the Kuala Lumpur Construction Index with a 133% return. Some analysts believe the stock still has room for growth as they view it as "deeply undervalued".
Ekovest's share price closed at a five-month high of RM2.08 last Thursday. It marked the first time the counter has traded above RM2 per share in about 16 years, according to adjusted prices from Bloomberg. The stock has been trading in a 52-week range of 86 sen to RM2.08.
It may be the latest signal yet that there is growing interest in Ekovest, which has almost doubled in price year to date. Trading volume this year in general has also been the highest in five years, according to Bloomberg data.
When contacted, Ekovest managing director Datuk Seri Lim Keng Cheng says the group's fundamentals are largely intact. "It's just that there seems to be more attention on Ekovest recently," he tells The Edge via telephone.
A construction analyst, who declined to be named, says, "Frankly speaking, it's a no-brainer [trading idea]. Theoretically, there is still a lot of upside [despite its strong performance] as its highway asset alone is worth more than its market value." 
The analyst was referring to the recent proposed sale of a 40% stake in Ekovest's Konsortium Lebuhraya Utara-Timur (KL) Sdn Bhd (Kesturi) to the Employees Provident Fund (EPF) for RM1.13 billion. The deal, announced on Sept 21, values Kesturi at RM2.8 billion. It holds the concession for the Duta-Ulu Kelang Expressway (DUKE).
A back-of-the-envelope calculation shows that the remaining 60% stake in Kesturi could be valued at RM1.68 billion, slightly higher than Ekovest's market capitalisation of RM1.64 billion at the time. Its market cap has since surged to RM1.78 billion as at last Thursday's closing.
In other words, investors buying into the stock when the proposed sale was announced would have been paying for a share of the Kesturi stake alone while getting interest in Ekovest's other assets for free. 
Research house UOB Kay Hian, which initiated coverage on the stock with a "buy" call two days after the Sept 21 announcement, deems it deeply undervalued. Its sum-of-parts (SOP) analysis puts Ekovest's total value at RM5 per share, which implies a further maximum upside of roughly 140%.
"We like Ekovest for its undervalued concession asset whose value has yet to be appreciated," says the research house, which has a target price of RM3 per share on Ekovest based on a 40% discount to its SOP value. "We ascribe a huge discount to the valuation to reflect risk factors that cannot be accurately modelled, particularly for the DUKE 1 and 2 highway concessions due to their long concession periods."
The first phase of DUKE began operating in 2009 while the second phase is slated for completion by next January. The original concession period for the first phase was 34 years, but this was extended by another 20 plus 10 years following the second phase in lieu of a separate concession.
Ekovest had also recently raised financing for its Setiawangsa-Pantai Expressway (SPE) project via a RM3.64 billion sukuk wakalah issue, Malaysia's largest such issue for a greenfield toll-road project. 
Awarded in January this year, the expressway has a concession period of 53½ years, including the construction period, and will be fully integrated into the Bandar Malaysia project.
Positive news flow on Ekovest, especially concerning its highway assets, has so far been reflected in its share price movements. However, the counter tumbled for four trading days after an initial surge following news of the SPE award in January.
More recently, the stock see-sawed between gains and losses before seeing a 6.12% surge last Thursday — its biggest single-day rise since May this year.
The delayed reaction to the latest signal of Ekovest's undervaluation puzzled another construction analyst whom The Edge spoke to. 
"I'm also asking myself the same question," the analyst says on the dampened market reaction following news of the EPF deal, describing the implied discount to Ekovest's underlying value as "fairly strange". 
The analyst adds that one possibility may be general scepticism over the potential of highway assets, especially those that have yet to be completed as the valuation relies on traffic forecast, among others. A lot hinges on the estimates pulling through and there is risk of underperformance.
In fact, the 40% divestment to the EPF also had a notable safeguard against such a possible risk. Sources say the base valuation hinges on an assumed internal rate of return (IRR) in the low teens subject to due diligence on traffic, while RM149 million of the sale price will only be paid if the IRR exceeds a slightly higher threshold.
For the shorter term, however, Ekovest can look to its property and construction segments for solid performances while waiting for the upcoming earnings boost from its highways that are under construction, says UOB Kay Hian. "We expect Ekovest to deliver a three-year earnings CAGR (compound annual growth rate) of 68.6% for the financial years ending June 30, 2017 to 2019 (FY2017 to FY2019), primarily driven by the construction division," says the research house. "We also expect the property division to perform strongly in FY2019, as the progress billings for its EkoCheras and EkoTitiwangsa developments pick up pace."
UOB Kay Hian expects the first and second phases of DUKE to begin contributing positively to Ekovest from FY2019 onwards, estimating an additional RM12 million in pre-tax profit after finance costs. This is roughly 6.3% of the group's pre-tax profit of RM190 million for FY2016. 
Ekovest's construction arm boasts an outstanding order book of RM4.5 billion, the bulk of which is from the SPE project. This translates into "a superior order book cover of over 5.6 times, one of the highest under our sector coverage", says UOB Kay Hian.
Going forward, Ekovest is targeting an additional RM1 billion in new construction job wins for FY2017.
As for its property segment, its land bank is primarily concentrated in well-located, mature areas in Kuala Lumpur, according to UOB Kay Hian. The company's unbilled sales stand at RM641 million, which represents a revenue cover of 3.5 times and will sustain its earnings for the next two to three years, the research house adds.
"It owns several plots of land extending over a total of 71 acres that are expected to generate a gross development value of over RM7.8 billion for the next 7 to 10 years," says UOB Kay Hian.