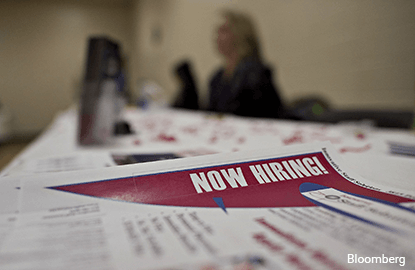 (Jan 31): U.S. employment costs climbed less than forecast in the fourth quarter, reflecting steady wage growth and the smallest advance in benefits in more than a year.
The 0.5% advance in the employment cost index followed a 0.6% gain in the previous three months, a Labor Department report showed Tuesday. Wages and salaries increased 0.5% for a second straight quarter, while benefits costs eased to 0.4%, the slowest pace since the second quarter of 2015.
Businesses are competing to attract or retain staff as the labor market faces a shortage of qualified workers and layoffs remain low. A sustained pickup in Americans' paychecks could boost consumer spending, in addition to helping push inflation closer to the Federal Reserve's goal.
The median forecast in a Bloomberg survey for the ECI called for a 0.6% increase, with estimates ranging from 0.5% to 0.8%. The gauge measures employer-paid taxes such as Social Security and Medicare in addition to the costs of wages and benefits.
The ECI rose 2.2% from a year earlier, compared with a 2.3% gain in the previous three months.
Benefit costs for all workers, which include some bonuses, severance pay, health insurance and paid vacations, rose 0.7% in the third quarter. Compared with the fourth quarter of 2015, they were up 2.1%.
Wages and salaries were up 2.3% over the 12 months, compared with a 2.4% year-over-year gain in the third quarter.
Wages and salaries typically account for about 70% of total employment expenses. The ECI data may help shed more light on the outlook for worker pay.
Because the ECI tracks the same job over time, it removes shifts in the mix of workers across industries, which is a shortcoming of the hourly earnings figures that are provided in the government's monthly employment report.
Private wages rose 0.5% from the previous three months and were up 2.3% from the same period a year earlier. Wages of government employees also rose 0.5% in the fourth quarter and advanced 2.1% from a year earlier.