This article first appeared in Enterprise, The Edge Malaysia Weekly, on August 10, 2020 - August 16, 2020.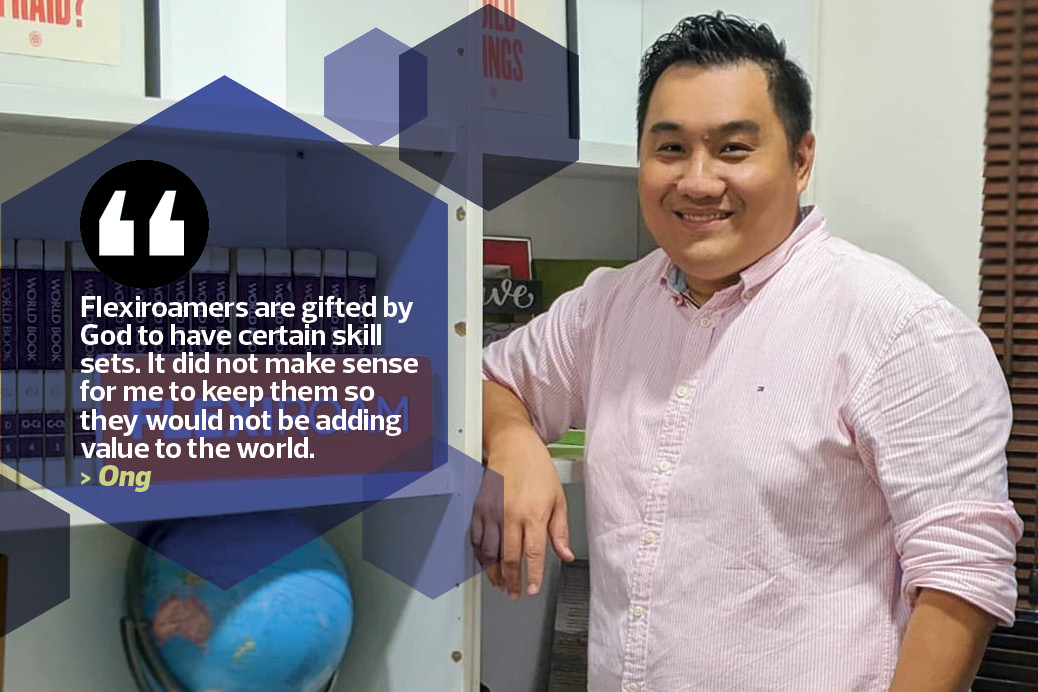 Like most companies linked to the tourism industry, Flexiroam Sdn Bhd — a company founded in Malaysia and listed on the Australian Securities Exchange that provides mobile roaming packages for travellers in 150 countries — saw its business decimated in the face of the Covid-19 pandemic, when travel came to a virtual standstill.
Flexiroam CEO Jefrey Ong had noticed the signs in January, when there was a sharp drop in travellers to China. Although it seemed like an isolated case, with only one country affected, he realised that it was time to prepare for the worst.
Ong gathered his team leaders and thrashed out a business continuity plan, looking at various scenarios. "We looked at 'what if?' scenarios and went through the strategies to prepare ourselves in case Covid-19 spread to other parts of the world," he says.
This was despite the fact that the company still had good sales in February and March in places like the Middle East and Latin America, where there were hardly any cases of Covid-19 yet. "Business was very good. We were on a trajectory towards profitability," Ong tells Enterprise in Petaling Jaya.
But in March, when the government announced the first Prihatin stimulus package and measures to encourage companies to retain staff, Flexiroam activated its crisis management strategies. "I had to ask some very tough questions. We had a fairly large team of 50 people at the time and hardly any business because of the travel ban," says Ong.
The trouble was that the company was not able to predict when the travel ban would end and whether it would be business as usual or almost as usual.  "We knew sales were going to drop substantially. International traffic had gone down 80% to 95%, and that remaining 5% were air crew and cargo," he says.
Given that Flexiroam's business hinged on travellers taking up its mobile roaming packages, things did not look good. And although the government was providing incentives for companies to retain their staff, Ong did not think that hanging around during this time of uncertainty and being paid subsidised salaries were in their best interests.
"Loving people is one of the core values of our company. In fact, I have the words pasted on the wall. How could I love our people when I had a drastic sales drop, no runway and no idea of what the future was going to be?" he says.
So, Ong rejected the government relief programme. "I informed them earlier about our plan to furlough them for six months. And then I told them some time around April that they would be receiving their last paycheque in May. In that one month, I would do all I could to help them find a job elsewhere," he recalls.
Ong got in touch with every company he knew to find out whether their businesses were relevant during this time and whether they needed staff. He was particularly proud of his staff. He believed they were made of something finer and should be going out there contributing to industries that were relevant and growing during this time, rather than being tied to Flexiroam with the help of government handouts, facing an uncertain future.
"Flexiroamers are gifted by God to have certain skill sets. It did not make sense for me to keep them so they would not be adding value to the world. It only made sense for them to work in other industries for other businesses that really needed their skill sets, giving them security and making sure their livelihoods are taken care of," says Ong.
He told his staff that if they could not find a job, they could come and stay with him to save on rent and his wife would cook for them. By May, he had managed to secure jobs for 46 out of the 50 people, 30% of whom at a higher salary. "Instead of taking the relief programme and not letting them be relevant during this time, they went on to industries that are doing well such as fintech, e-commerce and logistics," he says.
Ong expected some brickbats at least. But during the farewell party, not only did he get a lot of love from his staff, quite a few offered to stay even though they would not be paid a salary.
"So many of them said they just loved the company and were willing to stay without pay. I literally had to kick them out and say, 'Go for the interviews I have scheduled for you. These are with great companies that I know. Learn new skills. Feed your family," he says.
Ong is grateful that he did what he did. "By now, it would be so much tougher to look for a job. It was a tough decision to make, but it was so worth it."
There were only 10 people remaining on the team to serve the small group of customers who were still travelling at this point. Then they got down to the serious business of figuring out what their key strengths were and pivoting the business. "We did some soul searching to figure out what Flexiroam stands for and how we could be relevant and use our core competencies to do something new," says Ong.
The team listed out the company's strengths: experience serving customers globally, a good relationship with telecommunications companies all around the world, a 300-strong global distributor base in 150 countries and a very agile and resilient team ready to pivot. "These were our core assets, the resources left within the company. And with them, we would have to rethink what Flexiroam stood for," he says.
Ong and his team realised that connectivity, its key strength, was not just for travellers. "We repositioned ourselves and realised that Flexiroam today, post-Covid-19, could be a super-connector for people and devices all over the world," he says.
For instance, in the age of the Internet of Things (IoT), there are smart vending machines that need to connect to the cloud and inform the vending operator when drinks are running low, and which can take payment from credit cards and e-wallets.
"These vending machines need to be online all the time, but it is not as simple for a vending operator to walk into the office of a telco to ask for connectivity. And they would need to have multiple types of coverage. Some areas are covered by Maxis, others by Digi and still others by Celcom," says Ong.
"We realised that Flexiroam could provide them with connectivity all over the world so that their smart vending machines could remain connected to the cloud."
The same use case can be applied to mobile payments and credit card terminals. "Users face frustration when the system is down because of poor connectivity. With Flexiroam, you would not have that kind of problem. We could make sure that the terminal is always on, the connection is good and the system secure," he says.
And this is how the company figured out a way forward. "Connectivity is not just for travellers but for all kinds of things — smart lockers, smart vending machines, smart POS (point-of-sales) systems. We repositioned ourselves as a super-connector," says Ong.
Not too long ago, the company was given an opportunity to be the connectivity partner for the AIDS 2020 conference, which featured keynote speakers such as US House of Representatives Speaker Nancy Pelosi and National Institute of Allergies and Infectious Diseases director Dr Anthony Fauci.
"The conference was supposed to have been held in the US. But because of the pandemic, delegates from around the world were not able to attend. Some 800 of these delegates were from Africa and many of them did not have proper internet connectivity to attend the virtual conference," says Ong.
One of Flexiroam's distributors in South Africa contacted the company and talked about this challenge, asking if it could build a solution for the delegates. And it did. "We partnered the event organiser and made sure that the 800 delegates could connect and attend the virtual conference," he says.
The company presented conference delegates with Flexiroam SIM microchips to stick to their current SIM cards. After activating the service through the Flexiroam app, they were provided with unlimited data for 10 days to participate in the events of the four-day conference (July 6 to 10) and to keep the conversations going beyond the programme, which would not only showcase the latest developments in HIV research but present brand-new data on Covid-19 and HIV.
"We never thought we could use our connectivity to serve customers who were not travelling but this has made us relevant to the new post-Covid-19 world, where we had to solve a very specific problem. We were able to give the delegates a good experience," says Ong.
Flexiroam is currently in talks with providers of mobile POS, smart lockers, smart vehicles and IoT solutions. "We hope we will be able to grow. Connectivity is like oxygen and we will be relevant to many new IoT types of projects, where it is vital to the ecosystem," he says.