This article first appeared in Enterprise, The Edge Malaysia Weekly, on June 12, 2017 - June 18, 2017.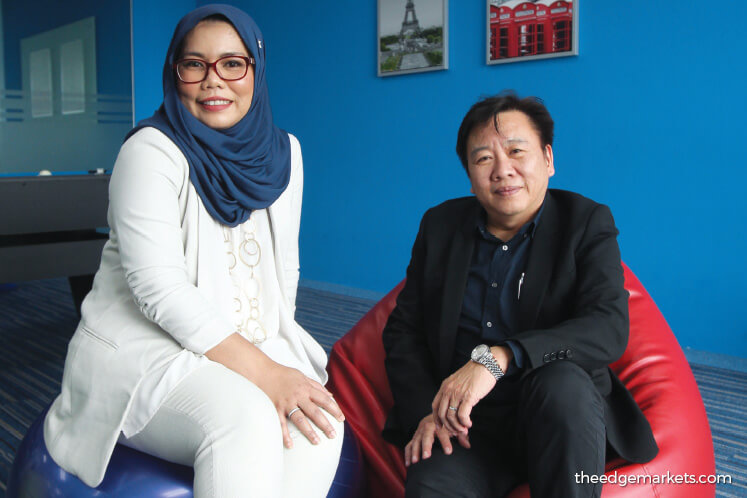 Many companies put their customers first, shareholders second and employees third. Teh Hon Seng says he uses a slightly different approach. He puts employees first, customers second and shareholders third.
"When you take good care of your employees, they will be able to provide better quality products and services. Happy employees make happy customers," he says.
"The company will be able to generate more profit. In return, the shareholders will be happy too. I think this is the right way to serve the company's three most important stakeholders."
Teh is CEO of TimeTec Group, which comprises TimeTec Holding Sdn Bhd, TimeTec Computing Sdn Bhd, TimeTec Cloud Sdn Bhd and TimeTec Cloud Ltd. The group provides biometric and cloud solutions for the workforce management and security industry.
Its products, namely the FingerTec solutions, include fingerprint and face recognition, work attendance and security systems. They are sold by resellers in more than 150 countries. Last year, the group recorded a turnover of
RM20 million.
In 2013, Teh realised the enormous potential of the cloud business so he founded TimeTec. A year later, he acquired the business of FingerTec from a listed company. Since 2014, FingerTec has been a brand under TimeTec.
"I started a company called FingerTec Worldwide Sdn Bhd in 2000. I initiated the R&D on fingerprint technology back then, which was later expanded into a brand of commercial fingerprint systems known as FingerTec," says Teh.
Along the way, he had a difference of opinion with his partners on the direction of the business. The result was an amicable split. Teh left the company to start TimeTec Group while the other party continued to steer the listed company.
Group chief operating officer Norana Johar, who has been working with Teh since the early days, says when the team started its R&D on biometric solutions, many people thought they would be used by the police to identify criminals. Little they know the solutions could be used for identification, to gain access to a secure location or clock in at work.
"Commercialised biometric solutions were not really popular at the time. FingerTec was one of the pioneers to develop biometric solutions for the workforce management and security industries. Our sales only started to pick up in 2005. Gradually, we developed solutions that also employed facial recognition technology," says Norana.
The company adopted the business-to-business-to-customer model. It needed resellers to help deliver its products to end users. When the biometric solutions were launched, the team reached out to clients and tried to sell them, recalls Norana.
But Teh told her to stay in the office with the team and let the internet do the work of attracting clients. "So, we sat in the office trying to figure out how to build an internet ecology. Simply put, we needed to produce an abundance of useful and easily accessible online content and resources for resellers and end users," she says.
This included integrating the back-end system and the front-end websites, from accounting, inventory control, administration and human resources to sales force, customer relationship management and so on.
"It is just like how we use Google to look for answers to every question. You can think of the internet ecology as the company's mini-search engine. It is where people look for answers related to our products. This strategy paid off as sales picked up even as we stayed in the office most of the time," Norana laughs.
Teh says when the company adopted the internet ecology, he persuaded the team to change their mindset. They had to think of the internet as their primary tool. "I told them, if it can be done using the internet, never do it the conventional way. Why? Because the internet is cheap, almost free."
He believes FingerTec was one of the pioneers in using YouTube videos to explain the company's products. These videos included commercials and step-by-step guidance on how to use the products.
"When we were making the videos, people asked whether we were going to advertise on TV. But we posted the videos on YouTube for resellers and users to learn about our products. In the first year, our total views were just over 900," Teh recalls.
Business grew steadily and revenues were up, but he refused to be complacent or satisfied. He wanted to achieve more. This was when he set his sights on developing cloud solutions.
"FingerTec solutions were making good profit. That was why I acquired the business from the listed company. But we knew we had to move on to cloud solutions because the cloud is the future," says Teh.
FingerTec has been the main contributor to the company's revenue as marketing for the cloud solutions only started in April. The business has been self-sustaining due to the revenue brought in by the biometric solutions.
Teh says it is like the eldest brother raising his younger siblings after he is independent and self-sustaining. This is how FingerTec funded TimeTec's R&D and operations.
"I have done a rough calculation. Currently, over two-thirds of our 120 staff are focusing on developing cloud solutions while about 40 of them are tasked with the biometric solutions. The cloud solutions have yet to generate revenue," says Teh.
TimeTec's cloud solutions include TimeTec TA, a comprehensive work attendance system; TimeTec Patrol, a security guard management system to enhance the company's security; and i-Neighbour, a resident and visitor management system for guarded communities.
The cloud solutions have a different business model from their counterparts. Unlike FingerTec solutions, which need resellers to deliver the products, TimeTec solutions are based on subscriptions. Users only have to pay a monthly fee.
Teh says being innovative is not the biggest challenge for the company to move away from the internet to join the cloud crowd. The company is armed with a strong R&D team, which is Capability Maturity Model Integration (CMMI) Level 3-certified. According to the CMMI Institute's website, the capability improvement model has been adopted by more than 5,000 organisations in more than 70 countries and can be adapted to solve any performance issue at any level of the organisation in any industry. TimeTec holds 11 patents filed in Malaysia and the US.
Teh thinks the biggest hurdle during the transition was changing the team's mindset, from an internet ecology to a cloud ecology, to develop the cloud solutions. It took about two years for the team to fully adapt to and embrace the cloud ecology.
"The cloud ecology is an extended initiative from the internet ecology. We leverage big data and artificial intelligence technology to integrate with and further enhance our system. We included new modules such as auto-payment and billing, reseller management, auto mailer and data mapping. It helps us to achieve better automation and security," says Teh.
TimeTec carries Bring Your Own Device (BYOD) cloud solutions as nowadays, the smartphone is slowly replacing plastic cards as a form of identification. Under certain circumstances, fingerprint and face recognition may not be a viable solution. Therefore, the smartphone could be used to replace these forms of identification, clock in or gain access. With an increasingly mobile workforce, the BYOD solutions are even more important.
"When we moved away from the punch card to biometric solutions, we still faced some of the old problems. Workers who were highly mobile could not clock in at the office. With BYOD solutions, however, these workers could clock in using their phones," says Teh.
Some preventive measures have been put in place to prevent fraudulent cases. For instance, the worker needs to be in a particular factory to clock in. The phone's GPS system will make sure that he cannot clock in if he is not in the proximity of the factory.
When it comes to branding, Teh does not believe in spending on advertisements. "People think we have good branding because we spend huge amounts on advertising, designing our logo and so on. But that is not the case," he says.
"TimeTec believes in practical branding. Most of our products are not consumer products so we do not need superficial branding to boost our brand name. When we are doing things, we try to be in the end user's shoes. From that perspective, we can really benefit and make things easy for them."
Norana says "make things easy" is the group's motto. "It is not easy to make things easy. You have to really understand and think about it thoroughly to simplify things."
High turnover rates are an issue for many companies. According to an Aon Hewitt report published in November last year, the annualised voluntary turnover rate has exceeded 10% in all major Asia-Pacific markets, excluding Japan and South Korea.
Norana says the turnover rate at TimeTec is quite low for two reasons. "First, as an employee myself, I think this is a good company to work for. Second, we get perks along the way. For example, we were excited in January because a bonus was coming.
"Last Labour's Day, we received an incentive of RM1,000 in cold hard cash for shopping. We are expecting a half-month bonus this Hari Raya. In September, there will be an all-expenses-paid company trip. These incentives keep us going!"
Where is TimeTec heading? Teh says a listing is on the cards. "We have plans for an initial public offering in three to five years, but nothing is solid yet. We are currently focusing on improving our cloud solutions."