This article first appeared in Enterprise, The Edge Malaysia Weekly, on June 8, 2020 - June 14, 2020.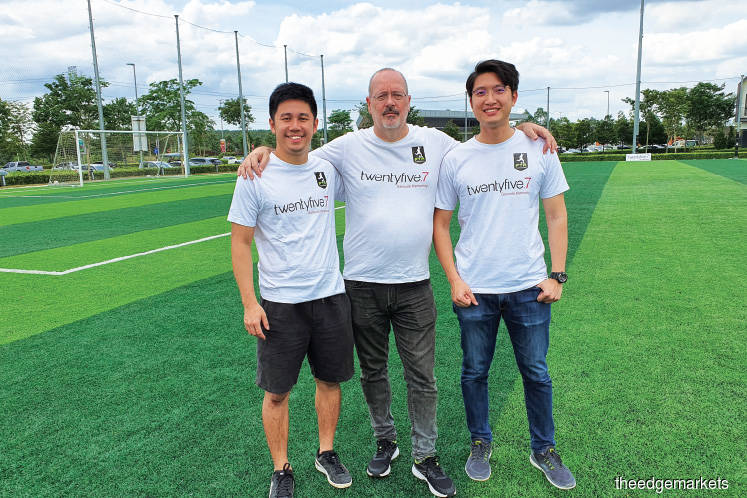 Football is not just about honour and glory. It represents a tremendous and as yet untapped business opportunity in Malaysia. High-quality football fields with proper facilities are apparently still lacking in the country, with more teams wanting to play than fields they can play on at the moment.
"There is a huge mismatch in the market in terms of the supply and demand of quality football fields. Some privately run football fields — the best ones with proper facilities — can sometimes be fully booked for the next 12 months, which is ridiculous," says Justin Leow, a football enthusiast who has been organising social football leagues (competitions for football enthusiasts and non-professionals) for almost a decade.
He says there are at least 3,800 football teams in the Klang Valley alone, but only 17 privately owned football fields with proper facilities such as a decent field, lighting system and washrooms.
If you add the public fields owned city councils and universities, this works out to 30 football fields in the Klang Valley, says Massimo Saverio Giannelli, founder of Football Talent Asia, a football academy mainly for the youth. "Based on these numbers alone, you can see that the demand for football fields with good facilities is so much higher than the supply."
He cites London, the undisputed world capital of football, as an example. "There are about 1,000 public and private football fields in London and that number is still growing. Yes, it is a bigger market, but you can see that there is big potential for this in the Klang Valley. And there is still a long way to go before the local market reaches a saturation point."
That is the reason Giannelli, Leow and Ong Zhong-Ken — an entrepreneur who started an online fashion subscription platform — teamed up last year to launch Footballhub Sdn Bhd.
Giannelli and Leow, who have about a decade's worth of experience in the football industry each, are the CEO and chief operating officer of the company respectively. Ong, who is referred to as the "numbers guy" his co-founders, is both chief financial officer and chief technology officer.
The three partners are eager to set up more high-quality football fields to cater for the pent-up demand in Malaysia. Recently, they raised RM570,000 from their friends and families issuing redeemable preference shares in the company. Soon after, they set up a football field — Twentyfive.7 — in Kota Kemuning, Selangor.
"We signed a leasing agreement with Gamuda Land to build the field. Twentyfive.7 is in an integrated township developed the company. We leased a parcel of land in the township and started operating our business there," says Giannelli.
Leveraging Leow's experience, Footballhub organises social leagues for various football teams. The company was hosting three leagues at the time of writing and had received more than 300 visits a month from these teams from April to December last year.
The revenue from these teams provides the company with a stable income. From April to December alone, it generated RM339,027 in revenue and a net profit of RM64,697, which works out to a net profit margin of 19.1%, according to the company's financial statement.
"Our expansion plans, if successful, will lower our fixed costs and improve our profit margin. We also have other plans to generate more income," says Giannelli.
As at April 17, the trio had raised about RM850,000 via equity crowdfunding platform Mystartr to build another football field. 
Opportunity born out of frustration
The opportunity seems crystal clear in hindsight, but it did not come to the founders in a blinding flash. Rather, it was a build-up of frustration over the years as Giannelli operated his football academy and Leow organised social football leagues.
Giannelli, who is married to a Malaysian and has been living here for the past 20 years, was not a football fan when he was growing up in Italy. He only became one when his son turned 11 and joined a football academy in 2008. "I started to be very interested in the football scene after that, especially grassroots and youth development," he says.
In 2013, Giannelli launched his football academy at the 3K Sports Complex in Subang Jaya, with only five children under his wing. This number slowly grew and he had to hire more coaches to guide the students.
"I started out coaching them myself. Then, I hired one or two foreign coaches. Today, the academy has 10 coaches — seven local and three foreign, who are from Brazil and Austria," says Giannelli.
It was during this expansion period that his frustration with the local football industry started to grow. He found it a challenge to rent good-quality football fields with proper facilities at a reasonable price to train those under his wing.
"There were very few such places. We started at the 3K Sports Complex, which is owned and managed the Subang Jaya Municipal Council (MPSJ). We were given a 50% discount when we started, but not later, as we were considered a commercial entity. It was not easy to find and book a good privately run football field. We ended up training our students on public fields, like those you see in each state and community," says Giannelli.
The condition of those fields left something to be desired. They were uneven, full of potholes and quickly became muddy on rainy days. On top of that, there were no proper changing rooms or toilets. And without a proper lighting system, the fields could not be used at night.
Despite all these shortcomings, the fields were not easy to book. Not only did Giannelli have to deal with different local councils, which had different standard operating procedures (SOPs), each field could only be booked the residents who lived in that particular area. So, he had to engage with these residents to book a slot.
"People living in the area had first dibs on the field. Sometimes, they wanted to take their children there to play in the evening. We were outsiders, so we needed to talk to them and ask if it was okay to use the field on a Saturday or Sunday morning, promising to take care of it and keep it clean," says Giannelli.
"Sometimes, it worked and other times, it did not. There were also times when the residents wanted to organise a carnival or celebration on the field. It was all too complicated. I was frustrated with the lack of good-quality fields and wanted one of my own."
Meeting like-minded enthusiasts
Meanwhile, Leow — who was a senior human resources executive at independent airport lounge operator Plaza Premium Lounge — was encountering similar issues while organising social football leagues on the side. "It was something I had been doing since I was a 22-year-old university student," he says.
"It all started when a friend asked if I could help him organise a social league. As a football enthusiast, I thought, why not?
"We took care of only six to eight teams at the beginning. 2017, the number had grown to more than 80 teams and we had five divisions in the league. Then, we started organising a futsal league with 30 teams and two divisions."
What started out as a hobhas turned into a business. "Our net profit was about RM10,000 a month and it was divided between the three of us. I did it mainly out of my passion for football. I started playing football when I was 12 and represented my primary and secondary schools at the district level, as well as my university," says Leow.
"Football is a full-on team game, unlike some sports, which can be more individualistic. That is why I like it."
At one point, he found it increasingly challenging to juggle his full-time and part-time jobs and felt that he had to pick one. "I was very close to being promoted to a regional role, but I chose to take a leap of faith and launch my new venture," says Leow, a supporter of the Manchester United Football Club.
It was during this period that he started to encounter the same issues as Giannelli. He struggled to book high quality football fields to organise matches. "Fields like these, which are privately run, are very difficult to secure. Once, I had to wait a whole year to book a slot, which was terrible," says Leow.
"So, I resorted to public fields and encountered a lot of other problems. First, I had to go through the local councils, which had different SOPs. Then, many of the fields were not covered and could not be used for half a year during the rainy season. And going to the toilet meant using a tree, bush or neardrain."
The lack of proper lighting was more of an issue for Leow than it was for Giannelli as most social league players are adults with nine-to-five jobs, who could only don a football jersey at night to enjoy a good game.
It was during this time that Leow was introduced to Giannelli and they found they had much in common, especially in terms of their frustrations. They also found a common goal, which was to run their own football field with proper facilities. If possible, they wanted to seize this business opportunity and expand quickly in the market.
As funding was an issue, Leow approached Ong, who was a friend from his secondary school days, and gave him some numbers to crunch. A few days later, Ong said he wanted to be part of this. Not long after that, they started Footballhub and had their first football field in Kota Kemuning early 2019.
Digitalising the football industry
However, providing high quality football fields is not the be-all and end-all of their business. The three founders want to digitalise the football industry and have already tried several ways to do this.
For starters, Leow is proud of the company's booking system, which allows users to check the schedule and price of the football field before reserving a slot online. "Many football centres, including those run private entities, are still using the traditional method, where people have to call to check the availability. It is such a hassle," he says.
In addition, the company's website has a social league system that allows football teams to post their match results and other information online. "They can create their own page on our website to manage the information on their matches and players. This is another benefit for our customers," says Leow.
The website also matches football enthusiasts with teams that are short of players. "We have a column on our website called Looking for Players. Let's say, you have just moved to Selangor from another state. You like football and want to join a team. You can register on our website and we will hook you up with a few teams that are looking for players in just a few hours," he says.
Leow believes that Footballhub is the only company in the Klang Valley, if not the country, that provides these online features. Going forward, it wants to offer more digital and online services to football players, including video recordings and live streaming of matches.
For instance, football teams that play at Twentyfive.7 (and the company's future fields) can pay RM70 to purchase a fully edited video of their matches, which will include the match highlights. These videos will also be posted on Footballhub TV — the company's YouTube channel — for football enthusiasts and the football players' families and friends to watch for free.
"We are very proud of this feature. Also, the price of the video is very affordable. If you divide it among the 30 players of the two teams, it only costs about RM2 per person," says Leow.
The video recording service has been slowly taking off, as has the company's YouTube channel. "We launched our online channel on Dec 25 last year. As at March 18, we had 450 subscribers and had garnered about 16,000 views in total," he says, adding that the live streaming function is a work-in-progress.
Giannelli says the live streaming feature can help the company generate extra revenue marketing various sport-related products. "If we manage to expand our offerings through the internet and gain a more comprehensive and broader reach, we can convince sports companies to market their products with us."
Leow views the enhancement of the company's digital service as a strategic move to prepare Footballhub for the future, especially when the Covid-19 outbreak has been fully contained. Consumer behaviour will change and the business partners want to be prepared for when that shift happens.
One example is parents who want to watch their children's school matches from home. "I believe this is an untapped market," he says.
And if this proves successful, Footballhub could branch out into live streaming other sports such as badminton and netball.
Exploring the franchise model  
The most significant risk of the business, however, is if a competitor invests an enormous sum of money in the football industry and floods the market with a large number of high-quality football fields.
"Though unlikely, a company with strong financial backing can enter the market and establish, say, 50 football fields in less than a year. That could squeeze us out of the market and wipe out our opportunity," says Ong.
This is partly why the co-founders are looking to expand their business more quickly going forward. Giannelli says they are also exploring the possibility of franchising the business to expand more quickly. "It will depend on market demand.
"We have received several requests from various parties. They are people who own land or can rent out land to build football fields. We can provide them with our services if they have good locations."
He adds that Footballhub can design the football field, source the necessary materials to build essential facilities and monitor the construction process. "This is what we did for Twentyfive.7 and we managed to reduce our construction cost about 20%. This is what we can offer our potential franchisees."