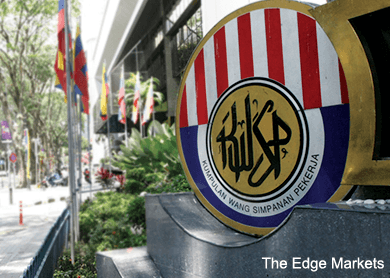 KUALA LUMPUR: The Employees Provident Fund (EPF) has not been asked to invest in 1Malaysia Development Bhd's (1MDB) assets.
"The EPF has not been approached regarding any purchase of or investment in 1MDB's Tun Razak Exchange (TRX) land or any of their other assets," its spokesman said when asked if the EPF is considering any deals within TRX or Bandar Malaysia.
"The EPF always reviews any proposal for investment to determine whether it meets our risk-return criteria and has always applied the highest level of governance to ensure that our members' interests are protected," the spokesman said.
Members of the EPF's investment panel include CIMB Group Holdings Bhd chairman Datuk Seri Nazir Razak, who has been publicly critical of 1MDB and the negative impact it has had on investor sentiment.
The negative publicity on 1MDB and the lack of clarity on its dealings is seen to have contributed to what looks like a growing mistrust of government-linked institutions, observers said, citing the adverse reaction to the EPF's recent proposal to raise the age of full savings withdrawal to 60 from 55.
This public mistrust was fanned further after Lembaga Tabung Haji admitted to paying RM188.5 million for a 1.56-acre (0.63ha) piece of land in 1MDB's TRX last Thursday. This was after what looked like official Tabung Haji investment documents were leaked online the day before.
On Saturday, Tabung Haji chairman Datuk Seri Abdul Azeez Abdul Rahim reportedly said Prime Minister Datuk Seri Najib Razak had advised the pilgrims' fund to sell the particular piece of TRX land to respect the "sensitivity" of its depositors.
The sale was to avoid "tarnishing" the fund's reputation by its dealings with 1MDB. The land will be sold to a buyer at a profit of at least RM5 million and the sale will be concluded within the next few weeks, Abdul Azeez told reporters last Saturday.
The Star reported yesterday, citing unnamed sources, that Kumpulan Wang Persaraan (Diperbadankan) (KWAP) will buy a 40-storey tower and land in TRX for its new headquarters from 1MDB for between RM1 billion and RM1.2 billion. The purchase price of RM2,300 per sq ft for a commercial plot was some 17% cheaper than the RM2,780 per sq ft that Tabung Haji had agreed to pay for a residential site.
This article first appeared in The Edge Financial Daily, on May 12, 2015.